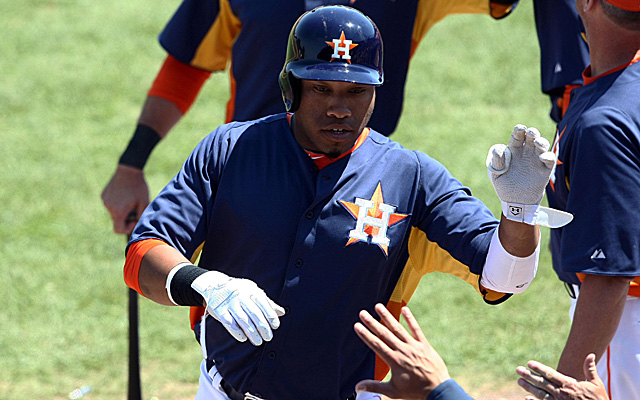 MORE: Spring Training | Scoreboard | FA tracker: position players | FA tracker: pitchers
Astros first base prospect Jonathan Singelton has been suspended twice in the minor leagues for failing drug tests for marijuana. At the time of his second suspension, his official statement noted a "lapse in judgement," but that actually wasn't true, according to Singleton himself.
In an interview with the Associated Press, Singleton revealed that he was addicted to pot and had to enter a treatment program.
From the AP article:
"At this point it's pretty evident to me that I'm a drug addict," he told The Associated Press over breakfast on a recent day near the Astros' camp. "I don't openly tell everyone that, but it's pretty apparent to myself."

Vividly so.

"I know that I enjoy smoking weed, I enjoy being high and I can't block that out of my mind that I enjoy that," he said. "So I have to work against that."
More:
"I knew I had a problem," he said. "Even after I failed the second drug test I couldn't stop smoking weed. It was really bad. Me going there was definitely the best move."

He didn't feel that way when he first entered. Fearing the unknown, he says he didn't sleep for three days straight.

"They would turn off the lights at

11:30

and I would just sit there and stare at the ceiling because I couldn't go to sleep," he said. "My heart was beating too fast. I would get night sweats. It was bad. I legitimately went through withdrawal."

Singleton desperately wanted to leave and wasn't open to the recovery process.

"But after I was there for so long it just grew on me," he said. "I was like, 'I'm going to be here for 30 days, so I might as well get the best out of it that I can.' I used it as a learning experience."
Singleton said he has now avoided marijuana for over a year, but he also ran into addiction again in the form of alcohol.
"I went through some slight anxiety, some depression because I wasn't being successful," he said. "That was definitely difficult and that drove me to drink."

He admits to abusing alcohol as a substitute for marijuana, getting drunk almost every day and "waking up hung over every morning."
The story thus far has a happy ending, as Singleton showed up for camp clean and in reportedly in good shape. The AP story also pointed out that Singleton is confident he won't relapse and is in a good place right now with himself.
As far as on-field performance, it's easy to see how he may have been affected last season by the alcohol. He hit .220/.340/.347 with six homers in 73 games in Triple-A. In 2012, he hit .284/.396/.497 with 27 doubles and 21 homers in 131 games for Double-A Corpus Christi. His power upside -- he's 6-foot-2, 235 pounds -- is why he's been ranked as a consensus top-30 prospect in all of baseball. He has a shot to open the 2014 season with the Astros, but another stint in Triple-A seems more likely at this juncture.
Staying clean will go a long way toward him reaching his immense ceiling. Good luck to Singleton on that front.