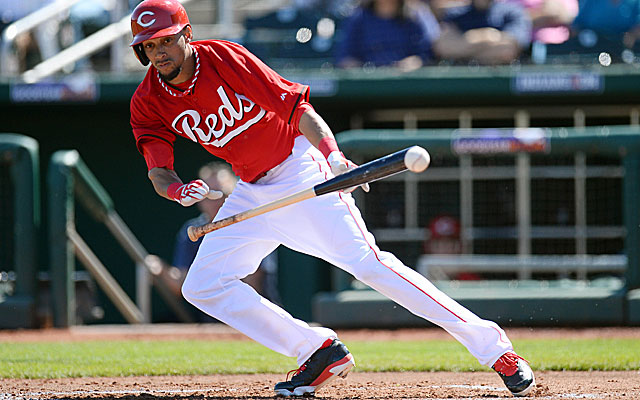 MORE: Spring Training | Scoreboard | FA tracker: hitters | Pitchers
GOODYEAR, Ariz. -- Reds leadoff man Billy Hamilton has always been a blur. Today he is a whisper.
Word from a couple quarters in Reds camp was that the switch-hitting Hamilton was clocked in a legend-creating 3.3 seconds on a run from home to first base on his drag bunt single off Rangers ace Yu Darvish on Monday. Naturally, there was no throw. Once the ball got past Darvish, all that was left was the clock.
One scout who wasn't there said he had never even heard of a legitimate 3.3 time to first base, and another said the best he ever clocked was 3.5 (Brett Gardner of the Yankees). However, regarding Hamilton, that scout said, "With his speed, I wouldn't doubt it!"
In any case, three point three is pretty crazy, if accurate.
Many couldn't believe it. But I finally got back word from a Reds person who would know.
"True," the Reds person confirmed of the 3.3 time.
Consider that on a swing a 4.0 time for a right-handed hitter and 3.9 for a left-handed hitter is considered an "8" on the 2-8 scout's scale, or all-time great. There's a legend that the Phillies' speedy Bake McBride once ran a 2.9 to first on a bunt, but that's hard to believe. Yankees switch-hitting legend Mickey Mantle, a good bunter in his day, was known to have all-time quick times.
Another scout said the fastest time he ever had on a bunt was football great/sprinter/sometime Yankee and Brave Deion Sanders, at 3.33, so theoretically, the 3.3 time is possible. Others mentioned as among the fastest in the game now are superstar Mike Trout plus Peter Bourjos, Jarrod Dyson, Pirates prospect Gregory Polanco and A's hopeful Billy Burns, another switch hitter who was timed on a swing at 3.77 this spring.
The scout who didn't doubt Hamilton said he is indeed the fastest he has ever clocked on a swing, at 3.8. Is it possible to shave a half second by bunting instead of swinging? Seems tough to believe, but Hamilton is a special case.
Every scout has a different Hamilton story regarding his speed from his days in the minors, but the real question is his hitting. While he's a career .280 hitter in the minors (and he hit .368 in 19 at-bats after his callup to the Reds last year), some doubters remain.
Hamilton, 23, is showing signs this spring of making progress, though not everyone is completely convinced. Whereas last spring he was five for 25 with nine strikeouts and only two walks, this spring he is seven for 22 with two strikeouts and five walks. He also is six for six in steals, no surprise there.
"I'm more relaxed. I'm having a good time," Hamilton said.
It's easy to relax around Reds camp with fun guys like Brandon Phillips and Todd Frazier Hamilton said -- "characters" Hamilton calls them.  Another plus is the Reds have told him, basically: It's your job, go get 'em.
That helps, but ultimately, Hamilton still has to prove he'll hit at the major-league level, and his .256 batting average at Triple-A Louisville last year has a few folks wondering. Three scouts polled expressed varying degrees of skepticism.
One scout wondered whether he'll be strong enough and another said that while he'd still say "yes" on Hamilton he stressed he needs to cut down on strikeouts (he's whiffed at least 100 times the last three years in the minors). A third scout expressed unreserved doubt.  "I don't think he can (hit in the big leagues now). He's very over-rated in my opinion." Then that scout added, "You can't steal first base."
The Reds aren't listening to any of that talk, to the comments about his questionable hitting acumen, or his questionable strength (he's listed as 6-foot, 160 pounds).
"He's strong enough. I wouldn't worry about that," said Jim Rigglemen the former big-league manager who managed Hamilton at Double-A Pensacola and Triple-A Louisville the last two years. "He's probably played more games in the minors than anyone the last few years. You can have big muscle guys who are on the DL all the time." (Riggleman mentioned that Doug Glanville was built similarly but strong and athletic and able to play every day.)
Hamilton has struggled with strikeouts in the minors, but there are positive signs. Reds people note how many more pitches he's taken this spring, how hard he's worked and how well he's bunting. He also has a positive attitude.
"I feel like I'm ready,'' Hamilton said.
Hamilton also has a history of quick learning. He switched from shortstop to center field without a hitch, making catches that were not to be believed. Riggleman called his center field play last year at Louisville no less than "outstanding."
 Hamilton turned himself into a switch hitter after a Reds organization coach Alex Pelaez noticed him "messing around" in the case batting following his selection in the second round of the 2009 draft (the Trout draft) out of Taylorsville (Miss.) High. Good thing, too, or we'd never have times like 3.3 to first.
The Reds are understandably gaining hope based on his strong spring start. They all get that he isn't another Choo, but  Reds people see a major difference in him.
"He's finishing at-bats. He's not letting at-bats get away from him. He's getting deep into counts," Reds star Jay Bruce said. "He just needs to be himself. He's not going to be Choo. He needs to be the best version of himself."
Hamilton recognizes there's only one Choo. "I'm not going to get a .500 on-base percentage like he did," Hamilton said, kindly estimating the superb .424 mark, which was second base in the NL to teammate Joey Votto's .435. "My game is different. I don't expect to do what he did."
Hamilton has different expectations. Choo could steal a base, but if Hamilton can hit like some think he can, he should lead the league in steals.
In answer to how many bases he'd like to steal, Hamilton said, "I'll steal as many as we need to win the World Series. If it takes 100, I'll get 100."
Hamilton stole a quick 13 bases in 14 attempts as the world's greatest pinch runner late last year on the Reds' march into the playoffs. With the 75 bases he stole at Louisville, that made it 88 steals for the year.
That was an amazing run. There is little doubt about this: Hamilton certainly has the ability to amaze.