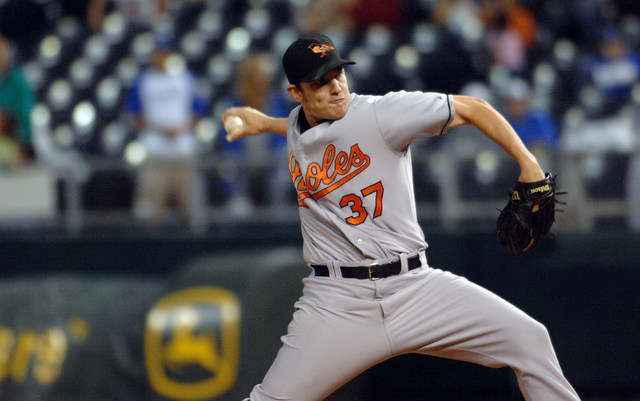 More MLB: Scoreboard | Standings | Probable Pitchers | Sortable Stats | Odds
Once upon a time, right-hander Chris Ray was supposed to be the Orioles' closer of the future. He saved 49 games for Baltimore from 2006-07 before blowing out his elbow and requiring Tommy John surgery, after which he bounced from the Rangers to the Giants to the Mariners.
Ray, 31, pitched in Triple-A last summer before deciding to retire from the game over the winter. His post-baseball life has led him to establish a family-owned business with older brother Phil: Center of the Universe Brewing Company in Ashland, Va.
As Lee Graves of RichmondBizSense.com writes, the Rays started out as home brewers before going pro. Here's a snippet:
Phil, 35, has a master's degree in mechanical engineering and worked for Honeywell in Florida before moving to Virginia. Chris, 31, recently retired as a Major League Baseball pitcher – he was a member of the 2010 World Series champion San Francisco Giants. He wears the creative cap in the partnership.

Although Mike Killelea, formerly of Legend Brewing Co., now heads up the brewing at COTU, the Ray brothers still do pilot batches. They developed some of COTU's beers – Ray Ray's Pale Ale and Pocahoptas IPA, for example – while trading recipes across the country.
The Rays grew up in Tampa (pun!) but decided to open COTU after Chris' baseball travels showed him the Ashland area was in need of a microbrewery.
"In Seattle, there's a hundred breweries in a 100-mile radius," he said, then adding the Ashland area has been supportive. Ashland is just outside of Richmond.
I don't ever remember hearing about a ballplayer getting into the brewing business following his playing career, but I can't imagine Ray is the first. That he went into business with his brother and that baseball showed him the best place to set up shop makes it even cooler.