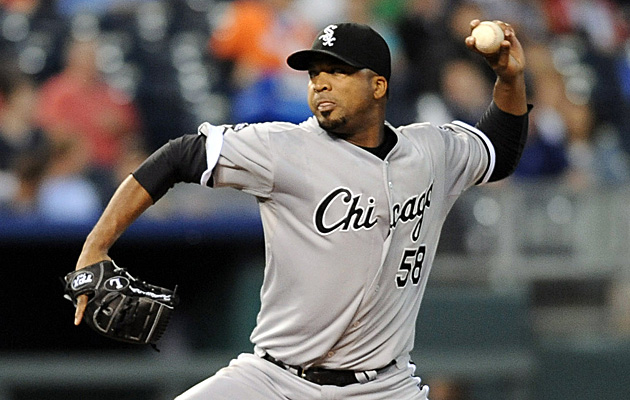 Liriano's wins the award for weirdest injury of the offseason. (US Presswire)
We have a rather obvious winner in the category of freakiest offseason injury: Mr. Francisco Liriano. He broke his arm while trying to scare his kids.
Let us first set the scene.
Back in December, the Pirates and free agent starting pitcher Liriano agreed to terms on a two-year, $12.75 million contract. A broken right arm held up finalizing the deal, and it ended up being revised following the accident. He can still make just as much, but not nearly as much of the contract is guaranteed, as most of the money is tied to incentives that relate to staying healthy.
And now, we have details on what actually happened in the Liriano household when he fractured his humerus. Via the Pittsburgh Post-Gazette, Liriano slammed into a door in an attempt to playfully frighten his children in a nearby room on Christmas Day.
More:
Liriano was scheduled to fly to Pittsburgh Dec. 26 to take his physical. He said he didn't feel much pain at first and went to play with his kids, but 20 minutes later the arm started to hurt and he told his wife he needed to go to the hospital.

"I was surprised when I got to the hospital and they told me it was broken," he said.
Perhaps it would be best to stick to playing board games and video games in the future? Throwing your body into a door doesn't seem like the smartest thing a professional athlete should be doing.
Hat-tip: Deadspin
For more baseball news, rumors and analysis, follow @EyeOnBaseball on Twitter, subscribe to the RSS feed and "like" us on Facebook. Also, individually interact with us on Twitter: @MattSnyder27, @daynperry and @mikeaxisa.