CINCINNATI -- As a conclusion to MLB's season-long vote on the "Franchise Four" contest, there were also the four greatest living players voted upon by the fans, and the winners were Sandy Koufax, Willie Mays, Hank Aaron and Johnny Bench.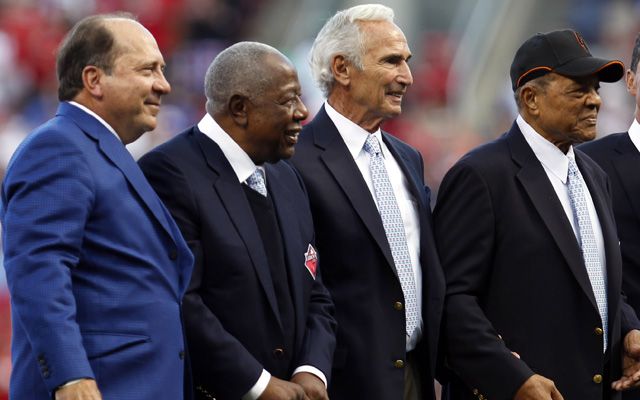 The ceremony took place immediately before the All-Star Game and concluded with Cincinnati original Koufax pitching to perhaps the most famous Reds player of all-time in Bench.
The ultimate Franchise Four, 4 living legends, Aaron, Bench, Koufax & Mays walk out on to the field http://t.co/F5eHISkNKc

— FOX Sports: MLB (@MLBONFOX) July 15, 2015
Great touch for the Cincinnati fans, who have thus far been treated to an excellent several days of All-Star fun.
Aaron has already mentioned how honored he was and I'm sure that goes for all four of these legends.
I'm honored that MLB fans have voted me as one of the four greatest living players. It is humbling to be remembered like this. Thank you.

— Hank Aaron (@HenryLouisAaron) July 15, 2015
Here's a complete list of the Franchise Four winners.