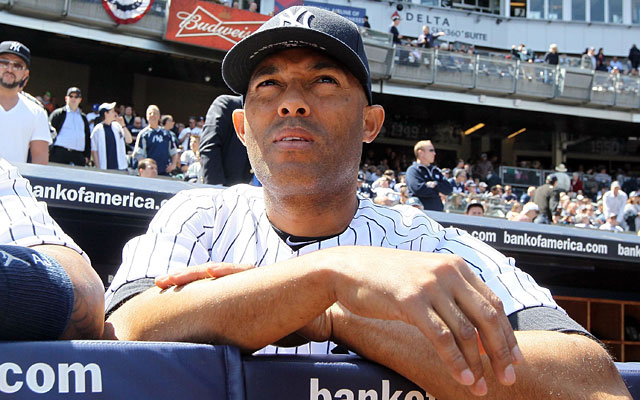 Mariano Rivera is the greatest ever at what he does, and not many folks can say that.
Not that it diminishes his place in history one bit, but perhaps what's most amazing about Rivera is that he accomplished what he did in large part because of one pitch he perfected, a cutter that moved so much it broke bats and hitters' hearts at an unreal rate. Rivera is the best closer in major-league history without debate.
Babe Ruth can be called the best right fielder. Rickey Henderson is probably the best basestealer, as he once loudly proclaimed. And Rivera, though he wouldn't say it aloud, is surely the best at his role, no argument needed. This cannot be said about any other player.
Rivera, expected to announce his retirement Saturday effective after the Yankees finish their 2013 season, wasn't great only because of the cutter. That wouldn't be fair to say. He didn't discover it until one day in 1997, when he was experimenting in the bullpen with Ramiro Mendoza, a very good middle reliever in one of the best bullpens ever. Rivera was great before he had that pitch, but after he had it, he became the best.
Rivera's cutter is likely the single most effective pitch anyone ever thrown, even above Nolan Ryan's fastball, Sandy Koufax's curve, Steve Carlton's slider, anyone's knuckler. Rivera's cutter was near unhittable at its best, which was basically all the time. The key was that it was always on.
So few hitters could deal with Rivera, the ones who do stick out. Edgar Martinez had success against Rivera. Magglio Ordonez got some hits. No average hitters ever seemed to have a chance. The vast majority of hitters were overmatched, at a complete loss, or somewhere in between
There are many amazing facts and stats surrounding Rivera but perhaps his career numbers tell the amazing story best. The lifetime ERA+ of 206 is the best ever. No one has touched it. The WHIP is 0.998. Perfect, below 1, which is the standard for excellence in a season. In a career, it is basically unheard of.
Rivera, you might suspect, may have been toying with hitters. How else to explain a postseason ledger that is much, much better than even his ridiculous regular-season record? He has a lifetime 0.70 ERA in the postseason, with a 0.759 WHIP. In 141 postseason innings, he has allowed 86 hits and 21 walks. It's like it is all made up.
Rivera hasn't allowed a postseason home run since 2000, when Jay Payton wrapped one around the pole at Yankee Stadium in the Subway World Series the Yankees won. Rivera was so infrequently hit in the postseason that you remember the oh-so-rare times he didn't succeed.
There was the Sandy Alomar Jr. home run at Cleveland in the 1997 playoffs. There was the inning in the 2004 ALCS when Dave Roberts stole second base and Bill Mueller grounded a tying single through the box. There was, of course, the errant throw on the Tony Womack roller, followed by the broken-bat hit by Luis Gonzalez that gave the Diamondbacks their World Series win in 2001.
The story of Rivera is almost as great as the stats. He was discovered by Yankees scout Herb Raybourn in Panama nearly a quarter-century ago.
Raybourn first saw a skinny shortstop with a nice arm he passed on, then took a flyer on Rivera a year later because of his effortless motion as a teenaged pitcher throwing 84 mph, as Jack Curry recounted in a 2009 New York Times story.
Rivera was signed to a $3,000 deal, perhaps the greatest bargain in baseball history. Once again, he's in competition with that other Yankee, Babe Ruth, who was bought by the Yankees for $125,000 in cash and some $300,000 in loans because Red Sox owner Harry Frazee wanted to finance Broadway shows.
Another thing that's hard to believe about Rivera is that he went unprotected, and untaken, in the 1992 expansion draft. The Yankees were very upset to have lost Charlie Hayes, Brad Ausmus and Carl Everett that day. But imagine if the Marlins or Rockies had taken the skinny pitcher who was starting to throw harder?
Rivera had arm surgery when he was in the minors. Yet he came back throwing harder and better than ever. Gene Michael, the general manager at the time, couldn't believe what he was seeing on the minor-league reports. The fastballs that had been 88 to 90 mph suddenly were 93, 94, 95 and more.
He still was only ranked the ninth-best prospect in the Yankees' organization at the time by Baseball America. Meanwhile, his cousin Ruben Rivera was ranked the second best in all of baseball. Ruben Rivera later became better known mostly for a boneheaded glove stealing incident in the Yankees clubhouse (he swiped Derek Jeter's leather).
Soon after Mariano arrived in the big leagues, he served noticed that he might be something special. It was on July 4, 1995, that he struck out 11 in a two-hitter against the White Sox. But perhaps because of the thin physique, the small bonus or something else, he still wasn't seen as a sure thing. He was in the bullpen in the 1995 playoffs, not to be used in Game 5 of the AL Division Series, when the Yankees coughed up a late lead and lost to the Mariners.
Rivera established himself as a star a year later as a setup man in the Yankees' 1996 championship. That allowed them to let closer John Wetteland go to the rival Texas Rangers, who they had just beaten in the playoffs, without a fight. But back then, some questioned why the Yankees would allow such a great one-two bullpen duo to be broken up.
Rivera was throwing in the high 90s by that time. While he hadn't discovered the cutter yet, he was still near to unhittable.
The cutter came the next year, and Rivera soon became the greatest weapon of a dynasty. I recall a wise baseball person once opining that if the Braves had Rivera, they are the ones who would have won the four World Series titles (now five), not Rivera's Yankees. That estimate may be low.