Rivera closing with grace: Part 1 | Part 2 | Part 3 | Part 4 | Part 5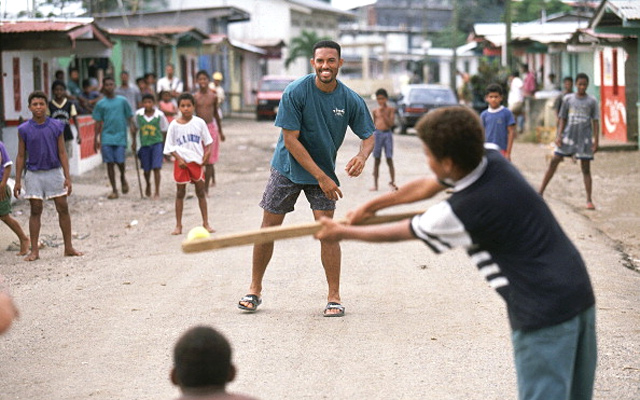 "Have faith in the Yankees, my son. Think of the great DiMaggio."

When he earned his first major-league victory in Oakland on May 28, 1995, Mariano Rivera, then only 25 and a starting pitcher, was interviewed on the Yankees' radio postgame show.
"Do you have the game ball?" longtime WFAN Yankees broadcaster Suzyn Waldman asked.
"No. But I have it here," Rivera replied, tapping his heart.
Two decades later, Waldman tells that story with a mixture of relish and amazement. In a game in which egos inflate and the claustrophobia of a season exaggerates the pettiest of grievances, it is poignant how all associated with the Yankees are sad to see Rivera go. For reasons both on and off the field.
His first save would not come until the following summer, after his inconsistency over 10 starts in 1995 led to the bullpen and a set-up role to then-closer John Wetteland. Apprenticeship is what it was.
Save No. 1 came on May 17, 1996, against the California Angels when Garret Anderson bounced into a game-ending double play. When "6-4-3" is mentioned to him, Rivera corrects: "4-6-3." Details. That's him.
Among the things that Wetteland taught him: As closer, it's your bullpen. It's your job to make sure everyone is prepared for what they need to do.
Current Yankees manager Joe Girardi was behind the plate for Rivera's first save, but he has no memory of it. What he does recall is arriving from the Rockies that spring, catching a young pitcher in Florida and wondering, who is this guy?
The quintessential Rivera moment that remains etched in Girardi's memory came in Game 6 of the 1996 World Series against Atlanta. He went two scoreless innings to help the Yankees clinch their first Series title since 1978. Girardi also recalls Ryan Klesko facing Rivera during that World Series "and it seemed like Mo broke three bats in one at-bat."
By now, the legend is well established, that Rivera's lethal cutter suddenly appeared one day in 1997. "A gift from God," he has said, many times.
He and his old catch partner, Ramiro Mendoza, were throwing together one afternoon, Rivera says, "and I was blowing [saves] ... I wasn't doing good. I was trying so hard. Nothing was moving."
Difficult -- if not impossible -- to imagine now. But, indeed, when the Yanks promoted Rivera to closer after allowing Wetteland to walk as a free agent, he responded by blowing three of his first six save opportunities.

Anyway, as Rivera threw with Mendoza on that now-hallowed day in Yankees history, the ball suddenly started to move.
"[Mendoza] was upset at me because the ball was moving and he thought I was making the ball move," Rivera says. "From that moment, I told Mel [Stottlemyre, then-Yankees pitching coach], I have no control over this. The ball is moving, and I have no control."
Rivera and Stottlemyre worked on it at old Tiger Stadium when the Yankees landed in Detroit in late June.
"Didn't matter how I grabbed the ball," Rivera recalls. "It was still moving. I told Mel that I won't be throwing no more balls in the bullpen because I need to be ready for the game. We worked a lot and this thing is still the same and let's leave it like that."
Rivera saved all three games in Detroit that series, career Nos. 23-25, and one of the singularly most lethal weapons in baseball history had launched.
"The Lord gave it to me," Rivera says. "Oh, the Lord. Def-i-nite-ly. I didn't change anything. No grip, no motion, anything. Nothing.
"The rest is history."
With the aid of that cutter, the Yankees would win the World Series again in 1998, 1999, 2000 and 2009. They would also reach the World Series in 2001 and 2003.
Tigers manager Jim Leyland will tell you that he believes there were three years during that time when Rivera was the MVP of "all of baseball." He never finished higher than ninth.
Tampa Bay manager Joe Maddon recounts all the times the Rays would sit in their dugout in the ninth inning and joke about how badly Rivera was tipping his pitches. Unspoken punch-line: Everyone knew the cutter was coming, and they still couldn't hit it.
Over the years, Rivera made some slight adjustments. Very slight. The biggest came around 2007 or 2008, when he started moving the ball in and out more.
Throughout all of these years, though, never has he worried that the cutter might disappear just as quickly and mysteriously as it appeared.
"Never thought about it," Rivera says. "Never, never. Because I was throwing the ball and the ball was moving and I don't have to think about something I have no control over.
"Sometimes, the Lord tests us to see where you are, where your faith is. I never worry about those things. I haven't been a guy who worries about those things.
"What if? That's why I never use that word, if. To me if doesn't count. If."
The word is practically spat out of his mouth, he utters it with such disdain. If.
"When he's out there, the whole team is affected. The crowd is affected," says starter Andy Pettitte, who rose through the Yankees system with Rivera. "I feel he's dominated the game of baseball the way Michael Jordan dominated the game of basketball.
"And he's been a wonderful example."
NEXT: The measuring stick for greatness
Rivera closing with grace: Part 1 | Part 2 | Part 3 | Part 4 | Part 5