MORE: Photo of the Day I: Tommy Lasorda and Snoopy
Foremost among Willie Mays's many signature moments was his impossible snare of Vic Wertz's booming fly in Game 1 of the 1954 World Series. 
As we all know, Mays ranged deep into the cavernous center field of the Polo Grounds and somehow made an over-the-shoulder grab. "The Catch," though, was a many-splendored thing, as the ensuing throw, the force of which brought Mays to his knees, was almost as impressive as the putout itself. Wertz's 425-foot blast came while Larry Doby was on second and Al Rosen was on first. Given how far away Mays was when he made the catch, Doby could've tagged up and scored from second absent a perfect throw to the cutoff man. But Mays indeed made a perfect throw to the cutoff man. 
If he'd missed the ball altogether? The bases would've cleared easily, and Wertz may have wound up with an inside-the-park home run. Instead, Mays made history, kept the score tied at 2-2 and permitted the Giants to win it in the 10th on Dusty Rhodes's three-run homer off Bob Lemon. New York, of course, would go on to sweep the series. 
Anyhow, after all that throat-clearing here's a view of The Catch from the rarely glimpsed flip-side ...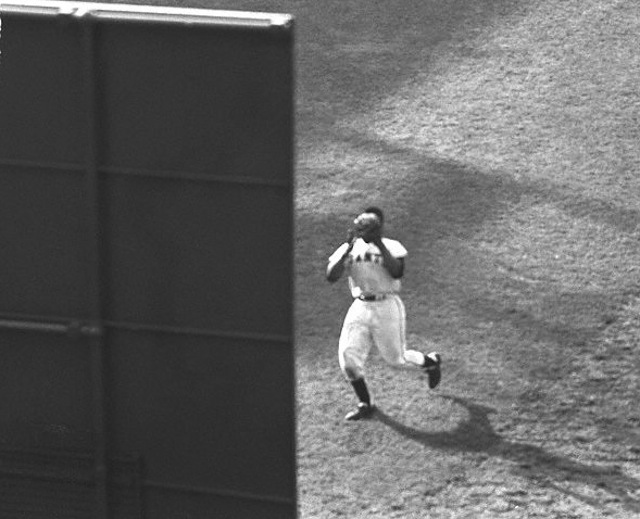 We're accustomed to seeing Mays's back on the play in question, but this provides an entirely different perspective on one of the most scrutinized moments in baseball history.
Pretty cool, I'd say. 
(Wink of CBS eye: @JohnStrubel)