Good news for fans of high-class sports uniforms: the Milwaukee Brewers are bringing back their famous glove logo this coming season. It will be part of their alternate uniform, which will be worn on most Sundays both at home and on the road.
The Brewers announced the alternative uniform Tuesday and will officially introduce the new navy jersey/hat combination this coming weekend at the team's Brewers on Deck fanfest event. Here's the hat and jersey combo (photo via the Brewers):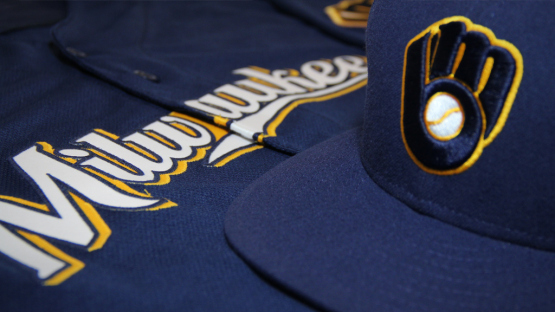 The jersey is pretty nice, but man, that hat. It's a thing of beauty. One of the best logos in sports history, hands down. It's got a glove and a ball, and an M and a B for Milwaukee Brewers. Simple, yet brilliant. That's as good as logos get.
The new alternate uniform will join the rotation with the team's home road, home blue, home grey, and retro uniforms. The glove logo is part of the retro uniforms, though those are only worn a handful of times each season. Now they'll wear it almost once a week.
The road navy and gold alternate uniforms will not be worn in 2016.