Friday night was a fairly run-of-the-mill night for Joey Votto and the Reds. Votto reached base four times, going 1 for 3 with three walks. And the Reds lost. This time on a walk-off wild pitch in the 11th inning by reliever Blake Wood (ARI 4, CIN 3). Here's the video:
The Reds are in the middle of a full blown rebuild and were expected to be bad this season. Chances are they'll only get even worse as the season winds down because Jay Bruce has been traded and plenty of kids figure to get an opportunity to play once rosters expand in September.
Because his team is so bad (by design), Votto's hitting genius is again going overlooked. Friday night's game raised his season batting line to .310/.435/.518 (158 OPS+) overall, and he again makes outs at a rate lower than anyone else. He leads the league in on-base percentage for the fifth time since 2010.
A year ago Votto finished third in the NL MVP voting thanks largely to a dominant second half in which he hit .362/.535/.617 (216 OPS+) with 14 home runs, 86 walks, and 65 strikeouts in 73 games. Votto has been even better this second half: .442/.542/.682 (234 OPS+) with six homers, 33 walks, and 20 strikeouts in 38 games.
Votto sought help via Baseball-Reference
The second half dominance is only part of Votto's lore, however. He's a very thoughtful player who meticulously studies scouting reports and video. When he was struggling earlier this season -- Votto was hitting .207/.330/.367 as recently as May 29 -- he found comfort in the online pages of Baseball-Reference. From Hal McCoy of the Dayton Daily News:
SO VOTTO SAT DOWN AND DID some research. He wanted to see if there were other superstars who had starts like his, but came out of it with a vengeance. He searched Baseball-Reference.com and came up with not one, not two, but three startling revelations.

...

ASKED WHAT GAVE HIM THAT idea, he smiled and said "When you start off as poorly as I did you look for as much hope as you can. I looked at Mays and he had a great season, Musial had a phenomenal season and Jeter had a fantastic year also. I look at those guys as inspirations, the guys I want to compete against while they are available to me."
Votto's critics are quick to point out his relatively low RBI totals. He hasn't topped 80 RBI since 2011 despite hitting .308/.493/.557 with runners in scoring position since the start of 2012. His RBI percentage -- the percentage of runners on base he's driven in -- since Opening Day 2012 is a fairly pedestrian 14.4 percent, on par with guys like Elvis Andrus and Omar Infante.
Votto is not one to expand the strike zone and swing at a pitcher's pitch just for the sake of putting the ball in play with runners on base, hence the .493 OBP (!) with runners in scoring position. Since the start of 2012 he's batted with 1,484 runners on base, the 82nd most in baseball. Bruce is fourth with 2,016 because he spent all those years hitting behind Votto, who never makes out.
RBI is not a great way to measure how effective a hitter is anyway. We know that. At the end of the day, the single best thing a hitter can do is not make an out, and Votto does that better than anyone. He still piles up plenty of base hits and can slug with the best of them, but his military style plate discipline sets him apart. Votto doesn't get himself out and he forces the pitcher to come into the strike zone. That's what makes him so effective.
Votto's spray chart truly is a thing of beauty
In an age where the infield shift is inescapable, Votto is the seemingly rare left-handed hitter who can spray the ball all over the field and hit it where many can't. Check this out (via Baseball Savant):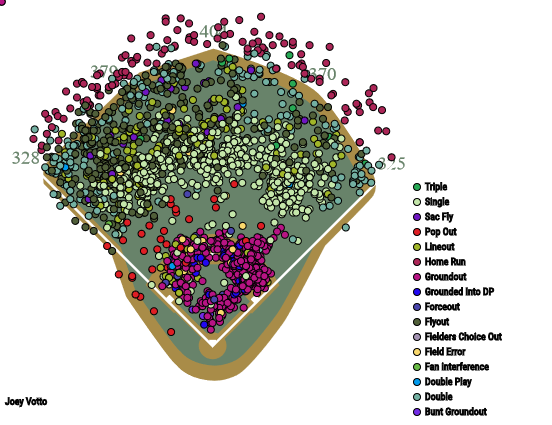 That's just beautiful. Votto hits for power to all fields and many of his non-home run balls in play are out to left field, the opposite field. Votto is close to shift proof. He's not going to swing at bad pitches and he's not going to make life easy for the defense by rolling over on ground balls to the right side all night. That's the kind of spray chart you expect to see from an all-time great.
Yes, it's time to begin talking about Votto as an all-time great
Since debuting in 2007, Votto has hit .311/.425/.532 (156 OPS+) in just under 5,300 plate appearances. The great Miguel Cabrera has hit .324/.404/.571 (160 OPS+) during that time. Albert Pujols hit .331/.426/.624 (172 OPS+) during the best 10-year stretch of his career (2001-10) and represents the gold standard for early career dominance. Votto has not hit for the same power as Miggy and Pujols, but his offensive performance is not far behind them overall.
Here's a really quick and simple leaderboard. Rather than OPS+, I'm going to use wRC+, or weighted runs created plus. It's a more fine-tuned version of OPS+ that includes adjustments for ballpark and other factors, as well more accurately reflecting the value of certain events. Raw OPS says a walks is equal to a single, and two singles are equal to double, etc. That's not really the case though. The potential to advance baserunners is different for each event, and wRC+ reflects that.
Anyway, here is the career wRC+ leaderboard since the mound was lowered in 1969. I've set the minimum at 3,000 plate appearances, giving us a sample of 955 batters.
Barry Bonds --173 wRC+
Mike Trout -- 167
Mark McGwire -- 157
Joey Votto -- 156
Frank Thomas -- 154
Albert Pujols -- 153

Manny Ramirez

-- 153
Miguel Cabrera -- 152
Willie Stargell -- 152
Dick Allen -- 150
By this one all-encompassing metric, Votto has been the fourth-best offensive player since the mound was lowered. He's been 57 percent better than the league average hitter during his career. Don't like the gory math involved with wRC+? Fine. Votto is 14th in batting average (.311), second in on-base percentage (.425), and 26th in slugging percentage (.532) among those 955 players.
This is not a player who is having some tremendously productive years at his peak. Votto has been one of the most productive hitters in Reds history -- among players with at least 1,500 plate appearances, he is first in franchise history in OPS (.957) and OPS+ (156), even better than everyone from the Big Red Machine days -- and one of the best hitters in all of baseball over the last half-century.
Why Votto's excellence may be overlooked
The Reds are not very good and that's by design. They're rebuilding. It stinks but sometimes it's necessary. Rebuilding teams can be easy to overlook, especially when they're in a small market and especially late in the season, after the trade deadline when they're just running out the clock on the regular season. Cincinnati's overall situation makes it easy to glance over Votto's day in, day out brilliance.
Votto is in the middle of another dominant second half, the kind of second half only a handful of players in the game can match. He's very much on a Hall of Fame trajectory and has laid down one heck of a foundation. Votto has the rate stats. Now he just needs to pile up some counting stats, and since he's only 33 and is signed through 2023, he has plenty of career remaining.
Despite all the critics who focus on his RBI totals and resent his willingness to take a walk, Votto is one of the most productive players of his generation and one of the best offensive players of our lifetimes. This is a historically great hitter who deserves more attention for putting together a career than has him on the path to becoming one of the best hitters baseball has ever seen.