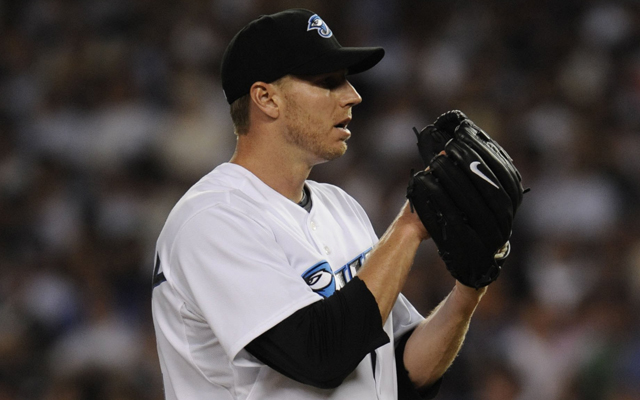 RELATED: Halladay to retire as a Blue Jay
ORLANDO, Fla. -- When the end of the career arrives for a player who made more than a handful of All-Star teams and won multiple high-profile awards, the inevitable question of his Hall of Fame worthiness is soon to follow. Such is the case with the retiring Roy Halladay.
And in my mind, he's a Hall of Famer. No doubt about it.
Before even diving into the numbers, one of the foremost questions people like to broach when weighing Hall of Fame cases is wondering whether or not the player in question was among the best of his generation. Halladay absolutely was in the discussion for the best pitcher of his generation.
For a decade, one could have argued that Halladay was the best pitcher in baseball -- in a hitters' era. From 2002-11, Halladay was 170-75 (.694 -- which calculates out to 112-50 in 162 games) with a 2.97 ERA. That was good for a 148 ERA+, which is to say that Halladay was a whopping 48 percent better than the average pitcher for an entire decade at run prevention. He made the All-Star team eight times while finishing in the top five of Cy Young voting seven times -- winning twice. That screams elite-level production for an era.
Let us also keep in mind the work Halladay did in spite of playing for losing teams. In 2002, Halladay went 19-7 for a 78-84 team. In 2005, he was 12-4 for an 80-82 team. In 2009, he was 17-10 for a 75-87 club. Going 148-76 in 12 years for the Blue Jays in the vaunted AL East during a hitters' era is remarkable.
You'll note I've gone heavy on the win-loss record, even though regular readers know I hate doing so. That's because Halladay has "only" 203 career wins and I fear in the minds of many that will be a problem when it comes to his Hall candidacy.
It shouldn't matter, though.
Halladay shouldn't be penalized for dominance instead of longevity. I'd rather have the stud in the Hall of Fame than the compiler. For example, the following Hall of Famers have a worse career winning percentage than Halladay: Sandy Koufax, Three Finger Brown, Dizzy Dean, Pete Alexander, Jim Palmer, Juan Marichal, Carl Hubbell, Bob Feller and many more. Like Cy Young. Ever heard of him?
Yes, Halladay was a winner. But looking elsewhere only further solidifies his case.
He was a workhorse. Halladay led the league in innings pitched four times and complete games seven times. He worked at least 200 innings in eight different seasons.
Wins Above Replacement is a handy stat in looking at all-around performance over the course of a career, but it's cumulative. Given that Halladay had a relatively short career compared to many Hall of Famers -- excluding someone like Sandy Koufax, of course -- he's dinged a bit. He still, however, ranks 41st in baseball history among pitchers in baseball-reference.com's version of WAR. I'd guess that even "Small Hall" people would believe at least 41 starting pitchers should be in the Hall of Fame.
Of the 40 pitchers with more WAR than Halladay, 28 are in the Hall. Some of the names of guys who aren't (yet) in among the 40: Greg Maddux, Roger Clemens, Randy Johnson, Pedro Martinez, Tom Glavine, John Smoltz and Curt Schilling. Some Hall of Famers with less WAR than Halladay? Bob Feller, Ed Walsh, Don Drysdale, Whitey Ford, Sandy Koufax and Juan Marichal, among several others.
ERA-plus is a great stat to help us adjust to different eras -- be they pitcher-friendly, neutral or hitter-friendly. Halladay's 131 mark is tied for 35th in baseball history. He's ahead of Hall of Famers Carl Hubbell, Bob Gibson, Tom Seaver, Jim Palmer, Juan Marichal and more.
How about strikeout-to-walk ratio? Halladay ranks 16th in baseball history with 3.576 strikeouts per walk.
For many, postseason performance matters. Well, Halladay threw a no-hitter in his first career playoff start and boasted a 2.37 ERA in five postseason starts.
He never pitched in the World Series, but that was hardly his fault. Plus, I don't blame individual players for the faults of their teammates. This is a team game, yes, but the Hall of Fame honors individuals.
And as an individual player, Roy Halladay was absolutely a Hall of Famer. Here's hoping he gets the call in five years.