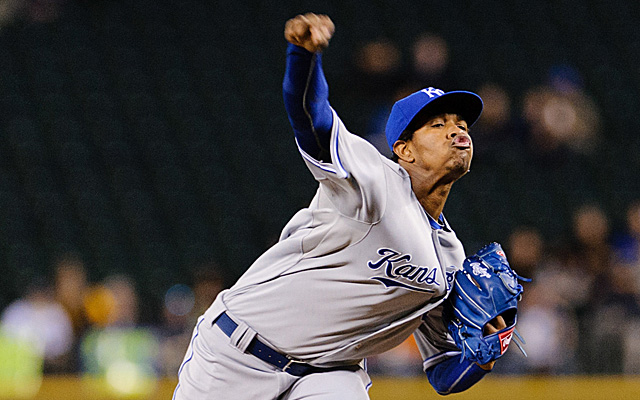 HEYMAN: Ventura hits 101 mph, is praised for not trying to throwing too hard
During the last week or so, this has been akin to a foregone conclusion, but Tuesday Royals manager Ned Yost made it official: Phenom Yordano Ventura has beat out Danny Duffy and a few others for the fifth spot in the Royals' starting rotation entering the 2014 season. Yost informed the pitchers and then reporters Tuesday morning (kansascitystar.com).
The true nail in the coffin was Ventura's performance Monday, when he threw six shutout innings, meaning he's now sporting a 1.76 ERA and 0.71 WHIP with 15 strikeouts in 15 1/3 innings this spring. By contrast, Duffy has an 11.00 ERA and 2.11 WHIP in nine innings this spring.
Ventura, 22, lights up the radar gun to the tune of triple digits on occasion. He worked 15 1/3 innings in three starts last season for the Royals, posting a 3.52 ERA (120 ERA+), 1.24 WHIP and 11 strikeouts. He was 8-6 with a 3.14 ERA, 1.28 WHIP and 155 strikeouts in 134 2/3 innings across Double-A and Triple-A last season.
Entering this season, Ventura is a consensus top 15 prospect in all of baseball.
So the Royals' starting rotation is now set: James Shields, Jason Vargas, Bruce Chen, Jeremy Guthrie and Ventura.