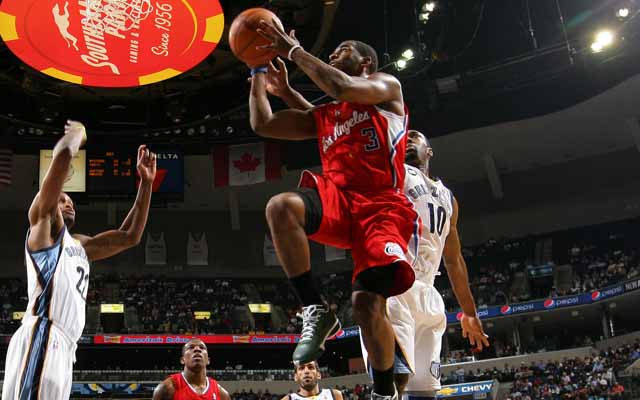 Chris Paul can expect multiple defenders against Memphis.
(Getty Images)
Biggest StrengthMemphis Grizzlies:
Their motto is "All heart, grit, grind" for a reason. The Grizzlies attack you in the passing lane, on loose balls, off the dribble, everywhere. They swarm and create general disarray ("General Disarray" /salute). Once your'e on tilt from the pressure they hit you with quick passes and fast cuts to the rim in transition. It's a pain playing them. They wear you out, they wear you down, they wear you in to a loss.
Los Angeles Clippers:
Committment to the pick and roll. They don't just run it once, they run it over and over and over again with
Blake Griffin
. Guard it once and you've only started. They'll run it as many times in one set as is necessary to get Griffin free or Paul open. Trapping doesn't work to end the possession because Paul has too good of a handle and can find the open man too easy. Bringing help doesn't work, either. You can bring the weakside man to attack Griffin at the rim... but you're going to get dunked on. Hard. It's tough to stop them there.
Biggest weaknessMemphis Grizzlies:
Offense. The team gets lost when it tries finding halfcourt offense using a jumper. They don't have shooters, they don't have smooth sets. If you can shut down the first two or three things they try in a possession, you have a good chance of forcing a 24-second violation.
Los Angeles Clippers:
You can't defend position if you're in the air for a lob all the time. The Clippers struggle with defense, especially if there's any solid ball movement. Their bigs are eager to attack someone driving but never maintain position to recover for the dropoff. They give up easy baskets at the rim.
X-FactorMemphis Grizzlies:
O.J. Mayo
. Mayo can light up the scoreboard, coming off the bench and hitting huge shot after huge shot. When he's on, he's a fearsome scorer. When he's off, he's still going to shoot. Keeping Mayo from warming up is a major priority because when he does, the Memphis offense starts to really run and then you have two major problems to deal with.
Los Angeles Clippers:
Randy Foye
. Foye has very quietly played extremely well over the past month as a combo gaurd, hitting shots. The Clippers struggled after
Chauncey Billups
' injury without a real scoring guard, and Foye has given them that. Alongside
Caron Butler
, Foye helps
Chris Paul
stretch the floor which means they can run that pick and roll easier. He's also been great in transition, fearless and in control, most of the time.
Matchup AdvantageMemphis Grizzlies:
Rudy Gay
. There's not a good enough wing defender to lock up Gay, one of the most athletic players in the series and a major scoring threat for the Grizzlies who has taken a step forward this season. When Gay scores 20+, beating Memphis becomes a much tougher proposition. The Grizzlies can put Gay into isolation in key moments and trust him to hit shots. They didn't have that last year. They do now.
Los Angeles Clippers:
There are few players on the planet athletic enough to handle Blake Griffin and the Grizzlies don't have any of them. Griffin is going to get fouled, but those fouls also mean changes to rotations.
Zach Randolph
can't keep him in front, neither can
Marc Gasol
. Griffin could force Memphis to go
Dante Cunningham
more to try and contain the dunk master.
Will Win If...Memphis will win if...
They get the bigs involved in scoring. When Zach Randolph and Marc Gasol are getting points at the rim, the Grizzlies start to coast. It's just a different game when that happens.
Clippers will win if...
The Memphis offense can't keep up with the onslaught from Chris Paul. CP3 in the playoffs is a whole different animal. If his teammates can knock down open shots they'll get from what he creates, the Clippers can get past Memphis. The Grizzlies are a better team in many eyes, but the difference between these two teams could come down to a handful of plays... and homecourt advantage.
Series prediction:
Grizzlies in 6.