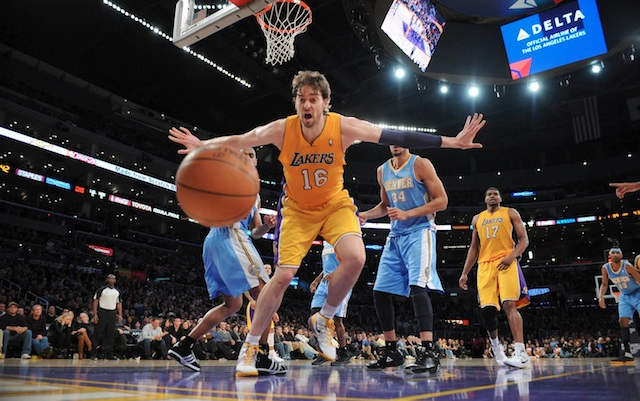 Lakers will need to stop and slow down the speedy Nuggets.

(Getty Images)
Eye on Basketball presents the 2012 NBA playoffs first round series previews. In this edition, the Los Angeles Lakers and Denver Nuggets.


BIGGEST STRENGTH
L.A. Lakers: Interior offense.
It's the Lakers biggest strength against anyone, any time. There just aren't very many teams that can match the brute size and strength of
Andrew Bynum
and
Pau Gasol
inside. Two seven footers that are skilled, that can pass, can score inside and out and can entirely close down the paint and rebound. They score on putbacks, lobs and drop-offs. That's a challenge to match up with. Obviously what balances the Lakers is
Kobe Bryant
's scoring, but the Lakers are one of the strongest teams inside, finish among the top teams in points in the paint.


Denver: Speed.
The Nuggets led the league in points in the paint and shots at the rim, but not because of a superior post player. It's because of their fearsome transition game. The Nuggets have a deadly secondary break, turning a made basket by an opponent into a transition opportunity the other way. The Nuggets could potentially run the Lakers ragged, forcing them into unformcortable smallball style lineups that marginalize their superiority on the block
.

BIGGEST WEAKNESS
L.A. Lakers: Bench production.
Mike Brown doesn't have a lot of options. He has so few, in fact, that he doesn't even really know what his options are. He used
Devin Ebanks
and
Jordan Hill
rather than
Josh McRoberts
and
Troy Murphy
. He hasn't seemed to settle on a pure rotation and will likely shorten his bench in the playoffs giving Gasol, Bynum, Kobe and
Ramon Sessions
heavy minutes. But what complicates things even more for Brown is the fact he's without his starting 3 as
Metta World Peace
will miss the entire opening round, unless it goes seven games.
Matt Barnes
is a viable replacement, but that shrinks L.A.'s depth and could put a strain on Brown if there's foul trouble or an injury.


Denver: Isolation scoring
. George Karl doesn't see that as a weakness, but a strength. His team ball style has been a joy to watch, has made the Nuggets into a dangerous five-man offensive weapon and keeps everyone a threat on the floor. But as the Thunder showcased last postseason against Denver, there's something to be said for having a player you can go to for points. Karl says he thinks the idea of a "closer" is a touch overrated and has pegged
Ty Lawson
as his man for that, but if it's a two possession game in the final four minutes against the Lakers, who do you favor? Kobe, Bynum and Gasol or the teamball Nuggets?
X-FACTOR
L.A. Lakers: Ramon Sessions
. You can actually pencil Sessions in as the Lakers' X-Factor for the remainder of the postseason. As he goes, so will the Lakers. Yeah, Kobe is the most important player and Bynum and Gasol can dominate, but it will be Sessions to fuels the engine. If he can become deadly in pick-and-roll situations, provide complementary scoring and quality shot creation, the Lakers will have a more diversified offense and thus be a much more dangerous team. Offense has been the bane of the Lakers all season long, but Sessions has helped remedy some of those issues.
Denver: JaVale McGee.
What? Seriously. It's really combination of McGee,
Kenneth Faried
and
Kosta Koufos
but it comes down to if the Nuggets interior can hold their heads up. McGee has the athleticism and length, but maybe not the strength to match Bynum. Faried is an animal (manimal) but he's a tad undersized, especially when compared to Gasol. The Nuggets are relentless attacking the glass, but they can't afford to give the Lakers second chances. Especially because the first step to a fast break is securing a defensive rebound. If the Lakers own the glass, it will minimalize the Nuggets most explosive offensive weapon.
MATCHUP ADVANTAGE
L.A. Lakers: Size. Already sort of covered this, but the Lakers are bigger. The Nuggets aren't small by any means, but the Lakers are superior to most every team inside. I don't think you're going to see a Laker team just dumping the ball down low incessantly, but I do think they'll try to pound Denver to a degree. Everyone knows this is where the Lakers make their money and if they're to dominate this series, it's going to start on the block.

Denver: Depth. And coaching. The Nuggets go a solid nine deep. They have talent spread throughout the roster, have lots of bodies to throw on the floor against Bynum and Gasol and quality defenders to try on Kobe. But I think George Karl gives Denver a big advantage in this series. No disrespect to Mike Brown, but Karl knows how to maximize matchups, make adjustments and simplify the game to get the most out of a likely overmatched roster.

WILL WIN IF...
L.A. Lakers: Keeps Denver under 100.
It sound a little oversimplfied, but the Nuggets want to score, run and score. The Lakers want to grind, get points in the paint on long possessions and then let Kobe kill you late. In a lot of ways, the Nuggets seem to have matchup advantages in that they seem to be able to exploit Laker weaknessnes, but overall, the Lakers have better talent and better players at the top of the pecking order.
Denver: It doesn't stop running.
The Nuggets need to bust out of the gates running and never stop. It's hard to commit to the transition game in a close second half, but every extra basket Denver scores in transition is gravy. It could force Mike Brown into a rotation where he might have to sit one of his best players -- Bynum -- in favor for someone more agile to keep up. The Nuggets want to determine pace and procedure in this series.
THE PICK: Lakers in six | Read more expert predicitions