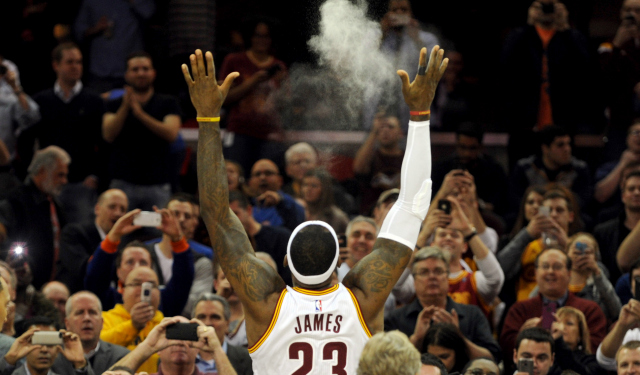 LeBron James can't seem to make up his mind about the chalk toss. He asked fans whether or not he should bring back his signature pregame ritual before the season started, and he gave the people what they wanted. Since with that special moment, though, the Cleveland Cavaliers have had an uneven start to the season, and James decided to make some changes. From the Cleveland Plain Dealer's Joe Vardon:
LeBron James now shoots with teammates about an hour before the game and he has apparently stopped doing the chalk toss.

…

Most players shoot before games, usually somewhere between 90 and 50 minutes prior to game time. James hadn't done it once all season until Monday night, choosing instead to stretch and go through rigorous calisthenics and body maintenance with trainer Mike Mancias, who's followed him from Cleveland, to Miami, and back again.

Perhaps shooting before games was a way to help James begin games with a better feel for his shot.

Doing away with the chalk toss - in which he tosses talcum powder into the air from the scorer's table before each game -- has very little to do with playing better.

So much about the Cavaliers revolves around James. He garners the most attention from the press, gets the loudest cheers from the fans, is most prominently featured during the team's pregame introductions...and all for good reason.

The chalk toss was one more thing that put James on a different level from his teammates. That may not be why he dumped it -- there was no chalk toss prior to at least the last two games -- but the result is another in which James can lead by example.
The Cavs are on a three-game winning streak, and James played two of his best games since his return against the Magic and Wizards this past week. If doesn't want to do the chalk toss anymore, who are we to argue with him?