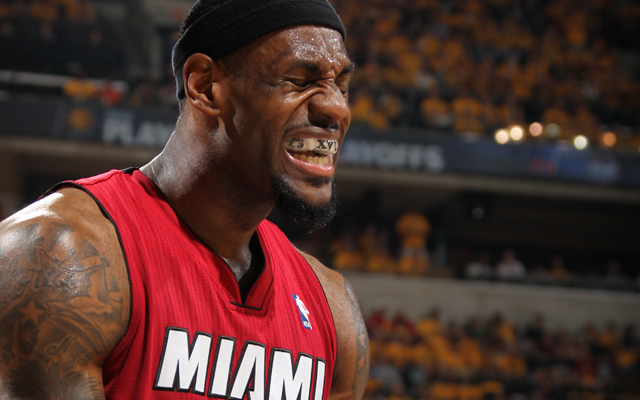 Heat Thursday, and he wasn't.

(Getty Images)
Without
Chris Bosh
, and for all intents and purposes, no
Dwyane Wade
in Game 3 against the Pacers, a responsibility fell to
LeBron James
. This season's MVP needed to be exactly that. He needed to show up, step up, stand up --
something
up.
Instead, like the rest of his team, he sat down. With about two minutes to go in the fourth because his Heat trailed by 20 and the game was done. (Then ironically enough, as he stood talking on the bench to some Indiana players, referee Tony Brothers actually came over and told James to sit down.)
No fourth quarter choke talk, no failures in the clutch, because there was no clutch in Game 3. That train came and went late in the third quarter.
More on Heat-Pacers
Analysis

Related links
More NBA coverage
Wade deserves the bulk of the blame, and trust me,
he's getting it
. But come on, it's LeBron. The undisputed MVP of the league. The world's best player. In a game where he went 10-of-22 from the floor for just 22 points, which included only 2-of-8 in the second half, his team wilted like flower in the Sahara. His team needed him to rise, to lift them up, to take them higher, and instead, that responsibility fell to
Mario Chalmers
and
James Jones
. What?
My question: Where's May 31, 2007 LeBron James? Where's the guy that dropped 48 on Detroit's face in Game 5, scoring 25 of the Cavs' final 29? Where's the guy that had The Look and gave us all the hope that he was going to be one of the great playoff forces to be reckoned with? With the Heat throwing up all over themselves, where was LeBron to just try and say, "I got this?" 
Sometimes it's just out of a player's hands. For example, Game 2 for Kobe Bryant, he couldn't do anything to stop the onslaught from Oklahoma City. It wasn't his fault. It was all on the Lakers, as a whole.
But LeBron didn't appear to have any interest in trying to take over. After the Pacers went ahead by 14 late in the third and Erik Spoelstra called a third timeout of the quarter, here's how it went for the Heat: two free throws for
Joel Anthony
,
Mike Miller
3, Chalmers missed 3, LeBron missed free throw, LeBron missed 3, LeBron missed jumper,
Shane Battier
missed 3, LeBron missed 3. In the fourth quarter, LeBron attempted four shots. Eight total for the second half when it slipped away. For a player of his ability, there's really no good reason for that.
Remember that stretch of games early in the season where Wade was hurt and LeBron
showed everyone how truly incredible he is
? He dominated games, looked amazing and reminded us all how he can own a basketball court. It was LeBron James, and nine other players on the floor. The game was at his fingertips.
But to be blunt, Wade's always kind of been LeBron's crutch. He can still be the world's best player with Wade, but he doesn't quite seem to
own the game
when he's on the floor with him. Which I suppose was kind of the plan all along, but you saw what happens when Wade isn't there for him to lean on. Of course if any team's second superstar played terrible, it would make it a challenge to win, but where was the LeBron James that decided to say, "Screw it, I'm putting this team on my back."
Instead, we're all waiting to hear that LeBron's elbow started hurting again so we have an explanation for him fazing out of the game. He's a lightning rod for this stuff because we all know he can do better. We feel like we should be watching one of the greatest players ever do great things on the floor and we'll remember forever, but instead, he's just chilling at the top of the key swinging the ball to Mike Miller.
It's still far from over for LeBron though. A big Game 4 from him and I happily shut up. I still think he's the most amazing basketball player in the world. I just wish he'd show it more often.