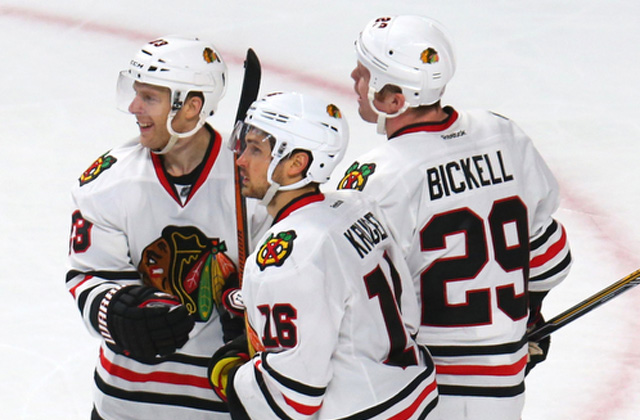 The Chicago Blackhawks will enter Game 1 of the Stanley Cup Final against the Tampa Bay Lightning with a slightly different lineup than the one they closed out the Western Conference Final with.
Forward Bryan Bickell, who did not play the final two periods of Game 7 of the WCF against the Anaheim Ducks due to a suspected injury, is scratched for Chicago. Taking his spot in the lineup is veteran forward Kris Versteeg, whose wife just gave birth to the couple's son Tuesday.
Bickell has had a mostly quiet postseason with five assists, but he had played in all 17 games prior to Wednesday night's opener.
Versteeg, meanwhile, has appeared in just seven games during the 2015 Stanley Cup Playoffs. He has one goal.
A key member of Chicago's Stanley Cup team in 2010, Versteeg was not part of the team the last time Lord Stanley came to town in 2013. He is expected to take Bickell's spot on the second line with Brad Richards and Marian Hossa. Versteeg did spend part of the season playing alongside Richards, so there should at least be some built in chemistry there.
This could be something worth monitoring for the duration of the Stanley Cup Final. Bickell is one of the Blackhawks' biggest forwards and was a huge contributor to the Stanley Cup run in 2013.