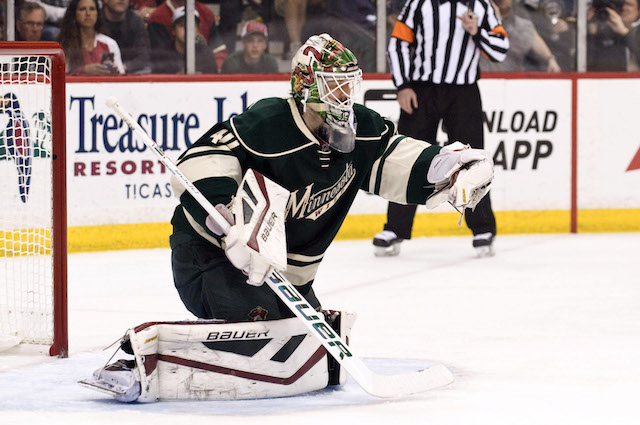 Devan Dubnyk's career has been quite the adventure over the past year. 
Just as it appeared as if his immediate future in the NHL was in doubt following a disastrous 2013-14 season with the Edmonton Oilers and Nashville Predators, he managed to put together an incredible bounceback season with the Arizona Coyotes and Minnesota Wild that resulted in a long-term contract extension that gives him financial security and a team for the long-term.
The Wild announced on Saturday that they have signed Dubnyk to a six-year contract. According to Michael Russo of the Star-Tribune the deal is worth $25 million and carries a limited no-trade clause.
Minnesota acquired Dubnyk in January when the team was stuck at the bottom of the NHL standings and the season seemed to be a lost cause, due almost entirely to their struggles in net. Dubnyk immediately became the team's starter and played almost every game the rest of the season, putting together his best season in the NHL to date and finishing as a finalist for the Vezina Trophy after leading the Wild to the second round of the playoffs.
His $4.1 million salary cap hit is 21st in the NHL among goalies. 
The biggest risk isn't necessarily the cap hit itself (it's probably more than fair) but the length of the contract for a 29-year-old goalie given the unpredictable nature of the position. 
The reality with Dubnyk though is that he's probably not as good as he was in the second half of this past season with the Wild, and he's not as bad as he was the previous year in Edmonton and Nashville, which probably makes him a very good, average to above average goaltender. Which is exactly what his cap hit reflects.