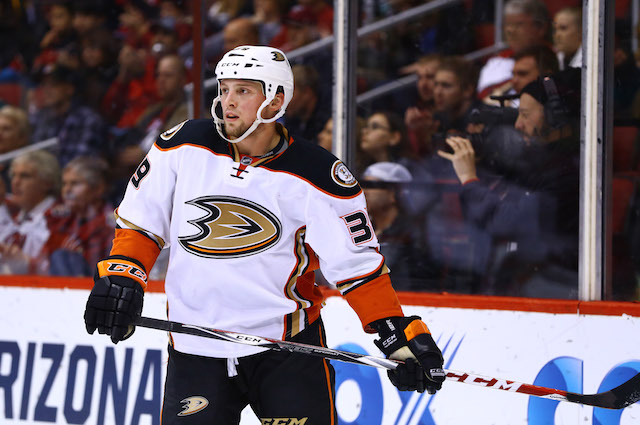 The Boston Bruins landed one of the top forwards available in this year's shallow free agent market by signing former Anaheim Ducks winger Matt Beleskey to a five-year deal worth $19 million, according to Darren Dreger of TSN.
Beleskey is coming off of a career season in which he put up 22 goals and 10 assists in 65 games. His value shot up even more after notching eight goals over 16 games in the Stanley Cup Playoffs as the Ducks were a game away from reaching the Stanley Cup Final. However, over parts of seven seasons with the Ducks, Beleskey has just 112 points.
Beleskey is probably going to help the Bruins after the big year he had, but the fact of the matter is, the term makes this a little bit of a higher-risk contract. The money, however, turned out to be far more reasonable than anyone expected.
With an annual average of $3.8 million, the Bruins aren't necessarily over-extending themselves here, but it is very unclear if Beleskey will be able to replicate what he did this season. However, given the expectations, the Bruins did pretty well here to bring in one of the most sought-after UFAs. Additionally, it was reported that Beleskey turned down a four-year, $4 million contract from the Ducks, so the Bruins bet on term to keep the cap hit down.
Beleskey hit his career high with 32 points this season. He's 27 years old, so there isn't bound to be a lot of potential for him to tap into, though it remains possible for him to improve. So it's still a little pricey, more because of the term than anything else.
Having never scored more than 11 goals in a season before potting 22 this season, expectations for Beleskey's future are mixed. Especially since he scored all those goals with a 15.9 shooting percentage, which far out-paces his career 9.9 percent mark. His shooting percentage went even higher in the playoffs at 17.8 percent. Replicating that kind of scoring is going to be difficult, even if he's in an elevated role in Boston. Shooting percentage tends not to stay that high for very long.
After trading away Milan Lucic and Dougie Hamilton, new GM Don Sweeney insisted the team is not rebuilding. This move suggests that's an accurate statement, but the question now is how does anything that the Bruins did over the last week help them improve on a season in which they missed the playoffs?
Boston needed to shed salary, they needed to clear some cap space, and they somewhat did that already. The trades of Hamilton and Lucic absolved the team of probably somewhere around $11 million worth of cap space heading into next season.
The Bruins also swung a deal to swap Reilly Smith and the dead contract of Marc Savard for RFA forward Jimmy Hayes with the Panthers, which is a nicer move. That helps create more space to fit Beleskey in even better.
This is a deal that many expected would be more expensive with Beleskey taking advantage of the market. Perhaps that lowers the sticker-shock on the price that ended up being paid. Still, it's hard to know what the vision is for this organization, at least in the long-term. There are still a lot of questions to answer, but that would have been true no matter what happened on the first day of free agency.