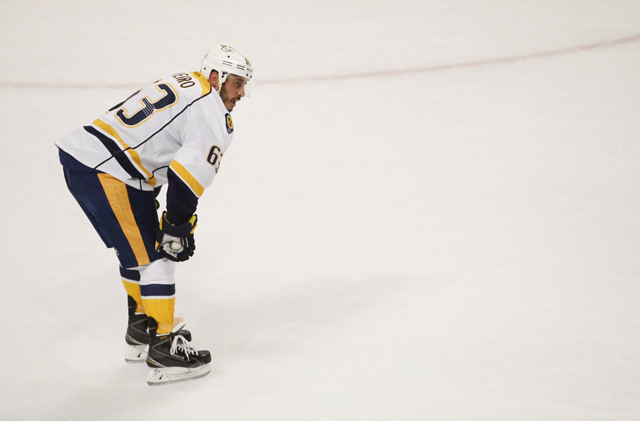 Nashville Predators forward Mike Ribeiro and his wife have reached an out-of-court settlement with a former nanny who sued the couple over claims of sexual assault according to NashvillePost.com.
The plaintiff recently provided detailed, disturbing allegations of an incident involving Ribeiro in 2012. Ribeiro and his wife denied all of the allegations and planned to vigorously defend themselves according to their lawyer. Now it appears that the issue has been resolved, at least in the legal sense, however terms of the settlement have not been disclosed.
The court-appointed mediator filed a report with the court late Wednesday afternoon saying that an eight-hour mediation July 6 resulted in a settlement of the suit.

"This civil matter has been amicably resolved without incurring further time-consuming and potentially costly litigation," Ribeiro's attorney, Brian Lauten of Dallas' Deans & Lyon, said in a statement to NashvillePost.com. "I am unable to discuss any of the elements of this confidential resolution. Mike looks forward to continuing to play hockey at a high level and looks forward to aggressively pursuing a Stanley Cup alongside his teammates. The Ribeiro family will not have any further comments on this matter."
It was assumed that a settlement of some kind was coming in this civil suit, but a settlement provides resolution only to the parties involved. With terms left undisclosed, the truth about what really happened remains shrouded in mystery.
The Predators organization has been standing by Ribeiro amid the allegations and even signed him to a new two-year, $7 million extension on July 1. That deal was finalized two weeks after the graphic allegations of sexual assault brought forth by the plaintiff became public after Predators blog On The Forecheck obtained court documents.
The Predators did issue a statement to NashvillePost.com, which read:
"The organization understands Mike Ribeiro has resolved his civil case. We are pleased that Mike and his family can focus on their future and we will have no further comment."
Ribeiro's NHL career has been dotted by various dustups and legal concerns. He was arrested for public intoxication in 2010 while playing with the Dallas Stars. The alleged incident described in court documents as part of this civil trial happened after Ribeiro had just moved to Virginia to join the Washington Capitals, in 2012. He was also bought out by the Arizona Coyotes following the 2013-14 season, with general manager Don Maloney citing "behavioral issues."
After leaving the Coyotes, Ribeiro then signed with the Predators as an unrestricted free agent and seemed to have reshaped his image while putting together a bounce-back season in 2014-15 while helping Nashville reach the playoffs.
As is often the case with out-of-court-settlements, the public is not privy to the facts. With this result, Ribeiro remains at the mercy of the court of public opinion, and it's unlikely he'll be given the benefit of the doubt by many.