2020 Tokyo Olympics softball score: Team USA falls to Japan as hosts capture second consecutive gold medal
In a rematch of the 2008 gold medal game, Japan came out on top again
Getty Images
Thirteen years after the Japanese women's softball national team achieved their biggest victory when they took down Team USA in the gold medal game at the 2008 Olympics, they returned to the 2020 Tokyo Olympics and won the gold medal again. 
Japan defeated USA Softball in the gold medal game on Tuesday, 2-0. The Americans entered the game with a perfect 5-0 record in group play, and on Monday handed Japan its only loss, 2-1, on Kelsey Stewart's seventh-inning, walk-off home run. The Tokyo 2020 softball tournament concludes with Team USA walking away with the silver medal and Canada getting the bronze medal (the country's first in softball) after defeating Mexico, 3-2, earlier on Tuesday.
With the victory, Japan establishes itself as a softball powerhouse, joining its rival United States as the only two countries to have captured Olympic gold. With Team USA's silver medal, the country earns its fifth total medal in softball, the most of any nation.
1996: USA def. China, 3-1
2000: USA def. Japan, 2-1
2004: USA def. Australia, 5-1
2008: Japan def. USA, 3-1
2020: Japan def. USA, 2-0
*Softball was not part of Olympics in 2012 and 2016 and will not be a part of the 2024 Summer Olympics in Paris.
In Tuesday's winner-take-all final, Japan's star pitcher Yukiko Ueno shined on the mound. Uneo, 39, was also the winning pitcher in 2008. She pitched six scoreless innings and held Team USA to just two hits while striking out five. Team USA had the combination of Cat Osterman, Monica Abbott and Ally Carda on the mound, but the trio wasn't enough to stop Japan from piecing together clutch hitting and two-out rallies.
Here are four takeaways from the gold medal game.
1. No offense but great defense from Team USA
Japan just absolutely stymied the U.S. offense in the gold medal game at Yokohama Stadium. The team finished with just three hits in the loss. It wasn't necessarily a huge shock to see Team USA's offense this quiet; throughout the Olympics round-robin play, the team had scored just nine runs on 27 hits with just one home run. Japan, meanwhile, scored 18 runs on 26 hits with six home runs.
On a positive note for the Americans, their defense was spectacular. There were plenty of textbook-perfect plays along with an incredible home run-robbing catch from Janie Reed. Here's this great two-out catch from outfielder Michelle Moultrie to keep the game scoreless in the second: 
In the third inning, Kelsey Stewart nabbed the lead runner at second base on a great play of a bunt from Japan:
And, the stunning catch from Reed, which robbed Japan of a two-run home run:
The catch is worthy of a closer look: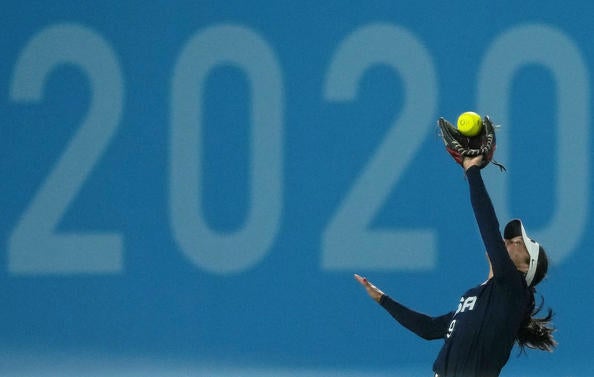 2. Yukiko Ueno adds to Olympics legend
Japan's 39-year-old Yukiko Ueno was dominant once again on the international stage. In 2008, Ueno pitched 28 innings (413 pitches) in two days to lead her team to the top of the podium, and in 2021, Ueno returned to form. In Tuesday's game, she retired eight straight batters and was settled into a rhythm long before the USA bats could get anything going. After Ueno gave up a leadoff single in the sixth inning, she departed the game only to return in the seventh to close out the victory by retiring the side in order. 
Entering the game, it seemed as if the only thing standing between Team USA and an avenging gold medal win was the legendary Uneo. Well, that turned out to be just the case. Now, included in Uneo's historic Olympics resume: two gold medals, the only seven-inning perfect game (2004 Athens), and a record (also set in 2004) that might never be broken of 15 1/3 consecutive innings without giving up a hit.
3. Osterman, Abbott's last go-around
Cat Osterman and Monica Abbott were two notable Olympic veterans on this year's Team USA roster. The pair of southpaws both were a part of the 2008 silver medal team, and Osterman was the last holdover from the 2004 gold medal team. Osterman, 38, and Abbott, 35, can be considered to be two of softball's greatest ambassadors, but Tokyo is presumably their final time on the Olympic stage.
4. Softball won't be back in Paris, hopeful for L.A. 2028
Softball thrives on the Olympic stage, so it's a shame that the sport won't return at the next Games, the 2024 Paris Olympics. The organizing committee for Paris determined that they would not recommend baseball or softball; the pair of sports are viewed as one sport by the International Olympic Committee. Since neither baseball or softball are permanent Olympic fixtures, fans will have to wait seven more years until both are back. The expectation is that both sports will return in 2028, when Los Angeles is the host for the Summer Games. Let the countdown begin.
---
Relive the USA-Japan gold medal game with our updates, highlights and analysis below.
Japan 2, USA 0 (Final)
See New Posts
Pinned
Japan wins the gold medal. Final score: 2-0.
Pinned
Pinned
Pinned
Janie Reed robs a home run and keeps this a two-run game. What a play,
Pinned
Pinned
Can Team USA manage back-to-back-to-back walk-off wins?
Pinned
A double play ends the inning. Japan 2, USA 0. We're heading to the final inning.
Pinned
One-out single from Reed to give Team USA runners on first and second. It's Amanda Chidester at the plate now. Chidester had the walk-off RBI single in the United States' 2-1 victory over Australia on Sunday.
Pinned
Uneo is done after 5 scoreless innings. An incredible outing for the veteran whose hoping to get her second straight gold medal today.
Pinned
Pinned
Ueno closes out the fifth with a strikeout. Japan 2, USA 0.
Pinned
A reminder, this is a seven-inning regulation game.
Pinned
Team USA has a runner on second with two outs in the bottom of the fifth inning.
Pinned
Japan scores to make it 2-0. A two-out RBI single from Fujita to score Yamamoto.
Pinned
35-year-old left-hander Monica Abbott in to pitch for the US. She was a member of the 2008 silver medal team.
Pinned
Team USA goes down in order, trails Japan by 1.

End of 4
🇺🇸 0 | 🇯🇵 1

— USA Softball Women's National Team 🇺🇸 (@USASoftballWNT) July 27, 2021
Pinned
A lead-off single for Yamato Fujita started the fourth inning and she advanced to second on a sacrifice bunt. Another sac bunt pushed her to third before Carda surrendered a two-out walk to put Japan runners on first and third with two outs. Mana Atsumi knocked in Fujita on an RBI single to make it 1-0. After Carda gave up Team USA's first earned run of the tournament, she ends the inning with a strikeout. Japan 1, USA 0.
Pinned
Japan scores the first run of the game and takes a 1-0 lead.
Pinned
Carda manages to escape a two-on, two-out jam to prevent Japan from scoring in the third inning.
Pinned
Pinned
Ally Carda replaces Osterman in the third.
Pinned
We're still scoreless after the 2nd inning. Both teams have come close to scoring, but solid defense on both sides has prevented any runs from crossing the plate.
Pinned
Pinned
For Team Japan, it's 39-year-old veteran ace Yukiko Ueno taking the mound. She was the winning pitcher in 2008.
Pinned
We're underway at Yokohama Stadium. 38-year-old Cat Osterman is on the mound for Team USA. She's the last holdover from the 2004 gold medal team.
Pinned
Pinned
Team USA is looking for its fourth gold medal and first since 2004. In 2008, Japan stunned Team USA when they ended the Americans' dominant run on the national stage. They lost 3-1 after having won all the previous gold medals in softball, going all the way back to 1996.
Pinned
Pinned
Welcome to our coverage of the USA-Japan softball gold medal game. It's a rematch 13 years in the making.