Informal ACC-SEC scheduling pact taking shape
Now that the SEC and ACC are staying in eight-game conference schedules, expect the two conferences to create several home-and-home matchups in future.
• 1 min read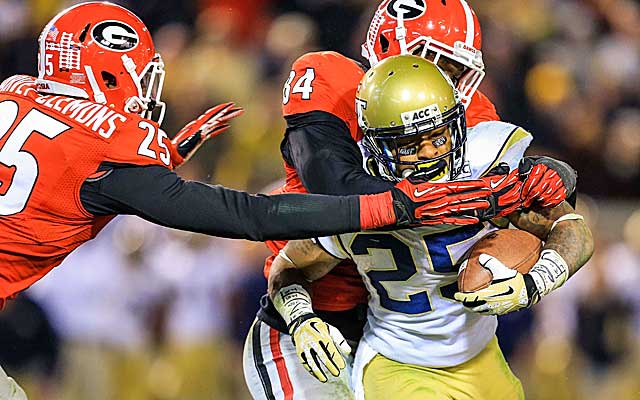 More college football: Jon Solomon | Dennis Dodd | Jeremy Fowler | Latest news
The ACC and SEC have created a de facto partnership as the lone power conferences to maintain an eight-game scheduling model entering the College Football Playoff.
Naturally, these two will play each other in nonconference action, and the momentum is already shifting that way.
An SEC source said about four or five teams from each league are discussing potential home-and-home matchups for some time in the next 6-7 years. These would be new matchups aside from the permanent end-of-year rivalries such as Florida-Florida State, Georgia-Georgia Tech, Clemson-South Carolina and Louisville-Kentucky. Neutral-site-heavy teams (think LSU/Alabama from the SEC and North Carolina/Virginia Tech from the ACC) are likely out of that mix, too, according to the source.
That would still leave dozens of potential combinations to digest.
SEC: Auburn, Texas A&M, Mississippi, Mississippi State, Arkansas, Missouri, Tennessee, Vanderbilt.
ACC: Miami, North Carolina State, Virginia, Wake Forest, Duke, Pittsburgh, Boston College, Syracuse.
There's buzz about Miami and Florida playing in Orlando, and even if that doesn't happen (I'm skeptical), Florida could be in the market for another game away from the Swamp.
Vanderbilt no longer has the Wake Forest series but has talked to a few ACC private schools about a series.
Weinke was injured when Florida State lost to Tennessee in the 1999 BCS title game

It was one of the busiest offseasons for the assistant coaching ranks

Oliver's star has already been born, but 2018 is when it will truly be recognized
Craig Kuligowski is reportedly leaving Miami to take the same job with Alabama

BT Potter is about to be very popular in the Clemson locker room

McElwain will coach receivers and help coordinate the offense for the Wolverines