Texas and Texas A&M have no plans to renew their long-standing rivalry on the football field. (US Presswire)
College football knows no boundaries when it comes to our daily lives. We have seen the sport invade lands governed by both church and state, and on Monday at least one member of the Texas House of Representatives took action to try to renew one of the oldest rivalries in the Lone Star State.

Ryan Guillen, a Democrat from House District 31, filed a bill Monday that would require the University of Texas and Texas A&M University to compete annually in football, which would renew a rivalry that dates to 1894.

"This game is as much a Texas tradition as cowboy boots and barbeque," Guillen, an A&M graduate, said in a prepared statement to ESPN. "The purpose of the bill is to put the 'eyes of Texas upon' our two greatest universities to restore this sacred Texas tradition."

Guillen proudly announced the bill from his Twitter account on Monday night, including a link to the proof on the Texas Legislature website.

(click to enlarge)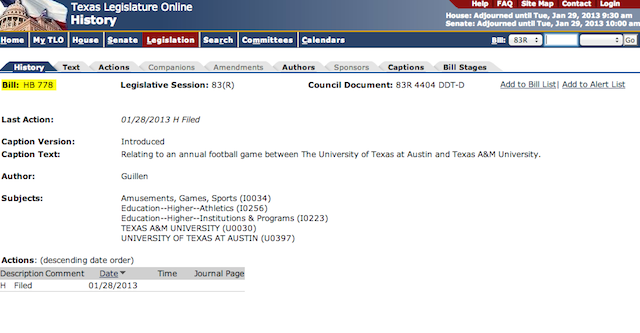 Realistically, we realize that there is little chance this proposed bill will take precedent over whatever plans are being devised in Austin and College Station.

But it is an entertaining gesture nonetheless. State legislatures have played roles in collegiate in-state rivalries in the past (Auburn-Alabama, Florida-Florida State, to name a few), but that was before conference realignment, the Longhorn Network and the Aggies' move to the SEC.


For more college football news, rumors and analysis, follow @EyeOnCFB on Twitter, subscribe to our RSS Feed, college football newsletter, and get the Eye On College Football Podcast from iTunes. You can follow Chip Patterson on Twitter here: @cnpatterson3.