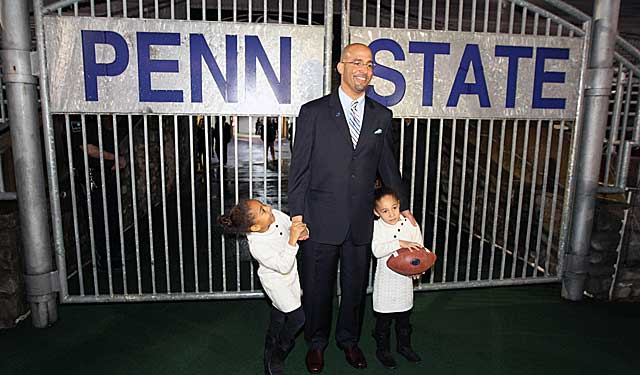 Fowler: Franklin at Penn State could jolt Big Ten | 247: Vandy class in ruin
New Penn State football coach James Franklin is "stealing" recruits from Vanderbilt. That's what I'm reading. Not only that, but he's "pillaging" the highly rated players he recruited there. He is "trying to destroy" Vanderbilt's 2014 recruiting class.
Those are the words some folks are using to describe what's going on here, but me? I've got some other words.
James Franklin is "letting high school kids play for the college coach they want."
Is he doing it out of the goodness of his heart? No. We can be charitable toward James Franklin and Penn State without being stupid about it. Franklin hasn't convinced two Vanderbilt recruits to switch allegiances to Penn State -- and asked at least four others to do the same -- because he feels so darned badly for those kids. He has done what he has done because he thinks those players can help him win at Penn State.
People affiliated with Vanderbilt, whether they're recruiting analysts or fans -- sometimes it's hard to tell the difference -- are crying foul, and I get it. Swear to you, I do. For years I was that guy crying foul when a coach left one school for another, and then tried to steal take recruits with him, as new USC coach Steve Sarkisian has done with one recruit from Washington, and as new Texas coach Charlie Strong is trying to do with at least one recruit from Louisville. Wish I could find a link for you, but Google is letting me down. It's possible that I hated this annual occurrence without ever writing that I hated it, but that's not like me. All I can say is: Once upon a time, I hated the way coaches would leave a school and pillage bring along recruits from their previous job.
But once upon a time, I believed in the fairy tale of college sports -- and a coach should be a noble knight and leave those recruits where he found them! That's what's so wonderful about college sports, you know, the way a highly recruited prospect visits up to five schools, meets the professors and tours the campus and checks out the opportunities to volunteer near campus, and then picks a school because he falls in love with the whole place.
Giggle.
The fairy tale of college sports is bogus, and if I'm late to the party so be it. Least I got here. And one hard truth of college sports is this: The deck is stacked against the athlete, never more clearly than when the athlete is being recruited. Once he signs with, say, Vanderbilt, he's property of the Commodores. If they fire the coach, the recruit is stuck. If the coach leaves on his own, the recruit is stuck. Regardless of how the coaching change goes down, pretty much everyone is going to make money in the transaction but the athlete doing the actual labor.
The athlete? Stuck. It's right there on the official National Letter-of-Intent form to be signed by the recruit. It's paragraph No. 11, which decrees the following:
"I understand I have signed this NLI with the institution and not for a particular sport or coach. If a coach leaves the institution or the sports program (e.g., not retained, resigns), I remain bound by the provisions of this NLI. I understand it is not uncommon for a coach to leave his or her coaching position."
I remain bound ...
Slavery (e.g., not free), NCAA-style.
No, the NLI isn't an NCAA document. But the NCAA treats the NLI as a piece of biblical parchment, a commandment not to be torn asunder or something. Bottom line, kids are stuck with schools when they sign ... and now, according to some people -- those people included me until recently -- kids are stuck with a school once they commit. Can't change your mind, kid. This is a hard world. You think we're going to cut you a break?
They have to learn the meaning of the word commitment.
That's what people told me last summer, repeatedly, when Notre Dame football signee Eddie Vanderdoes of Sacramento changed his mind about leaving the state. He wanted to play for UCLA. Irish coach Brian Kelly tried to block him, at a cost of a full year of Vanderdoes' college eligibility. I wrote about it, dismayed that Kelly would stand in the way of a high school senior who changed his mind. People wrote to me that Vanderdoes needs to learn the meaning of the word commitment, and by "people," I mean Notre Dame fans. Pretty much the rest of the world was outraged at the hardball being played by Kelly, as Notre Dame fans would have been outraged had the hardball been played by, say, Michigan coach Brady Hoke on a high school senior who signed with the Wolverines but changed his mind and wanted to play for, say, Notre Dame.
Fans have selective morals, is my point, but let's not succumb to our base instinct and think about ourselves. Let's instead think about the high school kid who has done a very "high school kid" thing and changed his mind. In this case, let's think very specifically about the high school kids who play football at a level worthy of a Top 25 college program. Those kids ignored the traditional Top 25 programs recruiting them to play for Vanderbilt, historically one of the weakest teams in the country -- but on a hot streak of late because of one guy: Coach James Franklin.
When most of those kids committed to Vanderbilt, they committed because of Franklin. Maybe they chose Franklin because he had made Vanderbilt nationally relevant, and they believed he would keep the Commodores at that level. Maybe they chose Franklin because of his personality, turning down bigger football schools because they connected so strongly with the charismatic Vanderbilt coach.
Whatever the case, James Franklin isn't the Vanderbilt coach anymore. He's at Penn State, and lots of those kids who committed to Vanderbilt are now realizing that, no matter what the NLI says, in a few months they will not be "[signing] this NLI with the institution." They will be signing with a coach. His name is James Franklin. And if he's coaching at Penn State, then dammit, that's where the kids want to play.
Whatever happens, someone in this process is going to be disappointed. Maybe the school that lost its coach. Maybe the new school that hired him. Maybe the coach himself. Someone's going to be let down, so who's it going to be?
Not the high school kid. That's my philosophy on this stuff. I dare you to find a better one.