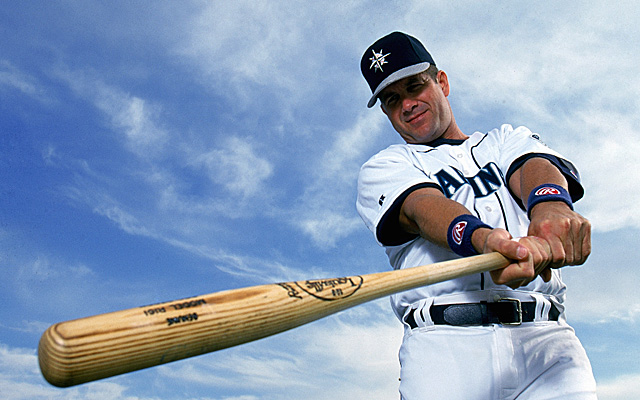 Hall of Fame cases: Luis Gonzalez | Moises Alou | Lee Smith | Fred McGriff | Don Mattingly | Jack Morris | Rafael Palmeiro | Sammy Sosa
Hello and Merry Christmas, friendly Eye on Baseball readers. Thanks for stopping by our blog on this fine holiday. We'll now continue with our coverage of the BBWAA Hall of Fame vote, the results of which we will all find out on Jan. 8. Until then, we'll check out one candidate per day in this very space.
What we're doing -- to those unfamiliar -- is creating a case both for and against induction to the Hall of Fame for each player. After examining the arguments for and against induction, it's a "you make the call" type scenario. We've already been through eight players, linked above. Now onto No. 9.
The entrant in this go-round is career Mariner Edgar Martinez.
THE BARE ESSENTIALS
Over the course of an 18-year career -- all with the Seattle Mariners -- Martinez hit .312/.418/.515 (147 OPS+) with 2247 hits, 514 doubles, 309 home runs, 1261 RBI and 1219 runs scored. He walked more times (1283) than he struck out (1202).
Martinez appeared in four different postseasons -- seven series total -- and hit .266/.365/.508 with seven doubles, eight homers and 24 RBI in 34 playoff games.
A seven-time All-Star, Martinez won five Silver Sluggers and the annual award given by Major League Baseball to the best designated hitter in the league is now named after Martinez.
THE CASE FOR INDUCTION
If we limit our scope to plate appearances as a designated hitter only -- that is, we don't count Frank Thomas' stats when he played first base, for example -- Edgar Martinez is the best designated hitter of all-time. My colleague Dayn Perry wrote as much last offseason, so we won't rehash that now.
Martinez was the opposite of a compiler, in that he was an excellent rate stat player pretty much throughout his career. His .312 career batting average ranks 95th in MLB history. Keep in mind, too, our mention above of him having more walks than strikeouts. He had an excellent grasp of the strike zone, which helped him to the 21st best on-base percentage in MLB history. He's also 68th in slugging percentage, 34th in OPS and tied for 41st in OPS+.
On OPS+, it's an excellent measure when it comes to comparing eras. We know Martinez played most of his career in an extreme hitters' era. Does that cheapen his excellent rate stats? OPS+ says no. Martinez had an OPS+ of at least 150 in eight different seasons. That is, he was at least 50 percent better than the league average in on-base percentage plus slugging percentage eight times. That's very impressive.
In terms of career OPS+, most of the 40 players above him are Hall of Famers, headed that way or being kept out for circumstances not related to on-field numbers.
[Off topic a bit, but Babe Ruth's career OPS+ was 206. Laughable!]
Martinez led the AL in OBP three times, batting average twice, doubles twice, runs once, RBI once, OPS once and OPS+ once.
Despite serving mostly as a full-time DH -- meaning voters already may have discriminated against him -- Martinez garnered MVP votes in five different seasons. He finished third once and sixth another time.
Speaking of the DH issue, though, here's a positive for Martinez: He's actually 76th in career WAR among position players, and remember, WAR carries a defensive component. Martinez is still a top 80 all-time player by that measure even without defensive contributions. That speaks to the value his bat added to so many Mariners offenses.
In terms of the raw numbers, Martinez ranks 50th in career doubles, 44th in walks and 92nd in extra-base hits.
He does have a signature postseason moment, too:
In that five-game series -- which many credit for "saving baseball" in Seattle -- Martinez hit .571/.667/1.000 with three doubles, two homers and 10 RBI.
THE CASE AGAINST INDUCTION
There are going to be two major knocks against Martinez and both stem from his being a full-time DH for most of his career. One will be indirect and the other will be direct.
On the direct front, Martinez served as a DH for the overwhelming majority of his career. For many, that's a major problem in terms of the Hall of Fame, because he was so poor at one aspect of the game his team would have rather him not do it at all. Can a Hall of Fame hitter also be a Hall of Fame player without his defense?
On the indirect-yet-related front, if a DH is to make the Hall of Fame, many believe his offensive numbers should be so overwhelming as to erase the not-playing-defense part. His rate stats are more than enough, but Martinez would fall short in several areas for this camp in the raw number category, most notably in hits (2247), home runs (309), RBI (1261) and runs (1219). I could see those people wanting 2,500-plus hits (if not 3,000), 400-plus homers (if not 500) and at least 1,500 runs and/or RBI in order to consider a DH for the Hall of Fame.
And there was a reason Martinez esssentially quit playing defense. He was an error machine at third base, committing 78 in 564 games (.946 fielding percentage). He also had awful range whether at third or first, as he posted a -9.7 dWAR on baseball-reference.com.
---
So there you have it. Much of Martinez's case comes down to how you feel about DHs and the Hall of Fame, though it's possible many will argue he didn't compile enough raw stats either -- especially in a hitter-friendly era.
Thursday: The cases for and against Jeff Kent