Tuesday night, the Yankees were blown out by the Rangers (TEX 10, NY 1) in the second game of their nine-game road trip. The two teams wrap up their series with the rubber game Wednesday night at Globe Life Park.
Prior to Tuesday's game, Yankees players and coaches met with 13-year-old Tracen Visage, an eighth grader from nearby Coppell, Texas. As Marc Ramirez of the Dallas News reports, Tracen is awaiting a kidney transplant and one of his dreams was to meet the Yankees, his favorite team.
The meeting was arranged by Kevin Brand, Tracen's baseball coach and the son of former big leaguer Ron Brand. They were able to contact the Yankees and arrange Tracen's visit. Here's more from Ramirez:
"It's pretty amazing," he said. "It's a once-in-a-lifetime opportunity. I just look up to these guys so much."

And then there they were in the dugout with the mitts and bats, the water jugs, buckets of bubble gum and endless supplies of sunflower seeds.

"Oh my gosh, how cool is this?" (Tracen's mother Crystal Fisher) said.

A stream of Yankees players and staff came over to meet the boy: outfielder Brett Gardner, catcher Brian McCann, first base coach Tony Pena and broadcasters Ken Singleton and David Cone.

They shook his hand, traded fist bumps, asked him questions.
Carlos Beltran brought Tracen on to the field to stretch with the team before the game as well. He also got to meet CC Sabathia, his favorite player. Here's a photo of Tracen (center), his brother Blake, Sabathia, and Alex Rodriguez: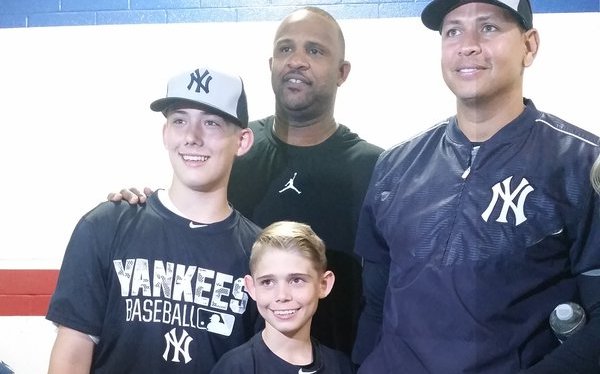 (Photo via Ramirez on Twitter)
Tracen was diagnosed with end-stage renal failure in 2009 and has been going for regular dialysis treatments. As a result of the disease, he hasn't grown and is much smaller than other 13-year-olds. Blake is actually a year younger than Tracen even though he's much larger.
The hope is Tracen will have a new kidney before he starts high school. Doctors want him to gain some weight in the meantime. For now, he's playing baseball and rooting for the Yankees.
"He's been talking about this nonstop," Fisher said. "This is just a dream come true for him."
Bravo to the Yankees for taking the time to meet with Tracen and his family. That's what this is all about. Making people happy and helping others.