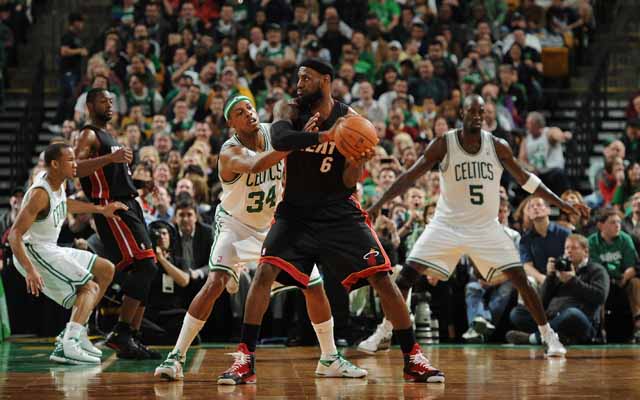 The Celtics must defend LeBron James and Dwyane Wade with multiple players.
(Getty Images)
Breaking down the matchup advantages ... and disadvantages, for each of the major players in the Eastern Conference Finals between the Miami
Heat
and Boston
Celtics
. 
Mario Chalmers:
Chalmers is likely going to get opportunities to score in this series, and he has to take advantage of it. Rondo will most likely guard Dywane Wade or help on
LeBron James
, which means Chalmers will get
Mickael Pietrus
who doesn't have his foot speed or
Ray Allen
who is a shell of his former self.
The Celtics' defense collaspes and helps at angles, which leaves corner shooters open. Chalmers has to hit from the outside to punish the Celtics and keep them home.
Rajon Rondo:
The Heat defense is not something you want to set up and attack directly with your play sets; you want to target the weak points and slip through the cracks. It's better to assault the Celtics' defense straight up, but with the Heat defense you want to find the cracks and slip in-between. that's where Rondo can do damage.
The Heat don't have a defender to match up with Rondo. Wade and James will spend time, but when they're not, Rondo's going to dissect the Heat's interior against Chalmers. James will likely take him in late-game situations, but that's OK because that's when the Celtics most often go to their comfortable play sets.
Rondo's pick and pop with
Kevin Garnett
is likely to be the difference maker in this series. If he can spread the defense far enough to the edge trying to hedge on him to free up Garnett, that's nearly guaranteed offense.
Dwyane Wade:
Wade was ridiculous in the last three games against the
Pacers
. He found that one-handed push-floater off the glass, and when that's falling, he's as dangerous a weapon as there is in the league. When the Celtics try to guard him with Ray Allen off-ball, Wade needs to run off screen after screen and cut after cut. Unfortunately, the Heat don't really run that set very often. The pick-and-roll with Wade and James will need to be attacked with a third defender from Boston.
Expect to see a lot of Pietrus defending Wade, trying to use Peaches' length to contain him. It also wouldn't surprise me to see the Celtics go to zone extensively when James and Wade are on the floor with Allen.
If Wade gets going, honestly, there's not much that can be done to stop him. He finishes through contact too well.
Ray Allen:
Allen is a shell of himself. There's talk of his "resurrection" (actual analogy being used) in Game 7, but in reality, that came after Allen was 3-11 and 2-7 from deep. It's not the shot, though. The biggest issue is that Allen can't cut off the ankle because of the injury. At one point in Game 7, a foul was called on
Lou Williams
because he overran Allen who was tring to make a reverse cut and couldn't get enough burst off the ankle.
It's bad.
Allen is a liability at most times on the floor for Boston at this point, unless he gets really healthy really quickly.
And yet.
The sets Allen runs are all on muscle memory. The Heat know where Allen is going to be. Every team knows what Allen is going to run, where he's going to be. But stopping it is nearly impsossible because of their execution. Allen can still knock down key shots late. The Heat can't relax on him. He's still Ray Allen.
LeBron James:
So there are three things that the Celtics have historically done really well against the MVP.
1. They bring a help defender on the perimeter drive to distract. You don't have to swipe the ball. You don't have to stop James. It's just about distracting him. When James goes all "bull in the china shop" against an always-physically-outmatched defender, the Celtics will bring a man over, just to make James adjust slightly. The objective is to try and steer him to open space, which is the natural reaction, which is away from the basket.
2. They challenge him right at his leap point on the drive.
You can attack a player at the rim at the point of shot release or dunk attempt. Not a good ideas with James; he's too strong with too much touch. You can attack him as he starts to get his acceleration going. Not good. He can burn through contact or draw the foul. But the Celtics challenge him between a foot and two feet from the basket, right where James is often leaping for his attempt. It disrupts James, it always has. Part of the problem with being his size and speed is that you can't exactly adjust or stop yourself on the fly. What ends up happening is either the Celtics draw the charge, or they disrupt James and force him to move further away from the basket for what accounts to a driving leaner falling out of bounds.
Or he makes it, but again, we're talking relative success.
3. They hammer him. The Celtics will give the hard foul every time to try and deter him. It's not about any one drive, it's about getting into his head.
Now, in the Eastern Conference semifinals last year, it didn't matter. James simply annihilated the Celtics every which way. They have to get back to doing those things. One player the Celtics will miss is
Glen Davis
. Davis has historically done a good job at drawing charges on James and giving those fouls.
Paul Pierce
is going to have to have maybe the biggest performance defensively of his career.
Paul Pierce:
Pierce hasn't been the same since spraining his MCL in the first round. It's bothered him, and he's having a hard time getting to his spots. That causes a lot of issues. Now, Pierce is recovering each day, and he's still had some huge, albeit inefficient performances against the Sixers. The question will be if he's defending James, how much energy he has left.
Pierce has done a great job of finding transition threes to spot up. He's picking his spots more than ever. Pierce isn't as much of a threat to create off the dribble because of his knee and that's only going to be a tougher assignment when faced against LeBron James or
Shane Battier
. The Celtics will need Pierce to nail the one-foot fade-aways and find smart baskets from the captain.
Udonis Haslem:
Haslem's mid-range jumper made a brief two-game appearance against Indiana, and that's huge for Miami. The Heat desperately need Haslem to be able to knock down medium-range jumpers in the absence of
Chris Bosh
. It helps to keep the defense honest, and when he hits them, it frustrates the other team. Shots from anyone besides Wade or Jamew (or Chalmers open for three) are what you want for Miami if you're up against them. If Haslem hits, he's going to be a swing vote for the red and black.
Boston doesn't do well on the glass, so Haslem's going to have opportunities to crash and get putbacks. The bigger issue for Haslem is foul trouble and staying out of it.
Kevin Garnett:
Here's the thing: It's ridiculously easy to guard Kevin Garnett for the most part. Here's the problem: It's ridiculously difficult to actually guard Kevin Garnett for the most part.
Garnett gets the ball in two places. The left block and in space at the extended elbow. In the left block, he goes to his right shoulder the majority of the time, and shoots a jumper when he does go right 86 percent of the time. He lives and breahes on the left block, right-shoulder turnaround fadeaway.
He almost always goes to the pick and pop off the screen, and he hit hits them at a ridiculous rate. He's been just as good in the playoffs. A lot of this is due to Rondo's ability to negotiate the pick and roll and force the defense to adapt. Some of it is because
Spencer Hawes
is a terrible defender.
Udonis Haslem must stay home on Kevin Garnett. If Chris Bosh returns to the lineup, he must stay home on Kevin Garnett. If
Joel Anthony
, Deter Pittman,
Juwan Howard
, LeBron James, or Alonzo Mourning is defending KG, they must stay home on Kevin Garnett. It is the easiest play for Rondo to make, the easiest shot for Garnett to hit, the surefire way to let the Celtics' terrible offense get going.
Joel Anthony:
Anthony needs to attack the glass, try to finish open layups when he gets them, play his usual brand of great interior defense, and stay out of foul trouble.
The Celtics can swipe at the ball when Stiemsma has it and create a lot of turnovers. It's an area they will try and exploit if possible.
Brandon Bass:
Bass is pretty much exactly like Garnett, except without the post game. He just hits the open jumpers. If Anthony is on him, that's going to be problematic because Anthony gets uncomfortable in space. Bass could be a difference maker in this series.
Shane Battier:
Battier is nothing more than a spot-up shooter on effense. He brings little else to the table, though he can move the ball capably.
Defensively, it'll be interesting to see how they deploy Battier. Battier can guard Ray Allen, Paul Pierce, or Brandon Bass. He did an admirable job on
David West
against the Pacers, and Bass presents a similar challenge. Battier on KG is the big question mark and not one the Heat can likely live with.
Mickael Pietrus:
"Peaches" knocked down some key shots against the Sixers, but his knee is still a big question mark. Pietrus has to have maybe his best defensive series of his career, lined up against Wade at times. And he has to hit shots if Ray Allen continues to suffer on the perimeter. Pietrus is another player the Celtics need a contribution from.
Chris Bosh:
Outlook hazy, try again later.
Mike Miller:
Will hit some shots, will miss others. Will try hard, though physically outmatched. Will make everyone wince when he tries to get up and down the floor due to injury.
Statistical support for this post provided by NBA.com and Synergy Sports.