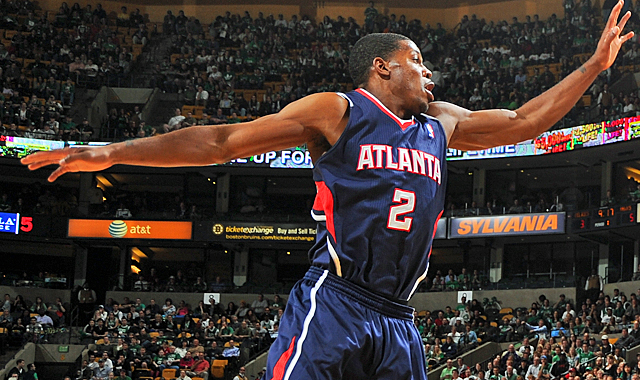 Tired of waiting on Dwight Howard, the Nets make the move to pick up Joe Johnson from the Hawks.
(Getty)
Having grown impatient from their seven-month pursuit of Dwight Howard, the Brooklyn Nets moved on Monday with an agreement in principle to acquire All-Star shooting guard Joe Johnson from the Atlanta Hawks.
The deal assured that the Nets will move into their new Brooklyn home with two All-Stars, assuming they can close the deal with point guard Deron Williams on a five-year deal worth nearly $100 million. Nets officials were meeting with Williams Monday afternoon, shortly after agreeing to the framework of the Johnson deal.
For all practical purposes, the acquisition of Johnson takes the Nets out of the Howard trade sweepstakes, though a person involved in the trade negotiations said there were "no contingencies" on the deal. The Nets had no assurances from Williams that he was staying prior to agreeing to acquire Johnson, but the All-Star point guard had been kept apprised of the team's offseason plan. Brooklyn executives would not have proceeded with Johnson, who is 31 and owed nearly $90 million over the next four seasons, unless it was a piece they believed would persuade Williams to stay.
In sending the expiring contracts of Jordan Farmar, Johan Petro and Jordan Williams along with a signed-and-traded DeShawn Stevenson and a 2013 first-round pick from Houston to Atlanta for Johnson, the Nets would have $48.1 million committed to four players if Williams stays. Williams' contract would start at $17.2 million, and Johnson makes $19.75 million next season.
The Nets kept promising guard MarShon Brooks in the trade, as well as their own future draft picks. With cap holds, including a $7.6 million hold for restricted free agent Brook Lopez, who is expected to re-sign, the Nets would be at $59 million -- over the cap, but under the $70.3 million luxury-tax line. Thus, they would have the non-taxpayer mid-level starting at $5 million, the bi-annual exception of $1.96 million and minimum deals to fill out the roster. Once they lock up Williams, the Nets are planning to make a run at Bosnian forward Mirza Teletovic, one of the top "stretch" fours in Europe.
The Hawks get out from under what is the richest -- and widely regarded as one of the worst -- contracts in the NBA as part of the trade, which can't become official until the league-wide moratorium on player transactions is lifted July 11. But one team's albatross is another's treasure. The Nets needed All-Star talent to persuade Williams to stay, and they needed a competitive roster to unveil next season at the sparkling Barclays Center in Brooklyn.
And they couldn't afford to keep waiting for Howard and the Magic to figure out how, and when, that saga is going to end.