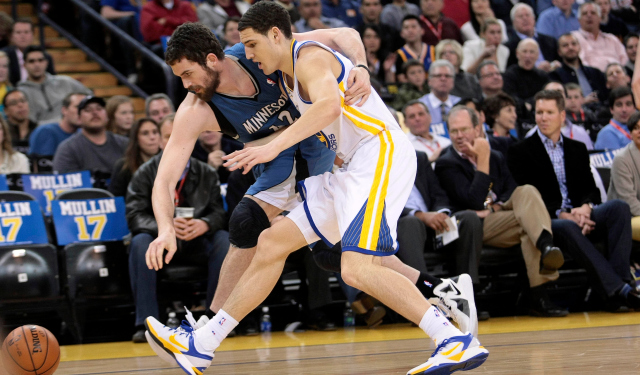 Diamond Leung of the Bay Area News Group transcribed a radio interview with Klay Thompson's father, who said that owner Joe Lacob and GM Bob Myer wanted to trade Thompson for then-Minnesota-Timberwolves forward Kevin Love, but front office advisor Jerry West and coach Steve Kerr "took (Thompson) off the table."
Mychal Thompson on Klay: "He was put on the table by the owner and the general manager. Jerry West and Steve Kerr pulled him off the deal."

— Diamond Leung (@diamond83) August 23, 2014
Thompson was involved in months of trade talks about being dealt for Love, and initially it looked like the trade was a foregone conclusion. But suddenly word came out that the Warriors were resisting including Thompson for Love, and then it became an absolute that he wouldn't be traded. 
That opened the door for the Cavaliers to swoop in with a superior offer of Andrew Wiggins and Anthony Bennett. Thompson is set for a massive extension this fall, and if not, a huge new deal in restricted free agency. After all, how are the Warriors going to manage leverage when they weren't willing to give Thompson up for Kevin Love? 
This will go down as one of the bigger non-deals in league history, and how it's remembered will either prove the Warriors to be geniuses or fools, because that's how hindsight works. Meanwhile, it should be noted that according to Thompson's father, West and Kerr apparently have the power to veto, or at least convince management and ownership not to do something. That's got to be a little concerning, and it doesn't really fit with what we know of Lacob, a hands-on owner. How this all shakes out will be interesting to watch.
HT: HoopsRumors
More on Love trade: Ken Berger: LeBron, Cavs on notice now