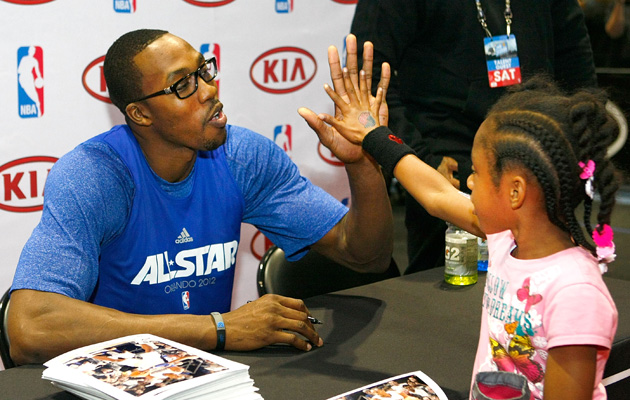 Getty Images
The scene surrounding
Dwight Howard
March 14 and 15 is something only a few people really saw. It's something only a few people know what really happened.
Howard flip-flopped his way around his early termination option, said he was "all in" for the season, changed his mind, changed it again and eventually settled on "loyalty" as he called it.
But maybe it wasn't that cut and dry.
Via the NY Post
, the Magic had a deal in place with the Nets on March 14, but the
Orlando
front office busted out a power move and threatened to deal Howard to the
Lakers
.
According to league sources who spoke on the condition of anonymity, Orlando brass got fed up with Howard's yes-no-maybe posturing and threatened to trade him to the Lakers, not his desired location, if he did not sign an agreement to waive the opt-out clause for the final season of his contract. Howard eventually signed the papers, but only after he was told "he would be a Laker by the end of the day," according to one source.

While both sides proclaimed loyalty as a factor in Howard's decision to stay in Orlando, the contentious nature of the process gives the Nets ample hope they still may open in Brooklyn next season with Howard on their side.

"[The Magic] do not want to go through it all again," said one source who claimed Orlando wants a commitment from Howard on an extension before training camp to avoid his bolting as a free agent in 2013. "[The Magic] are determined to avoid another year of that."