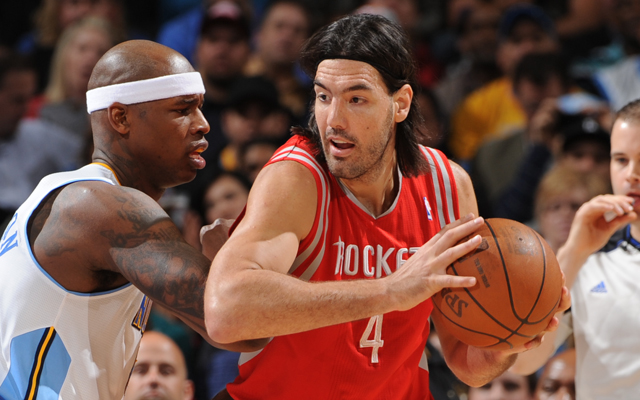 Luis Scola has been waived using the amnesty clause..
(Getty Images)
The Rockets want Dwight Howard. And they will apparently do anything to get him. Even if it means sacrificing some of their best players. 
The Rockets have decided to use their amnesty clause provided in the 2011 CBA on forward Luis Scola. The move clears Scola and his remaining $21 million over three years (with only two fully guaranteed) from the Rockets' cap space, minus whatever Scola draws in the amnesty auction bid system. 
What does that have to do with Dwight Howard? It clears the way for the Rockets to absorb not only Howard but Hedo Turkoglu, Jason Richardson, Glen Davis, Chris Duhon, nearly any combination of bad long-term cap holds. The Rockets are in position to take any and all contract trash the Magic wish to dispose of. They also have picks. They also have three rookies. 
It's not going to get any better for Rob Hennigan, Magic GM.
Should the Rockets strike out on Dwight, they'll be paying a hefty portion of Scola's salary while having to rebuild. But they'll be in a position to immediately start over and begin aiming for a young core. For years, the Rockets have treaded water. It's time to get busy living or get busy dying, apparently. 
Scola is going to be a hot item on the amnesty waiver wire, especially with Dallas already claiming Elton Brand.