With the fourth pick in the 2016 NFL Draft, the Dallas Cowboys selected running back Ezekiel Elliott over defensive back Jalen Ramsey. It turns out they might've used some faulty logic to make that pick.
After the first round, the Cowboys defended their decision by saying Elliott would improve more than just their offense -- they also believe Elliott will aid their defense. Then, a little later, ESPN's Ed Werder provided more insight into the Cowboys' thought process.
Apparently, the Cowboys graded Elliott and Ramsey evenly, but they drafted Elliot because ... well, I'll let Werder explain.
#Cowboys had Elliott and Ramsey graded evenly. One tiebreaker - they can give Elliott 25 touches. Teams can throw away from Ramsey. Sensible

— Ed Werder (@Edwerderespn) May 1, 2016
OK, so let's start with the first idea. The Cowboys argued they improved their defense by adding a running back who can chew up the clock because, by piling up lengthy drives on offense, the defense isn't required to take the field as frequently. While that's obviously true, the impact that time of possession has on a defense isn't so clear.
Michael Salfino, a sports analyst for the Wall Street Journal and Yahoo Fantasy, tried to find a correlation between time of possession and a defense's performance. No correlation existed last season.
So do you see any correlation between holding the ball on offense and playing better defense? I don't. #Cowboys pic.twitter.com/xRtshicWwC

— Michael Salfino (@MichaelSalfino) May 2, 2016
(Note: NFL.com lists slightly different time of possession numbers.)
As Salfino later mentioned, the Cowboys finished 18th in points allowed per drive in 2014, when they handed the ball to DeMarco Murray nearly 400 times. Based on Salfino's calculations, there's no guarantee a successful running game spearheaded by Elliott will increase the efficiency of Dallas' defense.
That aspect of the Cowboys' thinking, though, is at least somewhat understandable. As CBS Sports' Will Brinson and Jared Dubin wrote about at multiple points during the 2014 season, the Cowboys' clock-eating offense appeared to positively impact the defense, even if that impact was exaggerated.
Here's an excerpt from Dubin's story, which was written before that infamous Dez Bryant catch-or-no-catch playoff game between the Cowboys and Packers:
On a per-play basis, this year's Dallas defense was better than last year's historically bad version, but not by as much as it might seem on the surface. They work harder, fly to the ball faster and create more turnovers, but they're still liable to give up yards in bunches. The Cowboys gave up 5.8 yards per play this year, seventh-highest in the NFL; they just happened to be on the field for far fewer plays this season (978, fifth-fewest in the league) thanks to the clock-killing run game and remarkably efficient passing game the Cowboys displayed all year long; Dallas was second in the league in average time of possession.
So, the aspect of the Cowboys' thinking that isn't understandable -- at all -- is what Werder reported. If the Cowboys graded Elliott and Ramsey evenly and if they actually opted to take Elliott because they were afraid opposing quarterbacks would throw the ball to areas unoccupied by Ramsey, then they applied some illogical reasoning.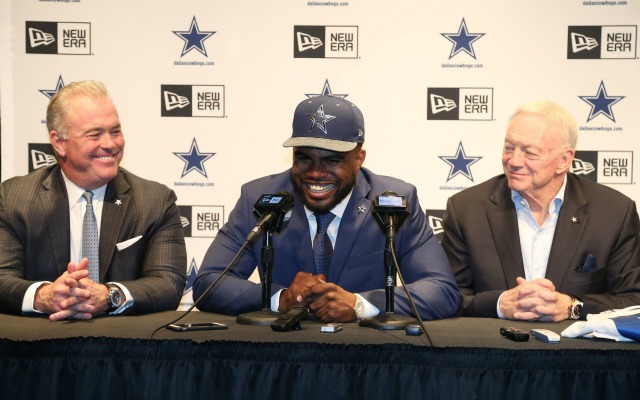 For one, a quarterback ignoring half of the field because of a dominant defensive back is not bad for a defense. A defensive back who eliminates an entire portion of the field and, in theory, one of the top receivers is a huge plus for a defense. If Ramsey matched up with someone like Odell Beckham Jr. or was simply positioned on his side of the field and, as a result, Eli Manning decided to throw the ball to someone not named Odell Beckham Jr. for the majority of the game, the Cowboys' defense would be significantly better off.
Remember that Packers-Seahawks game from a couple years ago, when Aaron Rodgers ignored Richard Sherman's side of the field? Saying Sherman didn't impact Rodgers' 81.5 passer rating in that game is like saying J.J. Watt wouldn't be a good addition to a defense because offenses would just triple-team him.
@bykevinclark You could just triple team JJ Watt on every play. Clearly, he doesn't impact games.

— Michael David Smith (@MichaelDavSmith) May 1, 2016
Also, it's not as if the Cowboys would've simply stuck Ramsey on one side of the field for the entire game. They would've had the ability to move him around pretty much everywhere.
While I get this logic, I also think you can move Ramsey around the field to have an impact anywhere. https://t.co/yD2dKCLtxV

— Kevin Clark (@bykevinclark) May 1, 2016
When Ramsey played Canes (one of few NCAA games I was 100% in on), he kept popping up everywhere like Michael Myers. Can put him any place.

— Kevin Clark (@bykevinclark) May 1, 2016
This doesn't mean the Cowboys' choice to pick Elliott was a poor decision. He's an all-around back and should thrive behind a destructive offensive line. Brinson even says he could lead the league in rushing, which isn't crazy to imagine after watching Murray pile up carry after carry in 2014.
But the Cowboys should really just come and admit the real reason they took Elliott over Ramsey: Elliott is a damn good running back who will almost definitely help their offense.
Also, it's fun.
The Cowboys should just admit they took Elliott because it was a really fun thing to do. That's the logic: It seems like it will be a blast.

— Kevin Clark (@bykevinclark) May 1, 2016