The dust is starting to settle on what was a wild week in the NFL and its long pursuit of relocation to Los Angeles. Three men went to Houston to have an ol'-fashioned shootout in the Wild West, and only one of them truly came home the winner. Stan Kroenke got almost everything he wanted, wit his Inglewood project being constructed and his Rams already out of St. Louis, though his miserly state at the press conference probably has something to do with the fact he has to share it. He wasn't in this to share. I'm not sure he ever is.
Regardless, he has clarity. The Chargers are virtually certain to soon be joining him in Los Angeles, though Chargers owner Dean Spanos was left dazed and dismayed that his Carson project was so quickly discarded, for the most part, in the voting process. Spanos spent thousands of hours putting together a vision and plan for his own complex, went so far as to partner with rival Mark Davis (Raiders owner) and got Carmen Policy and Disney CEO Bob Iger on board to spearhead the movement, all to have it dissolve into the ether in a matter of hours on Tuesday.
And Davis, he is downright angry and petulant being the third wheel in the process all along, someone the league views as easily malleable. He did get $100 million in additional stadium money to build in the Bay Area but still is the biggest loser in the process, with his road to Los Angeles effectively blocked by Spanos and Kroenke now.
Welcome to the NFL, where money is king and your level of power can often be determined by the amount of zeroes attached to your name. That's how it goes, and the backdoor machinations of this latest ownership meeting -- where committee recommendations were disregarded and allegiances quickly shifted under the cloak of secret balloting -- was the greatest indication yet.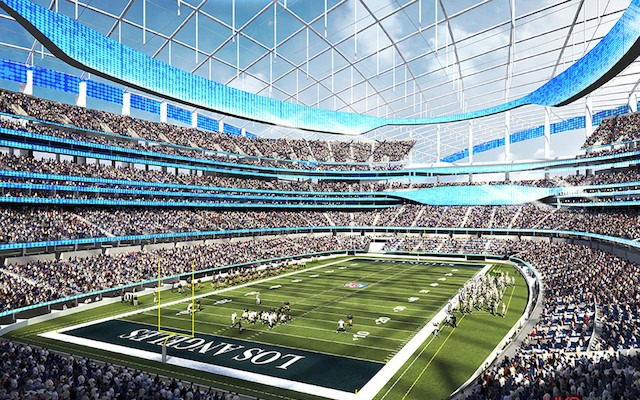 My esteemed editor, Eric Kay, came up with a few questions in the aftermath of the Houston showdown, so the least I could do is answer them:
So what was Bob Iger's role in this after all?
Had the Carson project received the 24 votes needed to get of the ground, he would have been hiring staff around him and leading the design, constructing, marketing and selling of that stadium. It would have been his baby, and his Disney fingerprints would have been all over it from a game-day experience standpoint to every nuance in the food courts and corridors. His ability to purchase a nice chunk of the Chargers or Raiders, at his discretion, was tied to those teams building this stadium. So that's out the window now, though I could still see one of these owners perhaps trying to have him come aboard when his Disney contract expires in a few years. Davis badly needs his money and acumen, while Spanos has entrée into the L.A. market, which is where Iger lives and what attracted him to this Carson proposal in the first place.
Where do you think the Chargers end up? And if it's Los Angeles, is that really viable long term as the Rams' tenant?
Some would say Spanos has some options; what I and the owners and high-ranking officials I spoke to would say is that he has one choice: Get to L.A. ASAP. And his lawyers and bankers began working on that move very soon after the verdict came in. Every indication is that his move to Inglewood will be made official in the coming days. No reason to delay the inevitable, and might as well start catering to that market and selling tickets up there now. If Spanos were to pass on his option for L.A., Davis would clearly jump; so the Chargers would still have to find a permanent home in San Diego and compete with two other teams in Kroenke's football cathedral up the road. Good luck with that. He didn't come this far and this close to L.A. to turn and run back to San Diego without what he deems to be a viable stadium option there on the table, and time is literally running out for the city to put something on the table that might somehow change his mind.
Now, is any of this viable? Who the hell knows. Many owners have told me privately for quite some time they would prefer one team first with another maybe several years down the road. Selling PSLs and all of that for two teams will be tough. Could one of these teams end up moving again? Hey, it's the NFL. Never say never. Just look at the Colts and Browns and, well, Chargers and Raiders and Rams, all of whom have bounced around quite a bit the past 40 years or so.
Where do these teams play in 2016?
USC agreed to alter its stance and allow both teams to play in the L.A. Coliseum in 2016 -- man, better install Field Turf -- which would be a lot of football. With Kroenke's stadium not ready until 2019, maybe the Rose Bowl changes its stance in 2016 and allows one of these teams as as tenant for 2017 and 2018. We'll see. Otherwise there aren't too many other options in the area.
Is this the new home for events like the Pro Bowl and combine down the road?
You know it. And an eventual World Cup Final and huge international soccer matches and, while Indy is nearing an extension on the combine, that would hardly shock me down the road. And swanky new digs for NFL Media and NFL Network as well.
Where do you place the odds of the Raiders landing? And how long is this Mark Davis' team?
Don't make me laugh. Where the hell is he going? Kroenke, for all of his means and wealth and for having shovels in the ground already in a prime location where the NFL league office wanted to build a stadium, had to sweat it out through a challenging process that was clearly controlled by the league. Davis has none of that, and the NFL won't let him in San Diego to try to undermine their LA project, and Jerry Jones -- who made the proposal to get the Rams and Chargers together in the first place -- doesn't want him anywhere near San Antonio. No way Davis gets the votes to go anywhere the league doesn't want him -- and every indication I get is that the league wants two teams in the Bay Area. Beyond that, the league could set the relocation fee easily out of his reach as well. He can huff and puff, but he ain't blowing anything down, and his best bet is to work really hard securing additional owners and putting that $100 million to work in the Oakland area, or the league will eventually find a big-time owner who will.
Was this all just a charade and it was always Kroenke and the Rams who were going to come out on top?
Money talks, and he had the preferred location and always had great leverage. His problem was lack of political capital with his peers, but at the end of the day that quickly fell by the wayside. The Carson project ended up forcing the issue to a head -- three teams with two competing projects looking to leave at the same time -- which ultimately motivated the rest of the owners to put this issue on the front burner to a point where they were willing (mostly) to put playoff prep and coach and GM searches aside to hash this out in Houston once and for all.
Does St. Louis ever get a football team again?
It wouldn't shock me, if the city can maintain momentum and funding options for the riverfront stadium project. A lot of smart people are involved in that process. Keeping the ball rolling might be tough for a while with the Rams move stinging, but this was always being built for the city and not for Kroenke, and St. Louis is now in the pole position for any franchise move down the line (there won't be expansion; there are 32 pieces in this pie and that's all the owners want cut). Assuming they can keep moving forward and maintain close ties with the NFL office, they are available to be used by other owners seeking more money from their current locales, if nothing else. Which I think brings me to your next question ...
Should any teams in small markets be worried moving forward?
With the NFL having exhausted L.A. as a leverage piece and most of the league securing new stadiums and/or major stadium upgrades in recent history, there aren't too many more trouble spots now. Buffalo's owned by the Pegulas, who are married to Western New York, and have never been in play in L.A. If anything, the worse-case scenario for Buffalo is Toronto, but I'd be very surprised if Pegula doesn't get something built where they are. The Jaguars are always the first team mentioned by other owners and execs in terms of the league's fixation with London, and that situation will come to a head around 2020, when TV contracts are up and after the league will have time to keep ramping up how many games it plays over there. Jags owner Shad Khan has deep ties to Missouri and was about to buy the Rams -- and likely keep them in St. Louis -- before Kroenke got around to executing his right to do so.
Cue the part where Jaguars fans go bonkers at me on Twitter and show me all the pretty pictures of the drawings of a practice facility that doesn't exist and show me that pretty scoreboard and swimming pool in the outdated stadium there. Save it. I'm not the guy you have to worry about. This is big, big business. Money talks, market-size matters and revenue is king. If you haven't been paying attention to this process with L.A. and how things work in the NFL, just ask some people in Baltimore or Cleveland or St. Louis. I'm not your problem. The economics of the NFL is.
Has a precedent been set for privately-funded stadiums with Kroenke spending his own money on this?
That's cute. And quaint. But surely you jest. Where have you been the past 20 years?