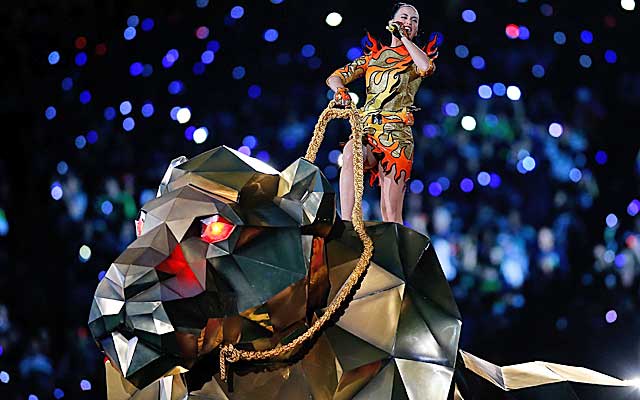 Greatest entrance in Super Bowl halftime history? Yeah, Katy Perry now owns that honor after rolling into University of Phoenix Stadium on a giant, golden mechanical Tiger.
https://t.co/eYLiUl3v6Y @katyperry, @LennyKravitz, @MissyElliott did an amazing job, best halftime performance in years! #SuperBowlXLIX

— Sandy Gracia (@GHCVB_SandyG) February 2, 2015
Or a lion, maybe, which would have been the first time a Lion ever made it into the Super Bowl. (Sorry, Detroit.)
Katy Perry has been my hero since her days as the Yellow Lion. #Voltron pic.twitter.com/IM7QvkufuR

— Ryan Charles (@ryenyc) February 2, 2015
She also nails the extra point for making light of the Super Bowl's No. 1 storyline all week.
Katy Perry rides an animatronic tiger through a sea of deflated balls. #meta

— Heidi N Moore (@moorehn) February 2, 2015
Perry's entrance outfit also bore an uncanny resemblance to WWE legend Bam Bam Bigelow.
February 2, 2015
That, or Chester Cheetah.
Paying homage... #Superbowl pic.twitter.com/W9MTiUknf8

— Michael Organic (@MichaelOrganic) February 2, 2015
But while Perry nailed her turn in the Super Bowl spotlight, and maybe set a new record for most wardrobe changes in 12 minutes (move over, Diana Ross), Missy Elliott definitely stole the show.
Missy Elliott Doing Her Thang https://t.co/CsF1s88uGg

— 365 Rundown Sports (@365Rundown) February 2, 2015
Missy got this halftime show CRUNK.

— shannon sharpe (@ShannonSharpe) February 2, 2015
Of course, a lot of Katy Perry fans may not know who Missy Elliott is. Or Lenny Kravitz, who dueted with Perry on I Kissed a Girl.  
Perry's set also included her hits Dark Horse, Teenage Dream and California Girls, for which she danced with sharks and a few singing palm trees. 
Perry closed out the show riding on a star across the stadium while belting out her anthem of empowerment, Firework.
Look familiar?
February 2, 2015