If you're able to separate Terrell Owens the player from Terrell Owens the teammate, there's little question he's a Hall of Fame talent. Unfortunately for T.O., the voters were unable to make that distinction, and when the Hall of Fame class was announced last Saturday, he wasn't in it.
Perhaps predictably, Owens lashed out, like he did so often during his playing career. On Wednesday, he told Mike & Mike that he heard former Vikings wide receiver Cris Carter "begged his way" into Canton.
Former Buccaneers and Colts coach Tony Dungy, who along with former player Marvin Harrison is part of the 2016 class, said this week that he'd take Harrison over T.O. every time.
"Terrell Owens was a great receiver, but I'll say this, if I'm going for Marvin Harrison or Terrell Owens, I'm taking Marvin Harrison every day of the week," Dungy told PFT Live on Wednesday. "Just as productive, just as hard to defend and made his teams better. There still is to me a characteristic that goes into that. I'm not taking anything away from Terrell Owens' ability, but when you get traded or released five times in your prime and you're a great player but teams are not re-signing you, that says something."
Which brings us back to Owens' Hall of Fame snub. On Thursday, the New York Daily News' Gary Myers offered a behind-the-scenes look into why Owens found himself on the outside looking in.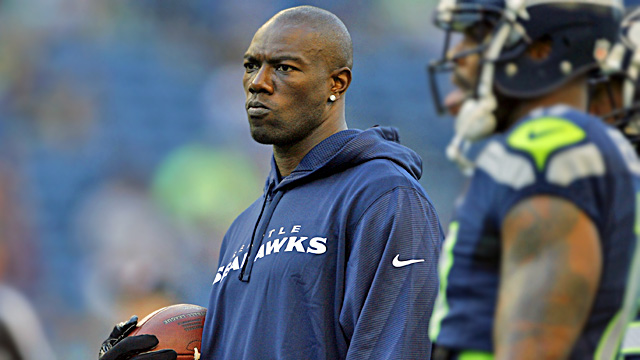 "I'll take you inside the room on this, and it was the second-longest discussion we had in the room other that Eddie DeBartolo," Myers told The Dan Patrick Show, via PFT. "The bottom line on T.O. is he was so disruptive. Now with [Lawrence Taylor], you don't count the off-the-field stuff. That's a mandate from the Hall of Fame. It's only what you've done on the field. The argument that was made in the room, and I agree with this, is what T.O. did in the locker room is part of --"
"That counts?" guest host Ross Tucker asked. "Why don't you just evaluate what's inside the white lines?"
"Because I think that the locker room is an extension of that," Myers said.
"But how do you really know what happened in the locker room?" Tucker countered.
Myers: "But he tore teams apart."
Tucker: "But how do you really know that?"
"He's a Hall of Fame player that five teams couldn't wait to get rid of," Myers said, echoing the sentiments of Dungy from the day before. "So what does that tell you about how disruptive he was?"
Owens last played in the NFL in 2010, when he caught 72 passes for 983 yards and nine touchdowns. But four years ago, in February 2012, Owens talked about the perception that he was disruptive.
"The last two or three years relatively I was quiet, knowing that everybody was saying that I had a character issue, I'm disruptive, there's a lot of hype that comes with me, they're saying I'm a distraction here and there," Owens told KESN-FM at the time.
"That's all hearsay," he continued. "If you ask a bunch of my teammates, a lot of it is basically blown out of proportion, the media making me into a fall guy. Overall, will I ever admit that I was a bad teammate? Never. I wasn't a bad teammate. Was I disruptive. No, I wasn't disruptive."
A room full of Hall voters disagree. And while they're not infallible, we'd refer you back to those five teams that, in Myers' words, "couldn't wait to get rid of" Owens.