Byron Jones wasn't supposed to do anything at the NFL Scouting Combine other than interview with teams. No physical activity at all. That was the original plan.
Jones was still recovering from a shoulder surgery that ended his final season at UConn back in October, and he wasn't even cleared to begin jogging until about three weeks before the NFL's coaches, executives and scouts gathered in Indianapolis to assess the incoming draft class. He was playing catch-up with the other prospects who had already been at it for weeks before him, and by mid January -- not Jones, nor his agent, Jared Fox, nor his trainers at the EXOS facility in Pensacola, Fla. where he would do his pre-draft prep work -- would have imagined him doing much physical activity, if any, come the combine.       
Of course, all Jones did was set a world record in the broad jump a week ago -- yes, a world record, at 12-feet, 3 inches -- with a ridiculous leap literally almost off the television screen. Oh, and he also pulled off a fairly shocking 44.5-inch vertical jump, one of the best ever by a corner at the combine and a mere half inch off the world record in that discipline as well. It was a stunning day of athletic achievement by any standard, much less for a player still working his way back from injury who hadn't been on a football field for four months and who still wasn't quite ready to do the bench press or run the 40-yard dash. In an instant, almost literally, Jones went from a well-regarded but relatively unknown college corner to a Twitter trending topic, a YouTube sensation and the story of the combine.
And now he is right back at his craft, heading straight back to Pensacola, still wowing his trainers and therapists on a daily basis with his athletic prowess, dedication and mental fortitude. He's willing to do whatever he can to maximize the time before he completes what remains of his measurables and drills at Connecticut's March 31 Pro Day and the series of private workouts and visits with NFL teams that will follow. What Jones' stunning combine did above all else was give NFL scouts and decision makers further cause to go back and review his already strong college game tape, and if he can flash elite speed and strength to complement what he flashed last month, then his rise up draft boards is only just beginning.
"It was great just having the opportunity to get three weeks of good training before the combine," Jones said. "It gave me the confidence that I could perform with the best in the game and I had no doubt that I was going to perform well. Definitely, in some ways it was all a blur, but it was also very calculated."
Indeed, the series of decisions that resulted in Jones going from a player limited by a preexisting injury to one of the premier performers at the combine look incredibly sage now, after his exploits had his peers standing nearby with their eyes popping out of their heads, to say nothing of the men lining the stands with stop watches and binoculars around their necks. But it did not take long at all for Jones to arrive on the EXOS campus before the staff there became amazed by just how far along he was. Plans quickly began to change, almost from the moment he got off the plane.
Jones had been back in Connecticut for a brief visit with his family -- he's barely been home since -- and a visit to the doctor over the Martin Luther King holiday weekend. Then he flew to Florida on Tuesday, Jan. 20 to begin the next step in his recovery. By that afternoon Fox had received a call from Stefan Underwood, the performance specialist working closely with Jones, about the corner's immediate exploits, and over the following week the progress would continue to be stunning.
"On Tuesday he gets on a 9 o'clock flight, he lands in Florida at 1 and he's jumping over 11 feet by lunch," Fox said with a laugh now, though much deliberation and careful thought went into Jones finally ending up taking part in combine activities.
"The first time he got off plane, he got cleared that Tuesday to jog, and in the first training session he blew me away," Underwood said. "We knew we had someone special right away. He showed a propensity to be explosive and jump far, and we knew he was going to do something impressive [at the combine]. The weeks leading up to him arriving we were hearing more and more from former teammates bragging on him. Byron is a super-humble guy and sort of bashful about it and he works so hard and is so attentive to detail. We knew we had a special guy right away."
Jones knew the broad jump was something of a gift for him. It's not something he did often, but as an 8-year old he competed in a national track competition in Pennsylvania and excelled, but it never really played a role in his football development. "I kind of knew I had it ever since I was young," Jones said, "but of course I didn't use it much. Just a little bit of testing here and there." At just 12-weeks post surgery, Jones referred to his status as a "soft-clear," able to run with limited restrictions but still feeling things out. No one was sure exactly what to expect, but as the days went on it became clear that he was ready to shine in several aspects.
The first week in Florida Jones set a new mark at EXOS in the L-Drill. (He would go on to put up very impressive numbers in the short shuttle and three-cone as well at the combine, which have been obscured unfairly by his world record showing elsewhere.) It wasn't long before Jones and fellow combine superhero Chris Conley, a receiver from Georgia who spawned a bevy of memes with his ridiculous jumps in Indianapolis, were making people do double takes on a regular basis.  
"It was fun to see those guys battling and competing every day," Underwood said. "Chris jumped first and I was like, 'Oh my gosh, here we go, we've got someone who can challenge the combine record. And then Byron jumped and it was, 'Good Lord, did we just see that?'"
Underwood was continually impressed by what he heard about Jones from former UConn players now in the NFL, and his leadership traits (he was a captain at UConn) and work ethic made an immediate impression. He focused on every mundane point of his ongoing physical therapy and was always one of the first people in the building.
"With who he is, how he acts in the locker room, how eager he is to learn from veterans around him," Underwood said, "there is zero percent chance of him getting in trouble. I could go on and on about his intangibles -- his ability to learn any defense and digest it. He's one of the top prospects in my mind when you look at character more than anything else. We see some freakish athletes, but if you don't have the character to go with it -- and we see it time and time again -- it doesn't pan out. He's only going up. He's such a high, high, high reward and low-risk guy."
In the week leading up the combine Jones was regularly putting up broad jumps in the 11-6, 11-7 range -- remarkable for this level but not record-shattering in the world of track and field. Jones was adamant he had yet to peak and discussions with Jones and Fox escalated as to just how much he should do in Indianapolis.
"After what we saw the first day, I said to Jared, 'Let's keep in touch on a regular basis,'" Underwood said. "At the end of the day it was completely Jared and Byron who made the decision on what he was going to do."
Finally, on the day before the corners were to take the field at the combine, armed with the metrics compiled in Florida, and in consultation with his trainer and agent, Jones opted to do pretty much all testing save for the 40.
"Stefan said early on, 'Hey, this is kind of serious -- this guy has some freakish ability,'" Fox said. "And the really painstaking part was as we moved closer to the combine we wanted to make sure we didn't put Byron in harm's way or do anything that would hurt him. But at same time I found it to be a great opportunity to showcase himself and to Byron's credit he deferred to me and deferred Stefan at times, but we all wanted it to be his decision and we counseled him as best we could and he made the final decision on which events he was participating in."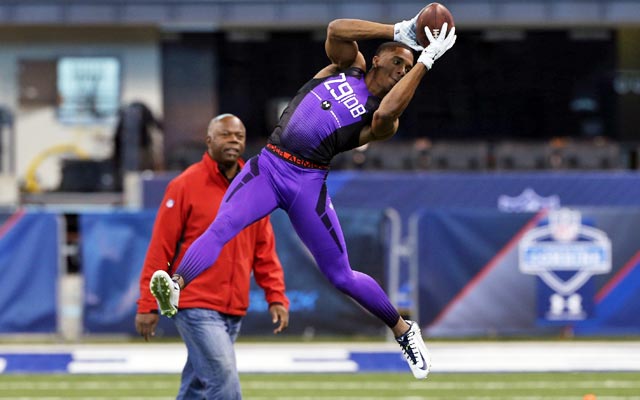 Jones was still making up for lost time in the 40 -- draft prospects train for months honing every part of the sprint process from start to finish -- and hadn't been running full bore for that long prior to the combine, so it only made sense to sit that out for now. "The 40 is so technical and there is so much to it," Jones said, "and I was still working on my stance." Instead, the focus would be on his explosive leaping ability.
Jones felt good the night before he would take the floor last Monday, doing a little extra work with Underwood and, a bit amped up, taking a sleeping aid to finally get to bed. Then with everyone watching Jones just cut loose, feeling like it was a game day, riding the wave of adrenaline into a shocking performance.
"It was awesome," Jones said, "just to perform your best at the biggest stage. I had all of my life to prepare for this, and in the end all you can ask is to have an opportunity to do this, and to perform like that and to set a personal record is a great feeling.
"The entire process was extremely exciting -- the entire four-day process. You don't get a lot of sleep and you're floating on a high getting to talk to NFL coaches and GMs. It's all about football and you've got to love that."
There was no time for resting on his laurels, though. Jones was back to the five-day-a-week grind of training this past Monday, and that will continue through his Pro Day. He's focused on his position drills, and, of course, the 40. Jones continues to build strength in his shoulder ("it feels better than ever," he said), and is still trying to make up for lost time focusing on every nuance of his speed and technique in the dash.
But most of all he's excited to play football again. Jones went back to work while allowing his agent to field some of the bizarre calls that came in following his record feats. "There was some wacky stuff that came in but we've got bigger fish to fry," Fox said. "He's not a sideshow in a circus." He had a little fun on Twitter and that was about it. Too much to be done to revel in a world record.
His cover skills and football intellect and ability to impress decision-makers will help his cause as this process unfolds. To this point, Jones has managed everything with aplomb. I wouldn't bet against that continuing in the coming weeks ahead, and in his NFL career.