NFL Week 13 as told by Twitter: Rob Ford attends Bills game
Toronto mayor Rob Ford attended today's Bills-Falcons game in Toronto. The resulting tweets were hilarious.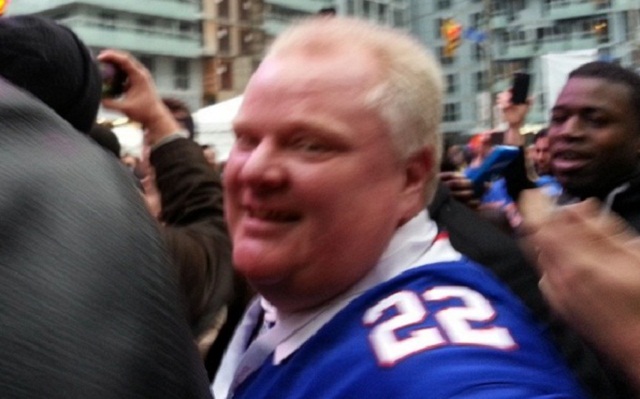 Toronto's embattled mayor Rob Ford attended the NFL's yearly trek north of the border for Sunday's Bills-Falcons game. Not surprisingly, a day of comedy related to Ford's presence at the game followed.
LOLs: Rob Ford appears to be having a good time at a Bill's game via @makracker pic.twitter.com/aB1Occ823P

— NewsBreaker (@NewsBreaker) December 1, 2013
I'm told Toronto mayor Rob Ford is in the house. You'll know if you see an overweight fan running on field and getting chased by security.

— Bucky Gleason (@TBNbucky) December 1, 2013
Rob Ford is wearing a Fred Jackson jersey. Or as the mayor calls him, Fred Crackson. #tooeasy

— Robert Harding (@robertharding) December 1, 2013
Rob Ford is wearing my fantasy player's jersey, so I'm basically playing Rob Ford today.

— John Gaudes (@johngaudes) December 1, 2013
Is there any bigger gap in character than between Fred Jackson and Rob Ford? Take the jersey off, Rob.

— Matt Creenan (@mcreenan) December 1, 2013
As part of bringing the game to Toronto, the Atlanta Falcons have let mayor Rob Ford come up with the gameplan.

— Matt (@FalconsM5) December 1, 2013
Canadian soldiers descend from the ceiling on ropes. Mild applause. They're probably here on a Rob Ford-related safety thing.

— Bruce Arthur (@bruce_arthur) December 1, 2013
Perhaps the best part of Ford's outing was the fact he stole a singer's seat.
Rob Ford is sitting in my seat at the Bills game. He stole my seat. I don't know what to do.

— Matt Mays (@MattMays) December 1, 2013
I'm by myself. I gotta kick him out right? I mean I would kick anyone else out... Am I wrong?

— Matt Mays (@MattMays) December 1, 2013
The mayor stole my f@#%ing seat man!!

— Matt Mays (@MattMays) December 1, 2013
Got my seat back.

— Matt Mays (@MattMays) December 1, 2013
NFL team Twitter accounts were particularly brutal today...against their own team.
And again, @bweeden3 is intercepted. #JAXvsCLE

— Cleveland Browns (@Browns) December 1, 2013
We're scoreless after the first quarter. Who's ready for more Jets action? #MIAvsNYJ

— New York Jets (@nyjets) December 1, 2013
Darrius Heyward-Bey hasn't exactly lived up to being a high draft pick.
Darius Heyward-Bey displaying textbook banana hands. That guy would drop a briefcase full of cash off a cliff.

— Brad Evans (@YahooNoise) December 1, 2013
Heyward-Bey w/one of the most blatant drops you'll see. Even TY Hilton was impressed with that miscue.

— Josh Katzowitz (@joshkatzowitz) December 1, 2013
During Adrian Peterson's monster day, he hit another milestone.
RT to congratulate @AdrianPeterson! #AllDay10K pic.twitter.com/jHO0Qh78z2

— Minnesota Vikings (@Vikings) December 1, 2013
The Vikings had no idea what they were doing at the end of regulation and overtime, but they still won.
"BUT THEY SHOT THE FIREWORKS!?" pic.twitter.com/59wWq5LUiQ

— Mike Tunison (@xmasape) December 1, 2013
Bet the BCS computers HATE the NFC North.

— Zach Hayes (@zhayes9) December 1, 2013
If there is a God, he'll give us another tie in the NFC North.

— World of Isaac (@WorldofIsaac) December 1, 2013
It might be time to begin worrying about the Patriots quarterback

The Patriots are still odds-on favorites, but the other teams are closing in

SportsLine tapped into its Vegas sources to see who professional bettors like Sunday
Philadelphia readies itself for a massive celebration if the Eagles advance to the Super B...

Guess who's back, back again, Texans' Watt took important step in returning to field

Ryan seems likely to become one of the highest-paid players in the NFL