Report: William 'Refrigerator' Perry auctioning off '85 Bears SB ring
The auction house states that at size 25, it is the largest NFL Championship ring ever produced.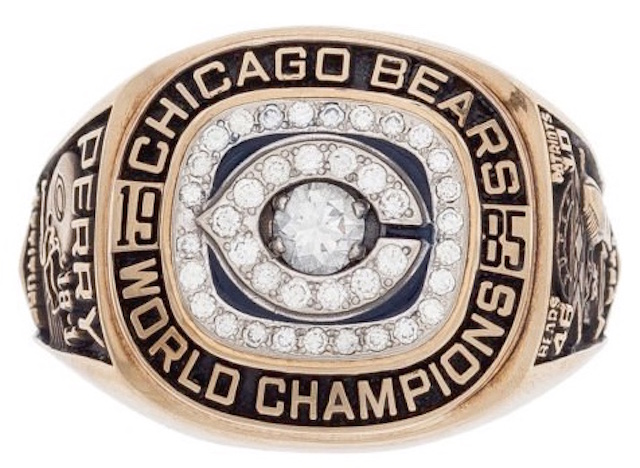 According to a report from Yahoo! Sports, William "Refrigerator" Perry is auctioning off the Super Bowl ring he won as a member of the 1985 Chicago Bears.
The auction will be held at the National Sports Collectors' Convention at Dallas and will be overseen by Heritage Auctions, according to the report. There is also an online auction at LiveAuctioneers.com, which indicates that the starting bid is $16,000 and the price could rise as high as $1 million.
Here's the accompanying description provided by LiveAuctioneers.com:
1985 Chicago Bears Super Bowl XX Championship Ring Presented to William "Refrigerator" Perry. Everybody remembers the Fridge's thundering one-yard rush to paydirt in the twentieth edition of American sports' greatest showcase, but few know that the bizarre play-calling was intended to be a middle finger from legendary Bears coach Mike Ditka to his defensive coordinator Buddy Ryan. The massive rookie out of Clemson had been the Bears' first-round selection that year's NFL Draft, a fact that incensed Ryan, who saw the gargantuan tackle as more circus freak than athlete. In point of fact, Perry was extraordinarily athletic for his size, able to carry his 300+ pounds to an eleven-second 100 meters, and to perform 360-degree dunks on a regulation basket. So throughout that debut season, the Fridge was used as a pawn in the Ditka/Ryan power struggle. It was Ditka who had the last laugh.

Here's the proof, the largest NFL Championship ring ever produced, estimated at a size twenty-five, though no measuring tool large enough to confirm this figure exists. While it is widely known in the hobby that the ring was rather widely reproduced due to its crowd-pleasing absurdity, we can confirm definitively that this is the one and only original presented to Perry for his part in "shuffling" to Super Bowl XX victory along with Walter Payton, Jim McMahon and Mike Singletary.

The face of the ring is awash in genuine diamonds which allow just a hint of the navy blue stone beneath to peek through. Raised text at the perimeter trumpets the achievement: "1985 Chicago Bears World Champions."  Left shank announces "Perry" above a figural helmet and text reporting, "16-1, GSH, Attitude."
Right shank reports the lopsided score, "Bears 46 Patriots 10" above the logos of Super Bowl XX and the NFC, and a figural Lombardi Trophy.

Interior band is free of any stamping, a key factor in determining originality as Josten's workers have confirmed that the massive size forced the sacrifice of their standard maker's mark. Our jewelry department confirms, however, that the construction is ten karat (10k) gold.

The ring will be accompanied by a letter of provenance from Perry himself, and a photograph of Perry holding both that letter and the ring itself. Letter of provenance from William "Refrigerator" Perry. Photographic documentation.
Here are the views from each side of the ring: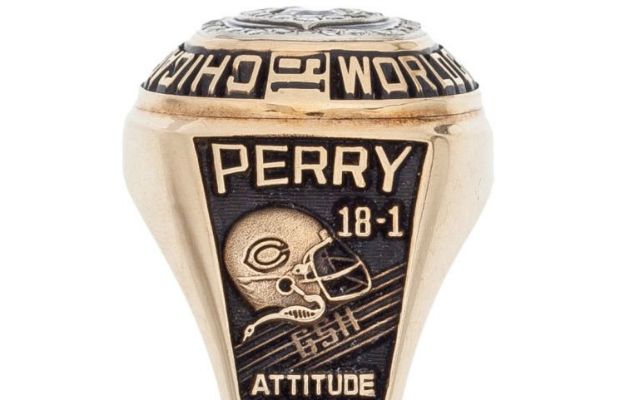 And: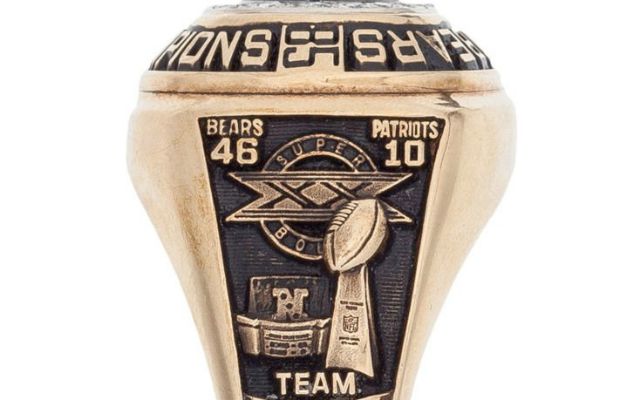 Pick Six Newsletter
Get the day's big stories + fun stuff you love like mock drafts, picks and power rankings.
Please check the opt-in box to acknowledge that you would like to subscribe.
Thanks for signing up!
Keep an eye on your inbox for the latest sports news.
Sorry!
There was an error processing your subscription.
Williams was expected to help clean up the team's offensive line issues

Ramsey instead decided to say how excited he is for Nick Foles

R.J. White has crushed the Las Vegas SuperContest twice
Cooper is impressed with Prescott's work ethic

Washington has a tough season-opening schedule and Theismann thinks Haskins should sit and...

Brees apparently thinks pretty highly of the Pelicans' prized rookie