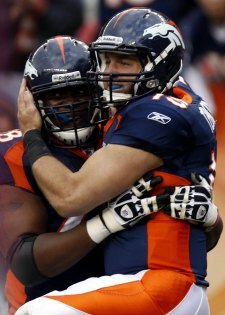 Even though Ryan Clady allowed nine sacks last year, Tim Tebow still loves him. (US Presswire)
Proving once again that it's never too early to talk about franchise tags for the next offseason, the Denver Post has the latest on what could happen with Ryan Clady, one of the league's better young left tackles.
With Clady set to play for $3.5 million in the final year of his rookie contract, the Broncos and his representatives have been trying to come to an agreement for a long-term extension that would keep Clady in town to help protect Denver's most precious asset -- Peyton Manning.
But the newspaper writes that talks "have been snagged" and it's looking like Clady will enter 2012 in a contract year with a possibility of free agency after the season. The two sides have exchanged numbers, but apparently, the figures are far apart.
It seems unlikely the Broncos would let Clady get away, but they might need to use the franchise tag on him if the two sides can't come to an agreement. This year, the franchise tag for an offensive lineman was $9.3 million.
In 2010, Clady tore his patella tendon playing basketball, and although he hasn't missed a start in his career, he hasn't been quite as good the past two seasons as he was in his first two years.
Pro Football Focus ranked him the ninth-best tackle in the league in 2010, but that dropped to No. 66 last season. He allowed nine sacks in 2011, but as CBSSports.com's Ryan Wilson points out, some of that blame can be placed on Tim Tebow's struggles to read the field and get rid of the ball in a timely manner (Wilson also ranked Clady No. 3 in players destined for a strong comeback season in 2012).
Now that Manning is entrenched as the Broncos starter, we should get the chance to see if Clady can return to the production he provided early in his career while trying to prove to the team it should pay him what he wants.

For more NFL news, rumors and analysis, follow @EyeOnNFL on Twitter, and subscribe to our Pick-6 Podcast and NFL newsletter. You can follow Josh Katzowitz on Twitter here: @joshkatzowitz.