No doubt you're aware that the 2017 NFL Draft is taking place in Philadelphia, the first time it has been held in the City of Brotherly Love since 1960.
But less people are likely aware that the entire draft, for what we believe will be the first time in NFL history, will take place outdoors. 
In its release about allowing fans to come to the draft and watch the player selections unfold, as well as enjoy the full "NFL Fan Experience," the league pointed out that the entire draft will be held outdoors. 
That's because the league is "constructing an open-air theater on the steps of the historic Philadelphia Museum of Art." 
You might know these steps better as "The Rocky Steps" -- where Sylvester Stallone trained before his first fight. (In "Rocky." It's a movie about a fighter. Google it kids.)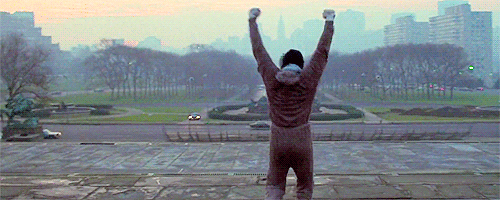 The league is using this opportunity to create a market for fans to register for the Fan Experience, which encompasses "25 football fields," a pretty large area of space. 
According to the league, fans may sign up at NFL.com/FanMobilePass or download the NFL Draft – Fan Mobile Pass app. Doing so will also allow fans to register for a chance to win tickets to watch the draft from the outdoor theater. 
The deadline to register is March 19 for fans who want to qualify for seats in the theater.