The Chicago Blackhawks have won three of the past six Stanley Cups, and based on their roster moves in the week leading up to the 2016 NHL trade deadline they are pushing all of their chips to the center of the table and going all in on trying to make it four in seven years.
This past week alone the Blackhawks have added Andrew Ladd, Dale Weise, Tomas Fleischmann and Christian Ehrhoff to a roster that was already one of the best in the NHL and on top of the Western Conference. What is most impressive about it is the way they have been able to work the NHL's salary cap to make it happen and continue to surround their core players with the necessary complementary parts that make everything work.
That is what this modern-day dynasty has been all about.
It's not that their core players are necessarily better than the core players on any other top team. Make no mistake, players like Jonathan Toews, Patrick Kane, Marian Hossa, Duncan Keith, and Brent Seabrook are all great, and they have had remarkable luck when it comes to staying healthy over the past seven years. But five or six great players alone don't make a championship team (just ask a teams like Pittsburgh or San Jose or Washington), let alone one that can win three championships in six years in a salary cap league. It takes a hell of a lot more than that
It is a testament to work of their front office and it is the very thing that separates the Blackhawks from a lot of other teams in the league. No matter how many times they have to rip apart their depth and complementary pieces, they always find a way to make it work and come back with a group that is just as strong, if not better.
This past year might have been their most impressive work yet.
After winning the Stanley Cup last season everybody knew that the salary cap was going to force the Blackhawks to dump significant chunk of their team, just as it did after the 2010 title when they had to part ways with the likes of Ladd, Kris Versteeg, Dustin Byfuglien and Antti Niemi. The team that came back after the 2010 was still strong, but it took them time to rebuild that depth and as a result ended up losing in the first round of the playoffs two years in a row.
It hasn't taken them that long to rebuild it this time around, and the roster that takes the ice this postseason is going to look very, very different from the one that lifted the Stanley Cup in June. But it probably won't be much worse. If it all.
So how have they been able to accumulate all of this depth and keep adding pieces?
The still growing Patrick Sharp and Brandon Saad trades
With Sharp signed for two more years and Saad a restricted free agent that was going to be due a huge pay raise, it was pretty much assumed that Sharp was going to be traded and that Saad might be a target for an offer sheet. The Blackhawks ended up trading both of them and not only cleared out a massive amount of salary cap space, but also brought in an essential upgrade to their roster while positioning themselves to make more moves at the deadline to fill whatever holes that might have still existed.
Here's how they did it.
For Saad, the Blackhawks stunned the hockey world when they dealt the 22-year-old winger (who had been playing on their top line and seemed to be a core player) in a massive trade to Columbus that brought them back, among other things, Artem Anisimov and top prospect Marko Dano.
Anisimov has proven to be an immediate upgrade to their second-line center spot over what Brad Richards was providing a year ago and has helped form a dynamite line with Patrick Kane and Artemi Panarin. He is on pace to set career highs in goals and total points while playing a strong two-way game. They were then able to flip Dano, along with a 2016 first-round draft pick, to the Winnipeg Jets this past week to bring in Ladd to fill the spot that was left open on the top line.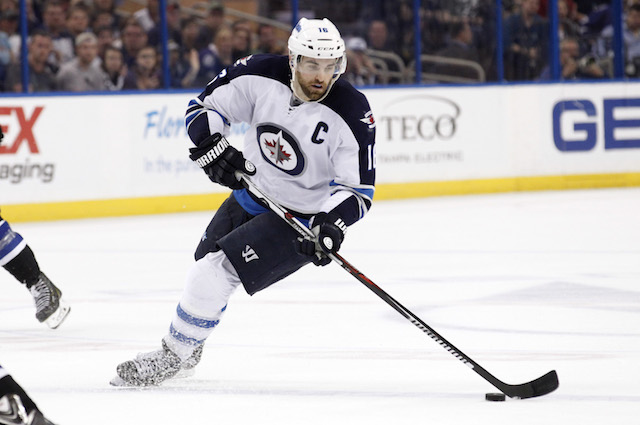 But that was only the beginning.
After dealing Saad to Columbus, the Blackhawks sent Sharp to the Dallas Stars for Ryan Garbutt and Trevor Daley in a deal that, in hindsight, was mainly set up to clear cap space, even if it didn't do that right away.
They just needed to keep working at it.
Daley, who never really seemed to fit in with the Blackhawks, was traded to Pittsburgh for Rob Scuderi (with Pittsburgh retaining a portion of Scuderi's remaining deal) to clear more cap space, while Garbutt was eventually dealt to Anaheim for Jiri Sekac (who was waived on Friday and claimed by the Arizona Coyotes on Saturday).
In terms of players, all they have to show for Patrick Sharp right now is whatever is left of Ehrhoff's career, and in terms of a talent-for-talent swap, that is probably not ideal.
But the cap space it created was massive.
Another important factor?
They get other teams to retain salary in trades
Another factor in many of these deals is the Blackhawks keep finding ways to get teams to retain salary in trades.
When they sent Daley to Pittsburgh for Scuderi, the Penguins agreed to retain 33 percent of Scuderi's remaining contract. When the Blackhawks flipped him to Los Angeles for Ehrhoff on Friday, the Kings agreed to retain a portion of his remaining salary (15 percent) while the Canadiens are reportedly retaining 30 percent of Weise's remaining contract. 
When you add it all up, Sharp and Saad (assuming he would have cost the Blackhawks something close to the $6 million per year the Blue Jackets agreed to pay him) were going to cost the Blackhawks close to $12 million this season and next.
Instead, their commitments to Anisimov, Ladd, Weise, Fleischmann, and Ehrhoff, players that were acquired either directly through those deals, or as follow-up trades, or because of the added cap space they provided, are currently less than $8 million against the cap. That has helped them to build a lineup that will go four lines deep when 100 percent healthy and be just as strong as any other contender in the NHL. It's also helped create cap space beyond this season.
They worked the salary cap, but they are still giving up a lot. And that is OK.
Having said all of that, it's not like these players came to Chicago for free, and when you add all of these moves up the Blackhawks have surrendered a lot of future assets. They had to give up their 2011 first round pick (Phillip Danault to Montreal in the Weise/Fleischmann trade), their first-round pick in 2016, a future second-round pick (Weise/Fleischmann) and a top prospect (Dano) for a bunch of players that are going to be free agents after this season (Ladd, Weise, Fleischmann, Ehrhoff) that they may not be able to keep.
They did this after giving up several draft picks (first and a second) and a prospect (Klas Dahlbeck) for last year's rentals of Antoine Vermette and Kimmo Timonen.
They didn't have a first-round draft pick in 2015, and they not only won't have one in 2016, but they are not currently scheduled to pick until the third round in the 2016 draft. All for players that will most likely be nothing more than rentals Eventually that catches up to you when it comes to restocking the cupboard.
Fortunately for the Blackhawks they have been able to find players in other ways, whether it was signing Panarin out of the KHL or bringing in NCAA free agents like defenseman Trevor van Riemsdyk (currently playing 20 minutes a night on their blue line for barely more than the league minimum). They also have a potential future star in Teuvo Teravainen that is giving them quality play on an entry level deal. All of that stuff adds up.
But even if giving up all of these assets ends up coming back to haunt them in the future, how can you blame Chicago for going all in this season for another run at a Stanley Cup? They have a chance to do something that few teams in the history of the NHL have done (four Stanley Cups in seven years) and something that was thought to be impossible in the salary cap era. You're not always going to have players like Toews, Kane, Hossa, Keith and Seabrook on your roster, and there is a very limited window for when they are in the prime of their careers and have a chance to win it all.
You have to try and capitalize on it when it's there, especially when you have a chance to build a dynasty. And that is exactly what the Blackhawks are doing.
Again.