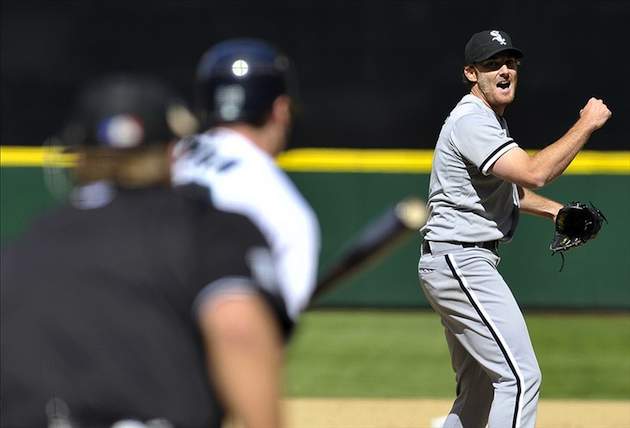 I'm always amazed at how many people can complain about good things -- and Saturday was a perfect example. If you followed on Twitter when
Philip Humber
finished off his no-hitter, it seemed people were doing as much complaining as they were celebrating. They complained about Major League Baseball's blackout rules and when Fox first cut in to the
Red Sox
and
Yankees
game to show Humber's ninth inning, it was on a split screen. People complained about that. And then when Humber struck out
Brendan Ryan
on a check swing -- more complaining about umpire's Brian Runge's call.
Maybe that's why it was so refreshing this morning to read who wasn't complaining -- Ryan.
OK, Ryan argued the call right after it happened -- and if he would have run to first instead of arguing, he would have made it -- but when it came time to talk to reporters, Ryan had nothing but praise for Humber.
Here's
the report from the
Seattle
clubhouse from
MLB
.com:
"I don't even want to talk about [the call]," Ryan said. "I will say that was a pretty outstanding game [Humber] threw. He had his slider working, obviously, and pounded the zone, kept his pitch count down. Pretty outstanding stuff from him today."

Then Ryan looked around at the reporters surrounding him in silence.

"Everyone wants to talk about the check swing, huh?" he said.
Ryan also praised Humber and catcher
A.J. Pierzynski
for making the gutsy call to throw a 3-2 slider with a perfect game on the line. Ryan said he was obviously looking for a fastball in that situation and was surprised to see the slider out of the zone. Ryan said he thought it was the fourth ball.
"It was, it was, but ... I don't want to finish that [thought]," Ryan said. "In that situation, you have to be a little more aggressive to anything around the plate. That's just the way it's going to be. The fans want to see it, so anything that's kind of gray, you're going to have to get a piece of."
Did Ryan go? I'm sure he didn't think so -- and I have yet to see a real, good angle of it. I don't know. Runge had the quick call and said he did. You'll only have to take a quick look at Twitter to see anyone who thought he did or didn't go is obviously a complete idiot -- but to me, it's refreshing to see Ryan wasn't going to, publicly at least, blame anyone but himself.