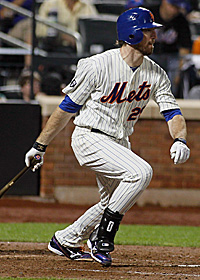 The struggles of
Mets
first baseman
Ike Davis
aren't a secret. He enters Wednesday evening with a .160/.226/.274 line, he's struck out 56 times in 175 at-bats and he's even been moved into a near-platoon situation.
Now, with Jason Bay off the disabled list, the Mets have plenty of options at first base, should they decide to demote Davis to Triple-A. And they should, just over a week from now.
Lucas Duda
can play first and has been reportedly taking ground balls there of late. That would still leave
Kirk Nieuwenhuis
,
Andres Torres
,
Scott Hairston
and Jason Bay to man three outfield spots on any given day. First-base depth wouldn't be an issue, either, because
Daniel Murphy
could play there if need be.
Discussion of a possible demotion is picking up, too. Bats blog on NewYorkTimes.com has a
"Should Ike Davis be sent down"
post up Wednesday afternoon.
Manager Terry Collins has been worn down about Davis questions to the point that, when asked if Duda would start playing first base, now that Bay is back, he responded: "Not yet," and then, when asked when Duda might play first (
via ESPN New York
): "I don't know, good question. If I had an answer, I'd give it to you."
The reason the Mets shouldn't demote Davis until later next week is that the Mets have interleague play to think about right now. They'll have a DH available for three games against the
Yankees
this weekend and then three games in
Tampa Bay
next week. After that, though, assuming Davis hasn't gotten hot at the plate, there's very little reason to keep him in the majors.
Among qualifying players, Davis is last in the majors in batting average and on-base percentage. Only
Cliff Pennington
and
Brendan Ryan
have worse slugging percentages. And Davis is far too talented to be posting numbers like this. He's only 25 years old and entered the season with a career line of .271/.357/.460. He had 26 homers, 96 RBI and 93 runs in 183 career games.
The only reason I could see for the Mets to continue running Davis out there -- again, assuming he doesn't get hot against the AL teams in this next week -- is if they're worried about his confidence. On that front, though, that's exactly why I would demote him. His confidence has to be at an all-time low right now, and it'll only get worse as he continues to struggle. Once you get into mid-June with struggles like these, you're getting into lost season territory (a la Adam Dunn in 2011).
Why not let Davis get fat off Triple-A pitching for several weeks and then bring him back to the majors with a renewed swagger? He's only played 10 games in his entire career in Triple-A anyway, so it's not like a few more is going to hinder his development at all.
The Mets are going to be in a dogfight in the NL East, likely very deep into the season. They've played well without Ike Davis' bat thus far, but it's a long season. They need him to hit eventually, and the best way to get him going is to have him regain some confidence against inferior pitching.
For more baseball news, rumors and analysis, follow @EyeOnBaseball on Twitter, subscribe to the RSS feed and "like" us on Facebook.