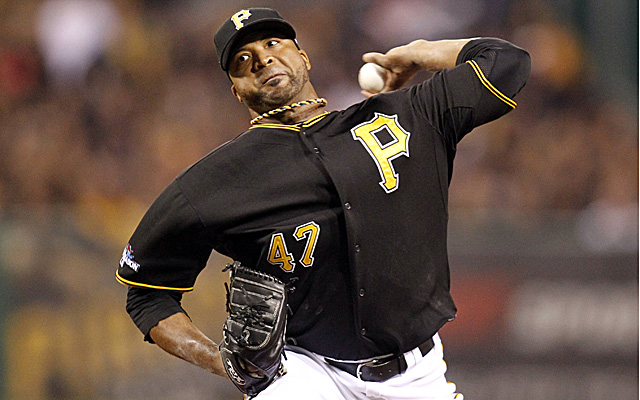 Byrd homers in first career playoff at-bat | One video to sum up the night
The Pittsburgh Pirates hadn't played in a playoff game since 1992, but they weren't about to stop with just one. They treated their ecstatic fans to a 6-2 clubbing of the Reds in the NL wild card game Tuesday night to advance to the NLDS round.
Hero: This thing was a total team effort and the final score doesn't show how much the Pirates truly dominated this game. It never even felt close to in doubt -- except for one split second, which will be covered below in the "turning point" section -- but ultimately I'm going with the man on the hill. Francisco Liriano was masterful. He started off with three perfect innings and finished with a final line of seven innings, four hits allowed, one earned run, one walk and five strikeouts. He made Joey Votto -- one of the best hitters on the planet -- look absolutely hopeless. And anytime the Reds mounted what looked like even a minor threat, he slammed the door shut.
Obviously the likes of Starling Marte, Andrew McCutchen, Marlon Byrd and, of course, Russell Martin merit mention as well. It was, again, a total team effort. It was Liriano who set the tone early and never let the Reds mount a serious comeback. He's an easy pick for me.
Goat: Liriano's counterpart, however, shoulders a lot of the blame. Yes, the Reds offense was unproductive, but sometimes you're just outmatched. Liriano was dominant and he owns left-handers like Joey Votto. Johnny Cueto, though, came in with great career numbers in PNC Park, but seemed flustered by the crowd noise, big stage or ... something. He just wasn't right. He only lasted 3 1/3 innings, allowing seven hits -- including two homers and a double -- three earned runs and a walk. He didn't miss many bats (zero strikeouts) and several of the outs he recorded were hit hard by the Pirates.
Turning point: I'm going with a foul ball. Though three innings, the Pirates were in complete control. They led, 3-0, the crowd was in high spirits and Liriano had retired all nine Reds he'd faced. With two runners on and two out in the fourth, though, Todd Frazier sent a lofty fly ball down the left-field line. It would come down maybe a few feet from hitting the foul pole. I couldn't believe how close it ended up being foul, as it initially looked like an obvious foul ball. This came one batter after the Reds' first run, meaning a home run would have made it 4-3 Reds. Frazier would strike out on the next pitch, but can you imagine if that ball hit the foul pole? All of a sudden, we would have been watching a completely different ballgame, one in which the Reds were in control and the Pirates were battling back. So, yeah, that ball being foul is my "turning point," partially due to the Pirates overall dominating the game (meaning, what were my other choices? Maybe Byrd's homer in the second to start the scoring).
It was over when: Russell Martin launched his second home run of the night deep into the left-field stands. The game had long felt it was over, but that was the dagger -- making it 6-1 in the bottom of the seventh.
Next: The Reds are eliminated. The Pirates are headed to St. Louis for Game 1 of a best-of-five NL divisional series against the top-seeded Cardinals. Game 1 is Thursday at 5:07 p.m. ET and Game 2 will be Friday at 1:07 p.m. ET. Time for a well-used vacation day, eh, Pirates fans?