NBA Training Camp: Western Conference camp battles
Over the next few days, every training camp in the NBA will be in full swing and we look at the potential training camp battles in the Western Conference.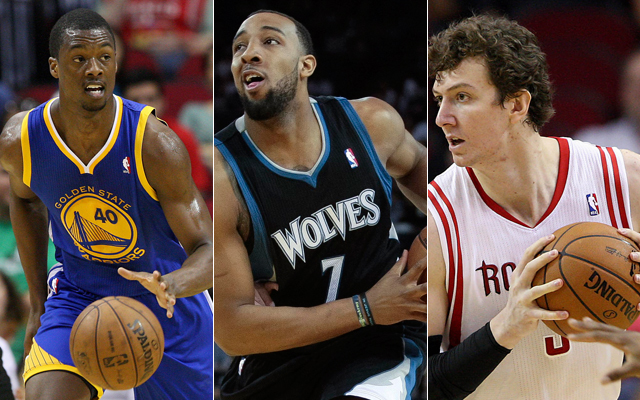 With training camp starting up this weekend for some teams and into next week for the other teams, it's time to start looking at which players will be fighting for spots not just on the roster but in rotations around the league. We take a look at the Western Conference teams and what possible training camp position battles we may find this preseason.
For the Eastern Conference camp battles, click here.
Key Additions: Andre Iguodala, Marreese Speights, Toney Douglas, Jermaine O'Neal, Nemanja Nedovic, Seth Curry
Key Subtractions: Jarrett Jack, Carl Landry, Andris Biedrins, Richard Jefferson, Brandon Rush
Position battle 1: Harrison Barnes vs. David Lee
The Warriors made their magical run through the first round with next to no contributions from David Lee during the 2013 playoffs, which has lead some pundits and fans wondering if the team is better off playing small ball with Harrison Barnes at the 4. He won't flat-out replace Lee and the $44 million left on his contract through 2016, but has Barnes improved enough to steal minutes away?
Position battle 2: Marreese Speights vs. Jermaine O'Neal
Back in June, Festus Ezeli underwent knee surgery that should sideline him until 2014. With the team showing success with small ball, this could leave Speights and O'Neal battling for the key minutes as the backup big man. Do you go with Speights, who is much more of a scorer at this stage than O'Neal, or do you go with more of a veteran presence that could potentially provide some defense behind Bogut?
Position battle 3: Kent Bazemore vs. Toney Douglas
With Andre Iguodala on the roster, the need for a traditional backup point guard might not be necessary unless Mark Jackson decides to employ hockey-style line changes. That could lead to the high hopes of Kent Bazemore's defensive presence being one of the main backup guards unless Toney Douglas can show his improvement last season wasn't a fluke.
What to expect from this team... 
If anything, they're likely to be a more traditional team in terms of lineups and position players with an eye on the unconventional if things go wrong with an injury or two. David Lee was fantastic last season for them in the regular season, but it's hard to move his contract or sit him on the bench in favor of a second-year forward. And until they have their full depth back when Ezeli returns, they'll probably slide Speights into Landry's role from last year (although Barnes could see time there instead) and use their size against opponents that can play both big and small. As for the Bazemore addition to the rotation, I'd imagine Douglas takes the spot early because you can trust him more with the ball and Bazemore isn't quite a playmaker yet. But this team should evolve and adapt no matter what situation stares them in the face.
Key Additions: J.J. Redick, Jared Dudley, Darren Collison, Byron Mullens, Reggie Bullock, Antawn Jamison, Brandon Davies
Key Subtractions: Eric Bledsoe, Caron Butler, Ronny Turiaf, Chauncey Billups, Grant Hill, Lamar Odom
Position battle 1: Antawn Jamison vs. Byron Mullens
There isn't much in the way of big men depth with the Clippers and it's going to be their biggest issue this season if DeAndre Jordan doesn't show he can play 30+ minutes per game. Ryan Hollins will certainly be in the mix, but Jamison battling Mullens as the scoring big off the bench could be a big part of the Clippers' training camp and preseason.
Position battle 2: Jamal Crawford vs. Darren Collison
It's not that Jamal Crawford is going to be the full-time backup point guard by any means. But with so much wing depth on this team, having him bring the ball up the court for a few minutes here and there may be the only way to get him proper time on the court. If Collison can't defend anybody, might as well have the dynamic scorer out there instead.
Position battle 3: Willie Green vs. Matt Barnes
This wing depth means one of these guys will have to take a backseat with minutes. They can go small and play Barnes at the 4, but Green is going to have to be a huge upgrade with shooting and a solid defender in order to take time from Barnes.
What to expect from this team... 
Shaking out the rotation and minutes of the wing players won't be as necessary as figuring out who will play the big man minutes for this team. You can pencil Blake Griffin in for 30+ minutes per game. Outside of that, you need Jordan to take a big step forward this season and still need Hollins or Mullens to be a big contributor inside. Even if Jamison is able to be a consistent scoring option off the bench, where does the interior defense come from?
Key Additions: Chris Kaman, Jordan Farmar, Nick Young, Wes Johnson, Marcus Landry, Xavier Henry, Shawne Williams
Key Subtractions: Dwight Howard, Earl Clark, Antawn Jamison, Metta World Peace, Devin Ebanks, Andrew Goudelock, Darius Morris
Position battle 1: Jordan Farmar vs. Steve Blake
Without knowing how long Kobe Bryant will be out when the season starts, if at all, the Lakers made need a boost in athleticism in the backcourt. Old friend Jordan Farmar could end up providing that in the up-tempo system and pushing Steve Blake for time as the backup point guard. Blake was really good under D'Antoni, but the athletic boost could be big under Farmar.
Position battle 2: Wes Johnson vs. Xavier Henry
Seriously, this is a battle for the Los Angeles Lakers in the 2013-14 season. If I told you this was going to be a thing this time last year, how drunk would you think I am?
Position battle 3: Kobe Bryant vs. timetables
As much as certain role players earning time on this team could end up being throughout the season, nothing will be more important than Kobe Bryant coming back on the early side of his initial timetable. We probably won't really know how close he is to returning until a couple days before opening night. If he can continue to shatter expectations, then he'll have won this position battle and then some.
What to expect from this team... 
There just isn't much we can learn about this team early on until we know how healthy Kobe is and when he's coming back to this team. If he's ready by the start of the season, then the role players will fall into place. If he's not ready for opening night, then you're going to see a lot of guys trying to put up numbers in the fast pace style of Mike D'Antoni. We'll see if point guard Steve Nash still has the ability to make players look better or if everything is a lost cause this season.
Key Additions: Eric Bledsoe, Gerald Green, Alex Len, Archie Goodwin, Slava Kravstov, Miles Plumlee, Malcolm Lee, Ish Smith, Dionte Christmas
Key Subtractions: Michael Beasley, Wes Johnson, Jermaine O'Neal, Jared Dudley, Luis Scola, Hamed Haddadi
Position battle 1: Eric Bledsoe vs. Goran Dragic
You're more likely to see these two playing together throughout the season than you are to see them competing for minutes at the point guard position. But at some point, Bledsoe has to convince the Suns that he's the point guard of the future and that Dragic is expendable. 
Position battle 2: Shannon Brown vs. Archie Goodwin
Brown is not only the veteran option here but he's also the better player between the two right now. However, this team may not have a real need for veterans to be on the court much this season (see: offseason exodus of most of them, including Caron Butler). Can Goodwin steal minutes early and prove to be the better option at the 2?
Position battle 3: Alex Len vs. draft position
No matter what the status of a player is heading into his rookie season, if he was taken with a top-5 pick in the draft, people will expect to see some kind of spark out of such a high draft selection. He doesn't need to be a star or anything right away, but you'd love to hear a little buzz about Len in camp if you're a Suns fan.
What to expect from this team... 
There is still a weird mix of veterans and young players on this team that Jeff Hornacek will have to choose from for his rotation. Will he be inclined to throw Bledsoe out there just to see if he makes a big difference? What will the balance be between playing guys like Marcin Gortat, Shannon Brown, and Channing Frye while still having eyes on the future of this franchise and developing young players? I imagine they'll move toward the young players but you can't have sulking veterans.
Key Additions: Greivis Vasquez, Ben McLemore, Carl Landry, Luc Richard Mbah a Moute, Ray McCallum, Trent Lockett
Key Subtractions: Tyreke Evans, Cole Aldrich, Toney Douglas, James Johnson
Position battle 1: Greivis Vasquez vs. Isaiah Thomas
Isaiah Thomas doesn't want to give up his starting point guard gig without a fight because he worked his way from the last pick in the draft to a starter. Greivis Vasquez was one of the best point guards at setting other players up last season. Which one works better for Mike Malone to start games?
Position battle 2: Ray McCallum vs. Jimmer Fredette
While Jimmer Fever is still quite contagious amongst fans, Ray McCallum has all the makings of being a really good backup point guard in this league. The Kings are already crowded at that position, but it doesn't mean McCallum can't take Jimmer's minutes as the fifth guard off the bench.
Position battle 3: Luc Richard Mbah a Moute vs. John Salmons
John Salmons is the better all around player when compared to Luc Richard Mbah a Moute, but that's mainly because of his offensive capabilities. This team is going to potentially be awful defensively and that's where Mbah a Moute should be able to steal minutes from Salmons.
What to expect from this team... 
This Kings team is under a new direction now and we should hear early signs of what a refreshing culture change we have in Sacramento as camp begins. Mike Malone finally gets a crack at running his own team on the court and we'll get to see and hear the early impressions of what he's able to do with this young core. Welcome back to professionalism, Sacramento!
Key Additions: Nate Robinson, Randy Foye, J.J. Hickson, Darrell Arthur
Key Subtractions: Andre Iguodala, Corey Brewer, Kosta Koufos
Position battle 1: Darrell Arthur vs. J.J. Hickson
The Nuggets have solid depth for the interior but they have a big decision to make between minutes going to Arthur or Hickson. After the defensive debacle in Portland last season, we should be done with the idea of Hickson playing center. So do you need a stat-stuffing backup 4 or do you need someone who can play a little defense in Arthur?
Position battle 2: Jordan Hamilton vs. Evan Fournier
I'm not sure how much either player has a chance to play in the backcourt this coming season with the depth the Nuggets acquired. But before Gallinari comes back into the fold, Hamilton and Fournier have a shot to play a lot on the wing behind Wilson Chandler. 
Position battle 3: Nate Robinson vs. Randy Foye
Randy Foye has proven to be a much safer choice than someone like Nate Robinson over the past couple seasons, but he's never shown the ability to take over games if need by like Nate has. This team went small last season with two small guards in the lineup together. Is Nate still dynamic enough to make that an option for Denver?
What to expect from this team... 
The biggest talk coming out of this training camp will likely be the regime change on the sideline and how much players are buying into what Brian Shaw is selling. How much of an influence will his time with Phil Jackson have on the type of coach Shaw ends up being? Will the defensive teachings of Frank Vogel in Indiana have an impact as well? How will he mend the trust issues that may have popped up with the organization and Ty Lawson after the fallout from last season?
Key Additions: Kevin Martin, Corey Brewer, Shabazz Muhammad, Gorgui Dieng, Ronny Turiaf
Key Subtractions: Andrei Kirilenko, Luke Ridnour, Malcolm Lee, Greg Stiemsma, Mickael Gelabale, Brandon Roy
Position battle 1: Chase Budinger vs. Corey Brewer
The starting small forward position will be up from grabs during training camp and the preseason. If Budinger can avoid looking like a saloon door on defense, his shooting could win him the job. Otherwise, Brewer's defensive impact (while not huge, still greater than Budinger's) could win him the starting nod.
Position battle 2: Derrick Williams vs. Dante Cunningham
Derrick Williams has been better than people assume but he's also been much worse than what was expected out of his No. 2 selection in 2011. If he can't win the backup PF position over Cunningham, he'll probably be trade bait early in the season.
Position battle 3: Ronny Turiaf vs. Gorgui Dieng
Gorgui Dieng has a lot of defensive potential, but anchoring a defense in the NBA is a bit different than what he did at Louisville. This leaves the door open for Ronny Turiaf to win the backup center position this preseason.
What to expect from this team... 
This team will be a lot of fun on offense if everybody stays healthy, but it's hard to buy into them being a good defensive team just based on how the team looks on paper. The return of Kevin Love to full strength, the big contract given out to Nikola Pekovic this summer, and the first healthy (we hope!) year from Ricky Rubio this season will set the expectations high for this team making the playoffs. 
Key Additions: Steven Adams, Andre Roberson, Ryan Gomes
Key Subtractions: Kevin Martin, Ronnie Brewer, DeAndre Liggins
Position battle 1: Jeremy Lamb vs. Reggie Jackson
One of these guys has a chance to fill the James Harden/Kevin Martin Sixth Man role from the past couple seasons, but which one will it be? The scoring potential people see in Lamb suggests he'd fit better as the backup shooting guard, but Jackson is a much more proven commodity that has improved a lot the past year.
Position battle 2: Ryan Gomes vs. Perry Jones III
Perry Jones III is another one of these young guys with potential the Thunder have assembled, but we didn't even come close to seeing if he was ready to contribute last season. A veteran forward like Ryan Gomes is a lot easier to trust if you're a coach with championship aspirations.
Position battle 3: Steven Adams vs. Hasheem Thabeet
Have you ever seen giraffes fight? That's probably what this position battle will end up looking like.
What to expect from this team... 
Russell Westbrook returns from his playoff injury and Kevin Durant is ready to keep showing us why he's the best scorer on the planet. But outside of that, they need a third option on offense to be reliable, much like we saw from James Harden. You can't expect him to be as good as Harden was, but can they get 60 percent of that from either Lamb or Jackson? If that happens, this team will look as strong as ever. If not, questions about that infamous trade will continue to rule the conversation around this team.
Key Additions: Mo Williams, Thomas Robinson, Robin Lopez, Dorrell Wright, Earl Watson, C.J. McCollum, Allen Crabbe, Terrel Harris
Key Subtractions: J.J. Hickson, Eric Maynor, Luke Babbitt, Nolan Smith, Elliot Williams
Position battle 1: Mo Williams vs. C.J. McCollum
The fan vote would likely go to C.J. McCollum as the Blazers see if they can go back-to-back with Rookie of the Year winners. But Mo Williams is an established veteran on a team with playoff aspirations this season. Could be easier for Terry Stotts to choose Williams as the secondary ball handler after Damian Lillard.
Position battle 2: Thomas Robinson vs. Meyers Leonard
If Robin Lopez isn't the improved center we saw last season and he bogs down their attack on offense, do the Blazers move Aldridge to center position for stretches and put Thomas Robinson next to him or do they keep Aldridge at the 4 at all times and have Meyers Leonard out there? Robinson is likely the call regardless of Lopez's impact but the battle is there.
Position battle 3: Dorrell Wright vs. Victor Claver
It's almost a certainty that Dorrell Wright will win the backup wing position behind Wesley Matthews and Nicolas Batum, but the long and athletic Victor Claver could steal some minutes if he shows to be a decent 3-and-D option. Wright is the better shooter and a solid defender, but Claver looked improved during his FIBA play and that could carry over to training camp, in theory.
What to expect from this team... 
One of the hardest things to do is to transition from a team acquiring assets to a playoff team. For the Portland Trail Blazers, they've completed step one of this process and now have to figure out how to make the leap. Part of that will be getting their role players to accept roles and with their incredible depth in the backcourt, egos will have to be checked at the locker room door. We should see them figure out how to fit the pieces of the puzzle together during the preseason.
Key Additions: Trey Burke, Rudy Gobert, Andris Biedrins, Richard Jefferson, Brandon Rush, John Lucas III, Ian Clark, Scott Machado
Key Subtractions: Al Jefferson, Paul Millsap, Raja Bell, Jamaal Tinsley, Mo Williams, Earl Watson, DeMarre Carroll, Randy Foye, Kevin Murphy
Position battle 1: Brandon Rush vs. Alec Burks
Jazz fans have been waiting to see if Alec Burks can become the answer at shooting guard for the Utah Jazz. If he's not careful and Brandon Rush is fully recovered from his gruesome knee injury, then Burks may not find himself with consistent minutes this season.
Position battle 2: Ian Clark vs. John Lucas III vs. Scott Machado
The backup point guard position behind rookie Trey Burke is wide-open for anybody that wants to take it. John Lucas III is the frontrunner for the position, but Ian Clark's fantastic summer league performances have a lot of people high on him and everybody's favorite backup prospect in Scott Machado was just added to the training camp roster.
Position battle 3: Andris Biedrins vs. Rudy Gobert
Have you ever seen two giraff... ah, never mind.
What to expect from this team... 
I'm not sure if this team can surprise anybody and compete for a playoff spot in the West, but the excitement should be there plenty in the preseason and training camp. We get to see what it looks like when the paint belongs to Derrick Favors. We get to see what it looks like when Enes Kanter plays extended minutes. We'll get to see Trey Burke light up defenses early. There are a lot of young components to this core and it's time to see how they perform on their own.
Key Additions: Monta Ellis, Jose Calderon, Samuel Dalembert, Wayne Ellington, Devin Harris, Shane Larkin, Ricky Ledo, Gal Mekel, DeJuan Blair, Fab Melo
Key Subtractions: O.J. Mayo, Elton Brand, Jared Cunningham, Darren Collison, Chris Kaman, Anthony Morrow, Josh Akognon, Rodrigue Beaubois, Mike James
Position battle 1: Gal Mekel vs. Shane Larkin vs. Devin Harris
Who wants the backup point guard position? Gal Mekel showed a lot of promise in summer league, Shane Larkin was a mid first round pick, and Devin Harris has history and the best qualifications for the job. But it should be wide-open with Larkin and Harris coming off of injuries from this summer.
Position battle 2: Jae Crowder vs. Wayne Ellington
The Mavericks aren't desperate for 3-point shooting, but they'll need a consistent shooter as a role player this coming season. That battle is likely to come down to Crowder and Ellington, two guys that are capable of pouring it on from downtown. Which player wants to defend to go with the shooting threat?
Position battle 3: DeJuan Blair vs. Bernard James
Dirk Nowitzki, Samuel Dalembert, and Brandan Wright are three locks for big men in the rotation. Who wants to be the fourth player? Bernard James needs to be consistent and DeJuan Blair needs to pretend to play some defense.
What to expect from this team... 
It's going to be interesting to see what happens in the Dallas backcourt with so many options for small ball and a potential scoring juggernaut between Monta Ellis and Jose Calderon. The problem with that pairing though is you're not going to get any defense and that could put a lot of pressure on an interior that has little depth available. They have to find their depth early in the preseason process and get comfortable with all of the new parts.
Key Additions: Dwight Howard, Ronnie Brewer, Aaron Brooks, Marcus Camby, Isaiah Canaan, Reggie Williams, Omri Casspi
Key Subtractions: Thomas Robinson, Royce White, James Anderson, Carlos Delfino, Tim Ohlbrect
Position battle 1: Patrick Beverley vs. Aaron Brooks vs. Isaiah Canaan
Jeremy Lin shouldn't have much of a problem retaining his starting point guard position, so that leaves the backup battle to three intriguing options. Patrick Beverley emerged in the playoffs as a pest on the court, Aaron Brooks is the most reliable veteran they have, and Isaiah Canaan is a deadly outside shooter that can help this team toss up more 3-pointers.
Position battle 2: Donatas Motiejunas vs. Terrence Jones
Is Omer Asik going to be the starting power forward or will they go to the winner between Donatas and Jones? Jones is a better option for their up-tempo style of play that was so hectic last season, but Donatas is a much more well-rounded power forward option. Which one fits the best next to Dwight Howard?
Position battle 3: Omer Asik vs. the world
Omer Asik may not be happy with the Rockets going out and grabbing Dwight Howard, but Kevin McHale doesn't care. He wants last year's starting center to figure out how to complement this year's starting center. If Asik complains about his lessened role, it could kill chemistry and his trade value.
What to expect from this team... 
Things might be awkward for a little while. It's not always easy to bring in that big piece and get things to streamline right away. However, this is the time for the Rockets to work out all those kinks and figure out how to bring their fast style of play into a zone that Dwight Howard is comfortable playing in. Regardless of how tough it is to fit together at first, excitement should be plentiful in Houston.
Key Additions: Mike Miller, Kosta Koufos, Nick Calathes, Jamaal Franklin
Key Subtractions: Darrell Arthur, Tony Wroten, Austin Daye, Donte Greene, Keyon Dooling
Position battle 1: Tayshaun Prince vs. Quincy Pondexter
Tayshaun Prince has to knock down jumpers this season from midrange and downtown in order to help spread the floor to free up the interior for the Grizzlies' great big men. If he's not a reliable safety valve, the outside shooting of Quincy Pondexter will fit nicely into that role at small forward.
Position battle 2: Nick Calathes vs. Jerryd Bayless
Bayless will likely be used more as a scorer off the bench than a point guard, but the options in the backcourt are a little limited. Mike Conley is likely to play a lot of minutes this year, but being able to trust Calathes with combo guard duties would be huge for this team.
Position battle 3: Ed Davis vs. minutes
There is no way Ed Davis and his minutes get screwed this year, right? No Lionel Hollins. No real depth at the power forward position outside of using Jon Leuer as a stretch-4. And that giant chip that resides on Davis' shoulder is still there. 
What to expect from this team... 
It seems like we should see some veteran get invited to camp or signed during the preseason in order to give this team more depth at point guard. Keyon Dooling and Tony Wroten sort of split the duties last season and just having Calathes out there doesn't seem to be enough. We should expect them to find one more minimum option out there in order to help round out the potential rotation.
Key Additions: Jrue Holiday, Tyreke Evans, Anthony Morrow, Greg Stiemsma, Jeff Withey, Lance Thomas, Arinze Onuaku
Key Subtractions: Greivis Vasquez, Robin Lopez, Terrel Harris, Roger Mason, Jr., Lou Amundson, Xavier Henry
Position battle 1: Tyreke Evans vs. Eric Gordon
I know the plan is to play these guys together but getting them to share the ball properly might be an issue. It wouldn't shock me if we see these guys butt heads stylistically a bit as they learn to play together and share the ball.
Position battle 2: Austin Rivers vs. Brian Roberts
Austin Rivers had an encouraging summer league and said all of the right things about his role this coming season. He still has to prove his historically bad rookie season isn't what his career is going to be and that he's a more reliable option in the backcourt than Brian Roberts.
Position battle 3: Greg Stiemsma vs. Jeff Withey vs. Jason Smith
The battle for center could be pretty physical with these three. Greg Stiemsma and Jason Smith have been very physical players in their careers and aren't afraid of knocking guys around. Jeff Withey was a big-time shot blocker at Kansas. All three have big limitations but similar skill sets for being a defensive option next to Anthony Davis.
What to expect from this team... 
The biggest thing to take from this team's preseason and training camp is what Anthony Davis looks like. He was impressive as a rookie and shows to be a future franchise player, but you're already going to want to see what kind of strength he's built in the offseason and if he's added anything to his game. The play of the Holiday-Evans-Gordon trio will be important but it's all about the Brow.
Key Additions: Jeff Ayres, Marco Belinelli
Key Subtractions: Gary Neal, DeJuan Blair, Tracy McGrady
Position battle 1: Nando De Colo vs. Cory Joseph
The battle for the backup point guard position should be between De Colo and Joseph with Joseph probably having the upper hand. De Colo played a lot more minutes during the regular season, but Joseph was the one Gregg Popovich trusted in the playoffs. 
Position battle 2: Jeff Ayres vs. Boris Diaw
Jeff Ayres, the power forward formally known as Jeff Pendergraph, is the type of tough defender Popovich could use next to either Tim Duncan or Tiago Splitter. He doesn't have nearly the offensive versatility that Diaw provides but the defense and rebounding could make up for it in spurts.
Position battle 3: Spurs vs. Game 6 questions
There just isn't much drama within the construct of what the Spurs are right now as a roster or what they will do in their system with the players they have. The only thing still staring them in the face is giving up a seemingly insurmountable lead at the end of regulation in Game 6 against the Miami Heat. People will still ask them about that failure until we get some real basketball to talk about.
What to expect from this team... 
Robotic answers. An offense being finely tuned. A defensive system being checked regularly with all options. And another thoughtfully paced march through preseason and the next 82 games before the playoffs begin.
LeBron's minutes are a common point of discussion this season

Kevin Garnett thinks a one-and-done rule change would benefit schools more than anything e...

The Warriors are light years ahead, but James Harden is off to a red-hot start with the Ro...
Victor Oladipo is playing the best basketball of his career, and it all came together against...

McCollum hurled a clever insult at the French forward

Hosts Bill Reiter and Reid Forgrave are joined by Blazers guard CJ McCollum