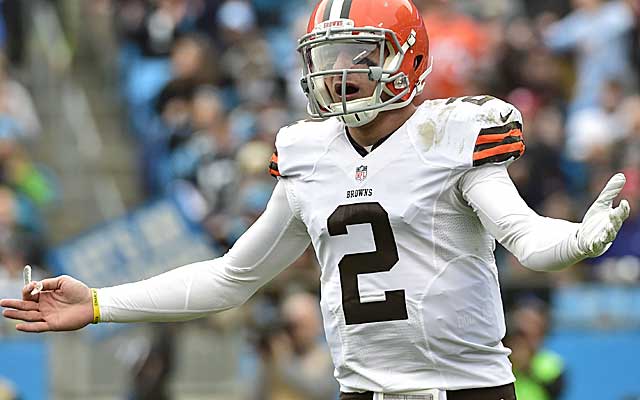 Johnny Manziel struggled badly (to put it lightly) in the first two starts of his NFL career. He completed only 13-of-26 passes for 112 yards, and he threw two interceptions and zero touchdowns. His quarterback rating in those two starts was only 29.6.
He's since been roundly criticized by everyone from Brian Billick to Merril Hoge, and he's even been hard on himself, stating, "I have to take this a lot more seriously. It's a job for me now.'' Everywhere you turn, people are putting in the nail in the coffin of his career.
But not Browns head coach Mike Pettine, who says seven quarters of poor play is "too early" to write off Johnny Football.
Pettine agreed with Manziel that seven quarters is too early to give up on Manziel as a quarterback.

— Jeff Schudel (@jsbrownsinsider) December 24, 2014
Manziel is obviously a polarizing player thanks to his off-field behavior and his on-field celebrations, but it should be an accepted fact that two starts is too soon to write off anybody, especially a quarterback selected in the first round. If every quarterback who struggled for two starts was written off, we never would have gotten to see the amazing careers these guys went on to have.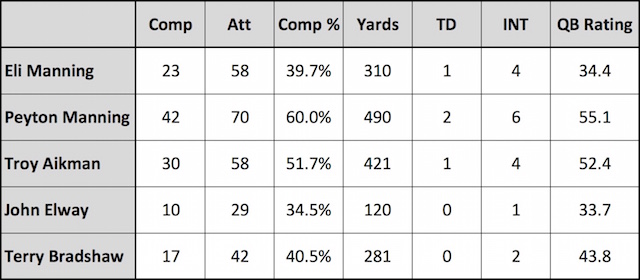 Manziel isn't a prospect on the level of those players -- they were all selected with the first overall pick, while Manziel went 22nd. And there's definitely no guarantee he even approaches the level of play any of them reached in their career. But all those guys struggled very badly in their first two starts, some of them even more than Manziel, and they all went on to greatness and at least one Super Bowl victory. If their teams had given up on them because of two bad starts -- eight quarters of bad play, really -- they'd certainly have regretted it.
Manziel may wind up being Cleveland's answer at quarterback and he may not, but he should probably get more than seven quarters to prove it either way. Maybe an offseason and training camp knowing that he's the starting quarterback and an offensive line that has starting center and two-time Pro-Bowler Alex Mack on the field rather than watching from the sidelines will help.
Of course, when your performance puts you at the tail end of the five quarterbacks Cleveland has drafted in the first round since the NFL/AFL merger, it's got to be at least a little bit concerning.