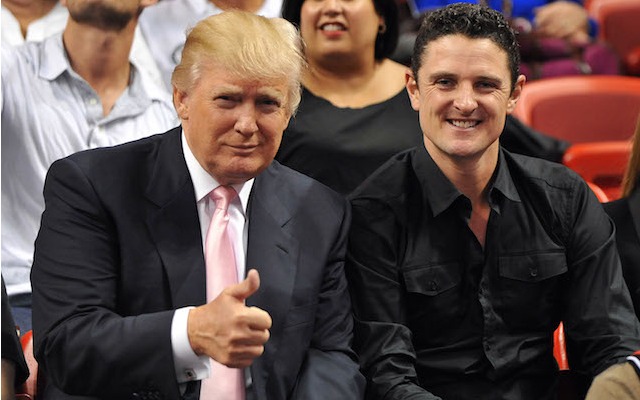 More NFL offseason: Mock Drafts | Prospect Rankings | Pro days | Top free agents
Jon Bon Jovi's dreams of buying the Buffalo Bills might be living on a prayer soon because someone a lot richer than Bon Jovi wants to buy the team and that someone is billionaire Donald Trump. 
Trump told the Buffalo News on Monday that not only would he 'love' to own the Bills, but he wouldn't move the team if he bought them. "I'm going to give it a heavy shot," Trump said of buying the team. "I would love to do it, and if I can do it, I'm keeping it in Buffalo."
Of course, this is Donald Trump we're talking about so he wouldn't be keeping the team in Buffalo just to keep the people of Buffalo happy, he'd also be doing it because it would make his life easier. 
"I live in New York, and it's easier for me to go to Buffalo than any other place," Trump said. "Where am I going to move it, some place on the other side of the country, where I have to travel for five hours?"
Trump has reportedly met with Bills president Russ Brandon twice and the billionaire is expecting the team to be sold sooner rather than later, "I think it's going to go quickly," Trump said of a sale. "I hope it goes fast."
The Buffalo News previously reported that the Bills could be sold as soon as October. 
Although Trump wants to own the Bills, he's not going to get into a bidding war for the team, "Somebody could come out and bid through the roof for the Bills, something crazy. In which case, I'm sorry I can't do anything about that," Trump said. "You have to be sane. But maybe there's not going to be any other bids. You never know with these things."
If there is another bid, it could come from Bon Jovi. The rocker hasn't publicly said he's interested in buying the Bills yet, but his publicist did admit on April 10 that Bon Jovi "remains passionate in his pursuit of an NFL franchise." 
Right now, it looks like Bon Jovi would be the face of a Toronto group that's reportedly looking to put a bid together. It's not clear if that group would keep the Bills in Buffalo or eventually move them. 
If the sale of the Bills comes down to money, the clear advantage goes to Trump. Forbes estimates that Trump is worth over 13 times more than Bon Jovi at $3.9 billion to $290 million, which means Bon Jovi would need some serious financial backers in his group. 
No matter who ends up buying the team, NFL owners will have to approve it. Any sale of an NFL team must be approved by 75 percent of NFL owners, which means 24 owners would have to vote in favor of the Bills being sold to a new buyer.