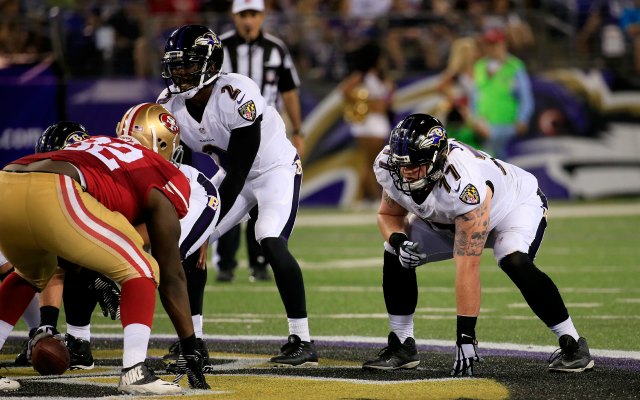 It normally wouldn't make big news to learn that the Ravens released their sixth-round draft pick from the year before, but Ryan Jensen, from the 2013 draft class, is a different story.
That's because Jensen, who was cut by Baltimore on Saturday, was recently diagnosed with severe sleep apnea, according to the Baltimore Sun.
What was scary for the offensive lineman is that Pro Football Hall of Famer Reggie White died in 2004 after potentially suffering from severe sleep apnea complications.
The good news for Jensen, though, is that he's being treated for his sleep apnea -- which occurs when a person temporarily stops breathing while sleeping, potentially leading to a lack of oxygen for the brain.  
"It could have been a disaster, as far as me having the sleep apnea and not knowing," Jensen told the Sun on Saturday morning after the Ravens released him. "It's a rough thing. Reggie White died in the middle of the night. It could have been catastrophic. It's a dangerous thing if you don't get diagnosed."
Jensen knew something was wrong because, lately, he felt groggy and irritable throughout the day. A few weeks ago, he met with Harry Swayne, the team's director of player development, and Swayne said he was worried about Jensen. He went in for a sleep study, and Jensen learned that he didn't breathe in his sleep for as long as 35 seconds at a time.
"I've been told I choke and stop breathing in my sleep," Jensen said. "That's not good for your heart. In the sleep apnea test they did, I woke up almost 28 times per hour and have about 90 breathing episodes a night. They said that was probably a mild night for me. They estimated I was getting two to three hours of sleep a night. They saved my life.
"I would get eight hours of sleep and I would feel like I didn't get any sleep. It got to the point where I was walking around like a zombie. I didn't have that same fire because of my lack of sleep. It affected me. I'm just glad I got it figured out. I got diagnosed and got treated for it. The Ravens were understanding about it when we talked about it."
Though he's a free agent, it's likely Jensen will get a chance to continue his career. But the most important thing is Jensen's health, and even if Jensen never plays again, at least he's on the road to recovering that.