Tom Brady will probably never step foot in your kitchen, but if you have $200 to spare, you can get the next best thing: Brady's cookbook. 
Actually, it's not a cookbook, it's a "Nutrition manual" and if you hate sugar, white flour, olive oil, iodized salt, tomatoes, peppers, mushrooms, eggplants, all caffeine and dairy products, then this is the perfect nutrition manual for you. 
Here's a description of the manual from Brady's website (TB12store.com):   
TB12 Nutrition Manual is a limited-edition "living document" containing information about our core TB12 nutritional philosophies and featuring a library of 89 seasonally-inspired recipes that you can use to support your TB12-aligned nutrition plan.
First, this thing is a living document, which I think means you can eat it.
Actually, that's not what it means, it just means that you can continuously update the cookbook with your own recipes and recipes that TB12.com will send you. 
The TB12 Nutrition Manual is designed to be modified and expanded over time using its unique screw post binding: as we periodically update this manual with new or modified recipes, we will send additional pages to all purchasers of the manual.
Basically, you get sent recipes for your entire life.
Maybe this is a good deal.
Brady's company justifies the $200 price tag by pointing out that the "manual is printed and hand assembled in the United States, and is printed on thick 100 pound text paper. The covers are made from natural wood with a laser-etched TB12 logo and title."
Plus, Brady's name is on it. It's easily worth $200. I think. I don't know much about cookbooks, but I do know that I'd probably feel a lot better about the purchase if it came with an autograph. 
Anyway, before you actually purchase one of these cookbooks, keep in mind that the recipes are part of a "TB12-aligned nutrition plan."
What does that mean? 
Well, if Brady's diet is the inspiration for this cookbook, then it means you can't eat any of that stuff I mentioned above (sugar, white flour, olive oil, iodized salt, tomatoes, peppers, mushrooms, eggplants, all caffeine and dairy). 
Brady's personal chef revealed in January that the Patriots quarterback eats "80 percent" vegetables. The quarterback also eats whole grains like, "brown rice, quinoa, millet, beans."
Brady is also allowed to eat lean meats like grass-fed organic steak, duck, chicken and wild salmon.
I'm guessing there's at least one recipe for wild salmon and quinoa in the cookbook. 
Unfortunately, Brady's cookbook is sold out online, so we can't tell you the exact recipes in it. However, we can tell you there's a recipe for "Sweet potato gnocchi with escarole."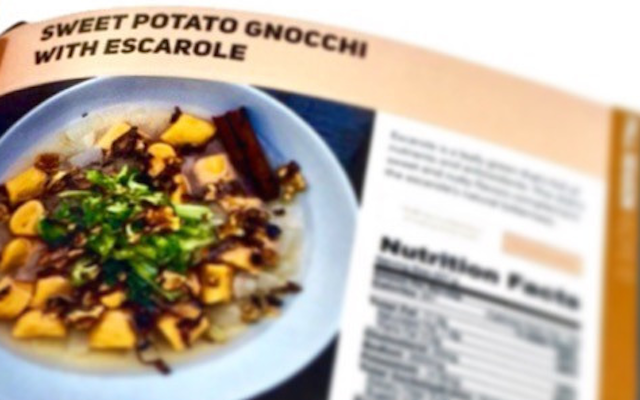 Sounds delicious.  
There's also a recipe for avocado ice cream. 
I wanted to share with you guys another step toward achieving your peak performance. Check it out you will love it! #ididntcomethisfartoonlycomethisfar

Posted by Tom Brady on Wednesday, May 4, 2016
If you're hoping to score a Brady cookbook, they won't be back in stock until early June.
If you can't wait that long, here's a recipe for avocado ice cream that doesn't cost $200. 
Finally, it's probably worth mentioning that Brady's $200 cookbook isn't even the most expensive book that's been sold by someone in his family. Gisele sold a $700 coffee table book back in November.
Gisele's limited-edition book sold out everywhere.