Johnny Manziel's high school coach didn't see the downward spiral coming.
Mark Smith, who coached Manziel at Kerrville Tivy High School in Texas, says he doesn't recognize the Johnny Manziel he sees today -- the person who's facing up to a year in jail for allegedly assaulting his ex-girlfriend and the former Heisman winner who remains a free agent two years after he became a first-round pick of the Browns. 
"I really don't know that guy. I think they're two different people," Smith told Sharon Ko of KENS 5 in San Antonio. "Somehow I wish Johnny could find himself back to being Johnny Manziel."
Before Manziel can do that, though, he'll need to sort out his legal future. In late January, Manziel allegedly assaulted Colleen Crowley, whose attorney alleged that Manziel ruptured her eardrum during the incident. Last week, Manziel turned himself into police after a grand jury indicted him. He was released on bail and appeared in court on Thursday, where a judge ordered him to stay away from Crowley and told him that he wasn't allowed to possess any firearms.
Manziel declined to comment to reporters at the hearing.
"I get kind of emotional about it because he's very close to me. He's really a great kid. And it's a shame that he's been categorized like he his. But he's brought that on himself," Smith said. "We're always going to be there for him. We'll continue to love him just like I love the people in my family."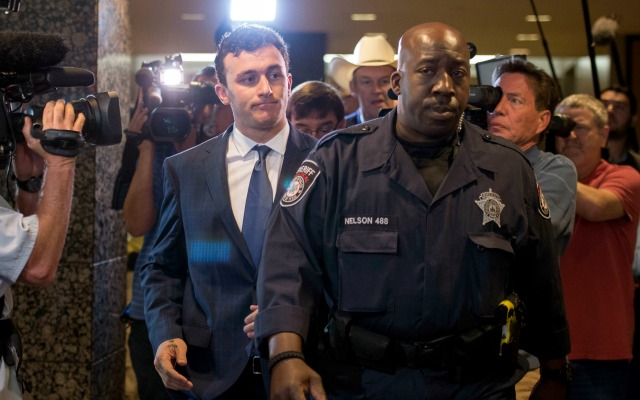 According to Smith, Manziel used to go "out of his way" to help special needs kids in Kerrville, which is one reason why he's surprised by recent events.
"'Your actions speak so loud I can't hear a word you're saying.' That was something we shared with our kids a lot in Kerrville," Smith said. "And that's one of the things I talked with him when he was in rehab. Right now, his actions are a little bit different than what he said he was going to do."
The Browns released Manziel earlier this offseason. So did two agents. Manziel's NFL future -- along with this future outside of football -- remains cloudy. And his recent Tweeting spree did nothing to help his case.
According to TMZ, Manziel rebounded from his court appearance in Texas by visiting three Hollywood clubs on Friday night.